Under the covers... Isaac Hayes Black Moses Making Hayes
Making Hayes
The singer's four-track debut Presenting Isaac Hayes saw the erstwhile Stax backroom writer in tails, a gentleman soul star promising a sophisticated take on the genre. But the album's relative commercial failure allowed him to get properly creative. The sleeve of Hot Buttered Soul features only his shaved head and a gold chain across his naked chest, in keeping with a stage image that sought to reclaim chains as symbols of black achievement rather than slavery. Shot from above, it became one of the era's finest visual representations of Black Pride.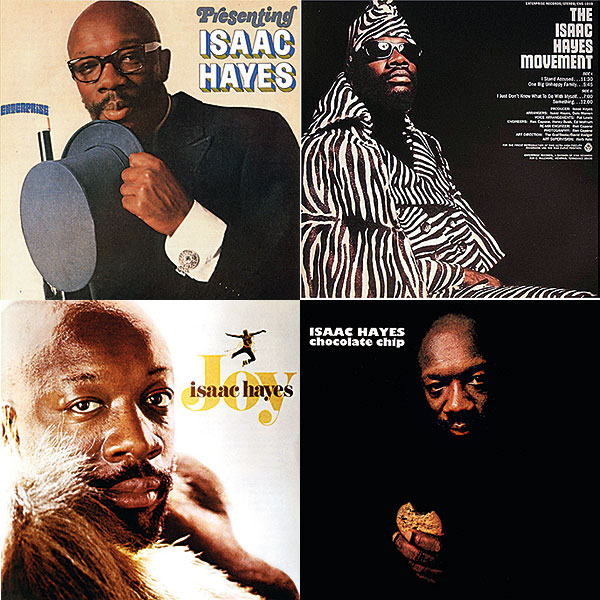 Its follow-up, The Isaac Hayes Movement (1970) further blended masculine virility with African American pride, as images of the main man in a Zebra skin fur coat [above] were juxtaposed with a gatefold length shot of our muscular hero in iconic shades, and gold chains. To Be Continued…, also released in 1970, chose to up the mystique factor with a psychedelic, whirlpool-like collage of Hayes' face, while the 1971 Shaft soundtrack album naturally focused around imagery from the movie.
Black Moses would take the Hayes image up a level further, after which there was only one way to go – back to basics. The 1973 album Joy offered a soft-focus head shot of the great man swathed in furs [below] to match the loverman image Stax was increasingly promoting, reflected in the gloriously sensuous 15-minute title track. Hayes then turned to acting in the burgeoning blaxploitation genre, with starring roles in Three Tough Guys and Truck Turner, allied to intermittently thrilling but ultimately patchy soundtracks, with cover art designed as much to sell the movies as the LPs.
As he adapted to the emerging disco sound on 1975's Chocolate Chip [bottom] and Disco Connection, the image took a back seat to the sound, with pretty tidy results, but the following year's Groove-A-Thon and Juicy Fruit (Disco Freak) seemed to follow Larry Shaw's philosophy (although Hayes was no longer with Stax) of making the sleeve do the selling, the former featuring Hayes in a sultan-style turban and the latter a topless Ike surrounded by nubile women dressed only in bunches of fruit. Hmmm.Neither album was a hit, meaning perhaps thankfully they are largely forgotten compared to his iconically illustrated earlier work.