Under the covers... Aladdin Sane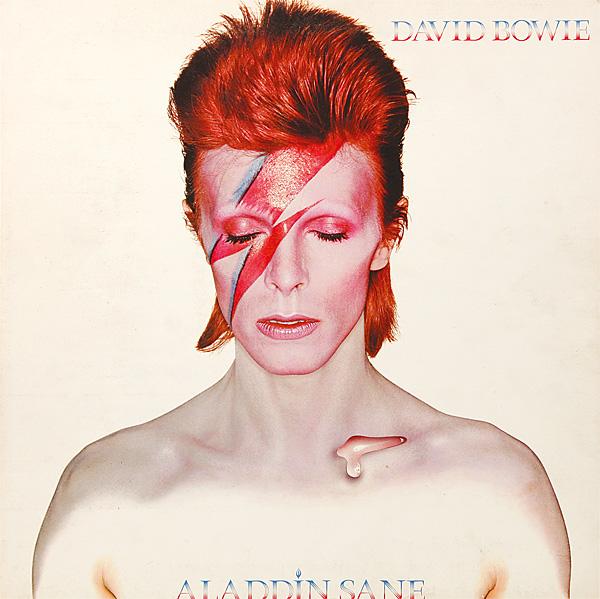 Johnny Sharp on the creation of the artwork for David Bowie's early '70s album Aladdin Sane
If you want to go to a fancy dress party as a rock star, there are plenty of different ways that you could 'do' David Bowie. But probably the easiest would be to paint a red, blue and silver lightning flash over your right eye. Kapow! Instant Bowie. Fancy paying tribute to the great man on your Facebook profile? A lightning flash should do the trick. You might even get away without dying your hair red or growing a mullet.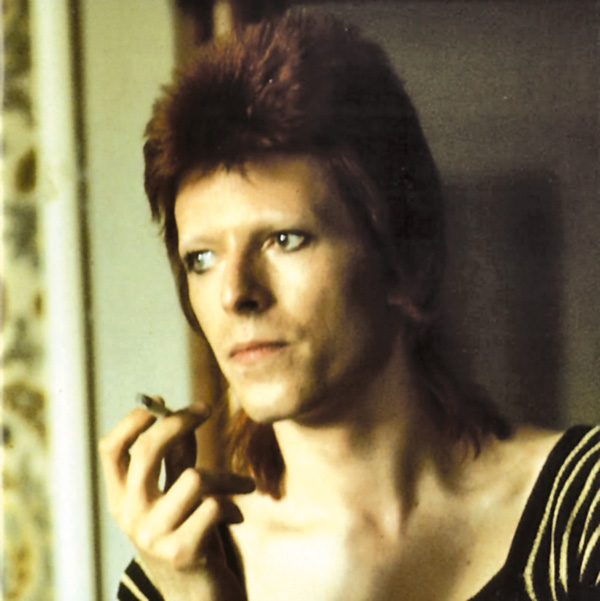 Dressed To Impress
Throughout the history of popular music, has there ever been an artist more associated with shape-shifting switches in image than Bowie? From the post-hippie eccentric resplendent in a dress on the cover of The Man Who Sold The World through Ziggy Stardust's pre-apocalyptic sci-fi rock star to Halloween Jack, The Soul Man and the Thin White Duke, Bowie's personae just kept on evolving.
But while other albums are more acclaimed and other periods in his career more celebrated, the front cover of Aladdin Sane established a look for Bowie that has become arguably more iconic than any of his other arresting visual constructs.
Ironically, though, outside the Bowie cognoscenti, the image of Aladdin Sane is often confused with that of his predecessor among the great man's cast of characters, many a harassed picture editor having slapped in the sleeve photo with the caption 'David Bowie as Ziggy Stardust'.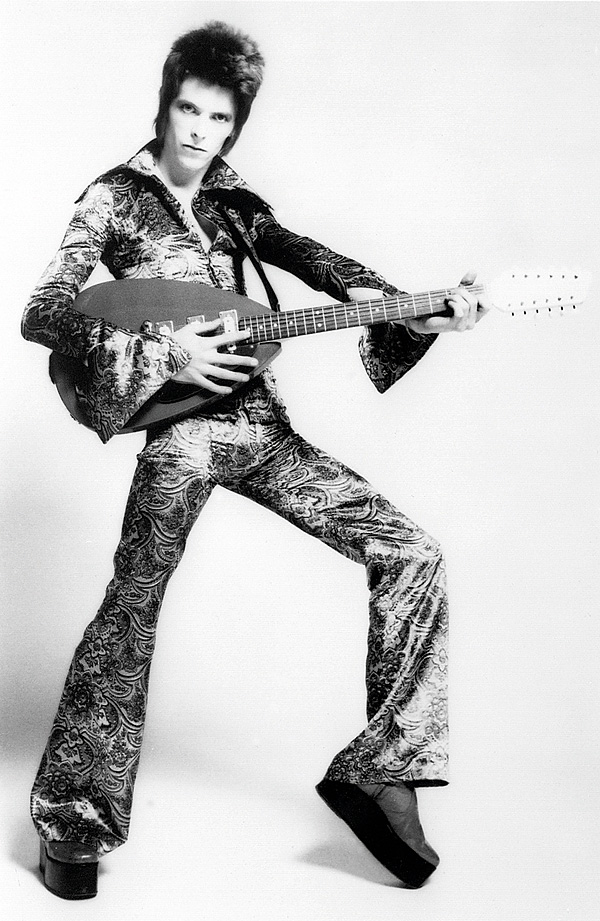 To be fair, they are closely related. As Bowie plotted his exit route from the Ziggy Stardust avatar that had launched his career into the stratosphere but which, he felt, was also threatening to restrict him creatively, he suggested publicly that his next album would be Ziggy Goes To America. He said later, 'I was trying to move into the next area – but using a rather pale imitation of Ziggy as a secondary device'.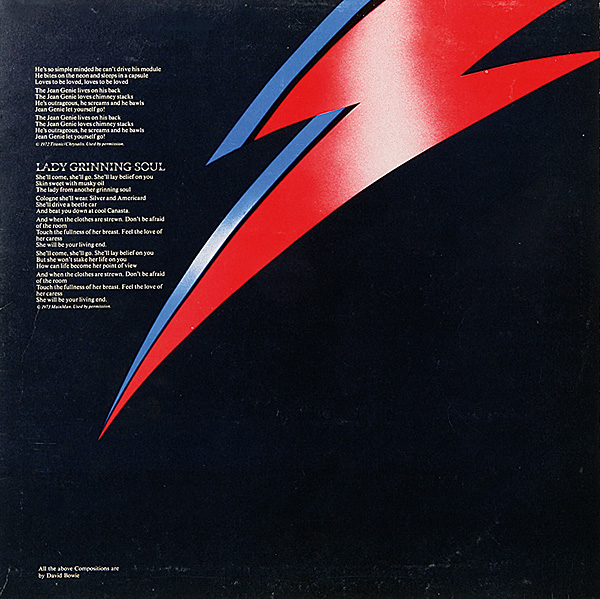 Indeed, the lines between Ziggy and Aladdin were pretty blurred, both aesthetically and historically. In his head Bowie seems to have embraced the latter as early as the 20th of January 1973, soon after he'd penned a track entitled 'Aladdin Sane (1913-1938-197?)' on a week-long voyage by cruise ship back from the US. And he looked distinctly Aladdin-ish, wearing make-up and a single chandelier-like earring.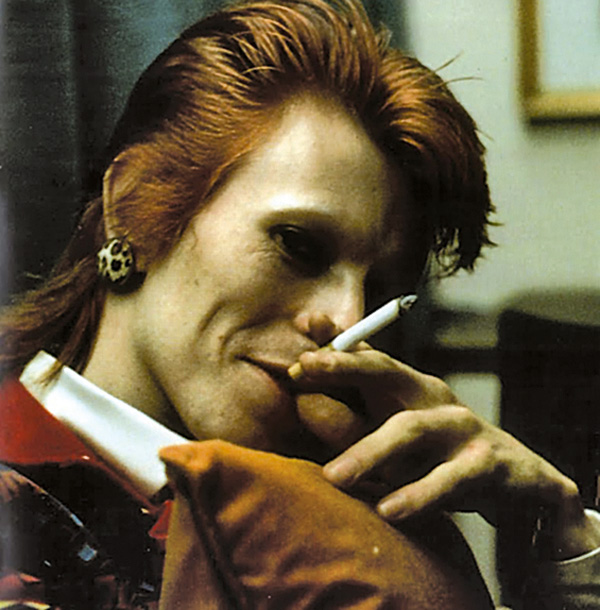 Who Will Love Aladdin?
Contrary to the now widespread assumption that every artistic move Bowie made was carefully planned and backed by a slick conceptual marketing strategy, when Aladdin Sane was released in April 1973, he was still midway through The Ziggy Stardust Tour, and still had to play 59 dates on the British leg.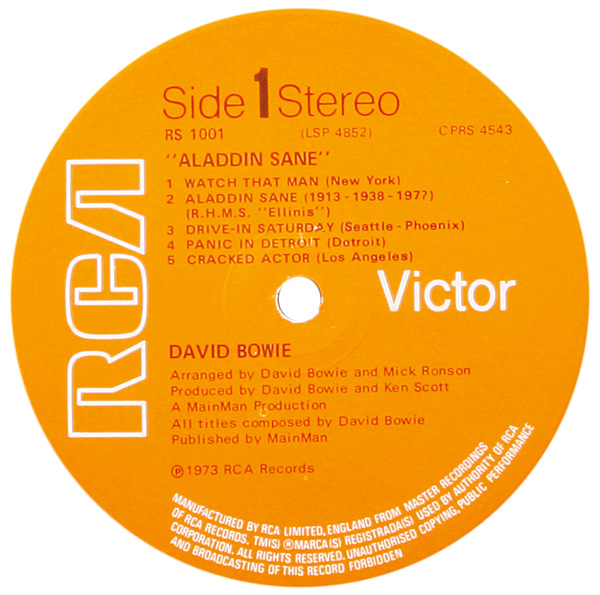 It was only at the end of that tour, on a famous night at Hammersmith Odeon in July, that he shocked fans by announcing that this would be 'the last show we'll ever do'. He was heralding the end of Ziggy, although many fans feared it meant the end of Bowie's career.
Their confusion was surely compounded because by that point, the Aladdin Sane LP had long since peaked at the top of the album charts, and its first two singles, 'The Jean Genie' and 'Drive-In Saturday', had made the UK top three.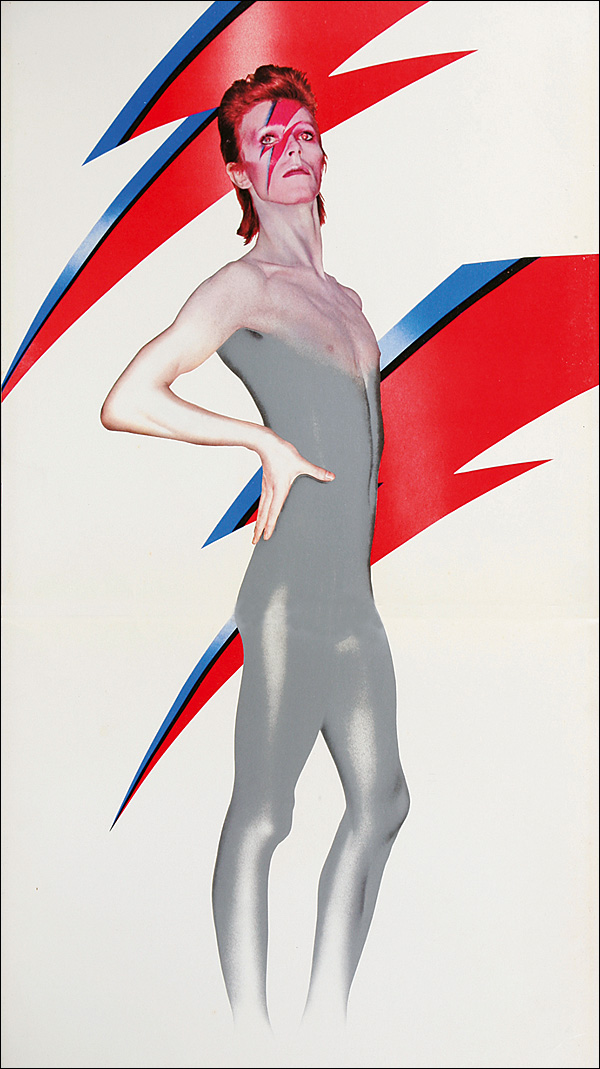 It soon became clear that although Ziggy's screwed up eyes and screwed down hairdo were now history, Bowie was anything but finished, and indeed the look achieved on the Aladdin Sane sleeve would endure more powerfully than any other. His face is split in two, as if to denote a half-man, half-supernatural being, by that red and blue lightning streak. He is looking down, as if despondent or waking from some sort of hibernation, while a shiny, metallic airbrushed tear has dripped onto Bowie's unclothed collar bone below.
'An electric kind of thing', Bowie later explained to Rolling Stone magazine. 'Instead of, like, the flame of a lamp, I thought he would probably be cracked by lightning. Sort of an obvious-type thing, as he was sort of an electric boy.