Mytek Brooklyn Bridge Network-Attached DAC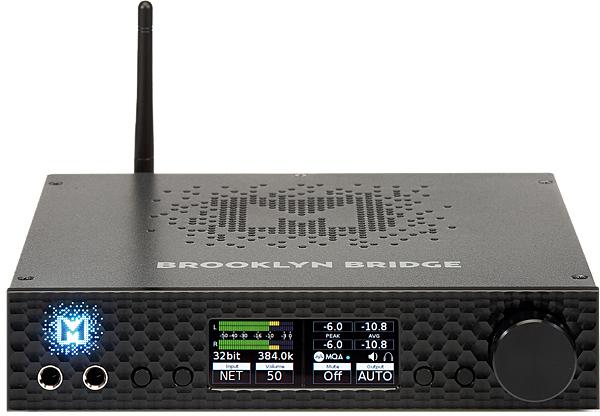 Adding full network connectivity to Mytek's Brooklyn DAC+ beefs up an already comprehensive feature set. Don't be fooled by its size – this is a pocket rocket!
Although the New York-based Mytek company has traditionally named its products after the city's landmarks, it has really nailed the title of its latest offering – the £2500 EISA Award-winning Brooklyn Bridge. After all, to describe this all-in-one preamp, streaming network player, DAC and headphone amplifier as 'versatile' or 'useful' would be something of an understatement. Rather like its namesake, which replaced multiple ferry services across the East River in 1883 to provide a single solution that made life easier for everyone.
This particular Brooklyn Bridge is based on the latest version of Mytek's Brooklyn DAC+ preamplifier/DAC [HFN Aug '17] but introduces some new features. The most obvious change is the addition of a streaming platform that makes it a complete, network-attached music-playing solution. There's limited real estate on the back panel so the DAC+'s AES/EBU digital input has been ditched to free up space for the new Ethernet port, Wi-Fi antenna and USB-A connection. The latter is provided in order to host an external memory stick (up to 32GB, and FAT32 or NTFS-formatted) or USB-equipped HDD.
Stream Lover
Mytek's network card brings with it access to services including Qobuz, TIDAL, Spotify and Deezer, plus it can stream directly from a UPnP server/NAS drive, Dropbox, Microsoft OneDrive or a USB device. Supported file formats include FLAC, Apple Lossless, AAC, AIFF, MP3, WAV, WMA, Ogg Vorbis and something called 'Monkey's' which I will confess I had to Google. I learned that it's a lossless audio format that claims around 20% better file size compaction than is typical with established audio codecs like FLAC.
The Brooklyn Bridge will handle sample rates up to 384kHz and is fully compatible with DSD up to DSD256 (though only up to DSD64 via the network input), and is MQA certified. Also carried over from the Brooklyn DAC+ is an unbalanced analogue input that can be configured as line level, or as either a moving-magnet or moving-coil phono input. There is no mention made of either input sensitivity or loading, but the specifications for the Brooklyn DAC+, which shares the same platform as the Brooklyn Bridge, quotes 47kohm for MM and a high 1kohm loading for MC.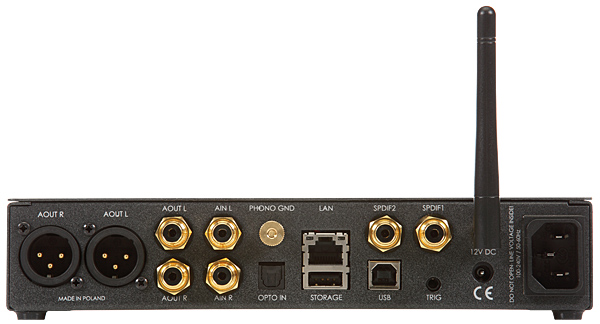 Connection to the digital world is achieved through a conventional RJ45 Ethernet port, a Wi-Fi antenna (2.4GHz band only) and a pair of USB ports – the aforementioned USB-A for external drives and one USB-B for computer connection. In addition, an optical Toslink and a pair of coaxial S/PDIF sockets accept files up to 192kHz/24-bit or DSD64. On the analogue front, the inputs are through unbalanced RCAs only but the unit's outputs are available in both balanced and unbalanced forms with the choice of either stepwise analogue or digital volume, or a fixed output line bypass.
On The Menu
On its patterned fascia, the Brooklyn Bridge has two 6.35mm sockets for headphone connection – both positive and inverted phase, the combination feeding a balanced headphone connection. The remainder of the front panel is occupied by a small but very clear OLED display, four buttons and a rotary encoder knob. The Brooklyn Bridge is controlled using these buttons and rotary, the combination used to choose a menu option, and change and configure the device's settings. The range of top-level and sub-menus is truly comprehensive, covering everything from input and output routing, choice of digital filter, IIR filter for DSD inputs, balance, trim/gain, volume type, absolute phase, 'theatre' bypass, and auto decoding for MQA files. When MQA is selected the other digital filter options are disabled, just as the network card is disabled if the MM/MC phono inputs are selected (the high gain of the phono input makes it more susceptible to RF noise).
Naturally, the wireless network connection is also configured via the on-board menu system (the LAN input overrides Wi-Fi in the Brooklyn Bridge), and even extends as far as giving the user control over the brightness of the OLED display, the power LED and the colour of the illuminated logo! Frankly, having lent an ear to all those digital filters and viewed all 16, yes, 16 different colour schemes I was ready for a long rest…