Ferrum Audio Wandla USB DAC/Preamplifier


This Polish tech brand has already made waves with its OOR headphone amp and DAC-equipped ERCO. Now comes its most sophisticated digital offering yet – the Wandla
Does the world really need another DAC? Considering the ample offerings from traditional and emerging Asian hi-fi brands, you might be tempted to say, 'not really'. However, Poland's Ferrum Audio combines experience with a flair for innovation – its parent company HEM has been an OEM contractor for other manufacturers, possibly inciting its engineers to go one better for their own brand.
Whatever the case, they're serious people that like to have a bit of fun, particularly with their product names. Case in point: 'wandler' is German for 'converter'. Built around the Sabre ES9038PRO DAC with Ferrum's ARM processor-based SERCE digital module up front and new current-to-voltage (I/V) converter behind, the £2800 Wandla DAC/preamplifier promises to handle streams up to 768kHz/32-bit and DSD256.
Bridging The Gap
Hooking up to the Wandla brings some intriguing options, for next to the optical, coaxial and USB-C inputs there's support for I2S and ARC/CEC via two HDMI ports. So, while most Wandlas will either serve a head-fi set-up or main system front-end, it's also ready to serve as a very high-quality bridge between your TV and stereo system. The rotary encoder, meanwhile, offers control over volume in both analogue (preamp) and digital (DAC) guises, the high 10V balanced output of the Wandla ensuring it'll drive any power amp you might choose.
As the sturdy chassis is identical to that of the EISA Award-winning Hypsos DC power supply [HFN Mar '21], OOR headphone amplifier [HFN Dec '21] and ERCO DAC/headphone amp [HFN May '22], the Wandla is instantly recognisable as a Ferrum product. This newcomer shares the compact, desktop-friendly footprint, showcasing an aesthetic which only departs from minimalism when it comes to the striking rust-coloured panel on the lefthand side of the fascia with its backlit Fe (Ferrum/Iron) logo.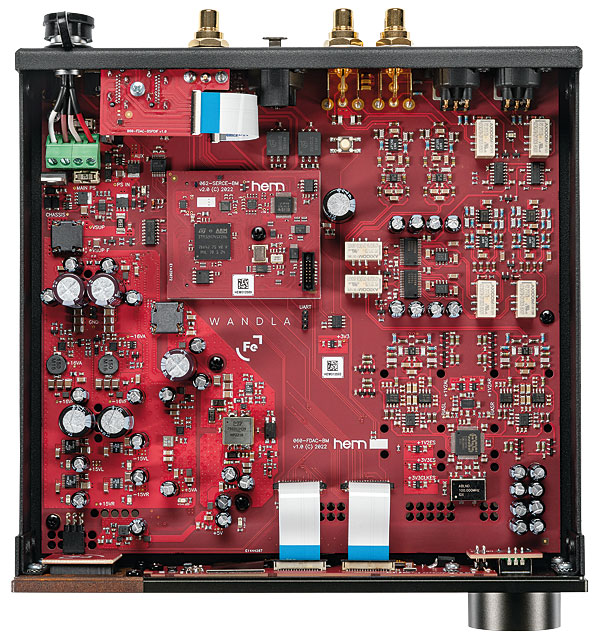 However, there's nothing 'Iron Age' about the very modern Wandla, which even includes a large multi-function touchscreen, allowing the DAC to be configured via display and rotary, as well its partnering remote control. Commendably, the front-panel screen goes to black very quickly, ensuring it all remains very low-key while you concentrate on listening to the music. Either way, having this flexibility on tap is a nice alternative to rows of buttons and LEDs [as on, for example, Musical Fidelity's M6x DAC, HFN Jul '22].
Under the bonnet, the Wandla's pristine PCB layout is another Ferrum hallmark, with the dual-core ARM processor (ostensibly replacing the functions of some five supporting chips) clearly visible on a daughter board. Ferrum also takes its power supply management very seriously, so there's additional filtering and regulation onboard whether the Wandla is used with the supplied 24V DC wall wart, or with the Hypsos power supply, with its 4TSD voltage sensing, by way of a £1100 upgrade.
Power To The People?
As mentioned, Ferrum's sense of fun and flexibility can lapse into the idiosyncratic. Cue 'Dynamic Digital Filtering' on the Wandla, which doesn't refer to a technical feature but to a curious crowd-driven approach to offering digital filters. As noted in PM's boxout, the Wandla has five filters for PCM files. Three of these are selected from the seven possible ESS options, while the other two bespoke creations are designed in conjunction with Signalyst HQPlayer creator Jussi Laako.
HQPlayer software gives (Windows/Mac) PC-savvy enthusiasts the opportunity to upsample, downsample and otherwise manipulate their audio data – there are 52 algorithms on offer. HQPlayer is versatile and complex so it's probably a 'good thing' that Ferrum hasn't included all those options in the Wandla. Five filters are quite enough, thank you.