EarMen ST-Amp DAC/Headphone Amp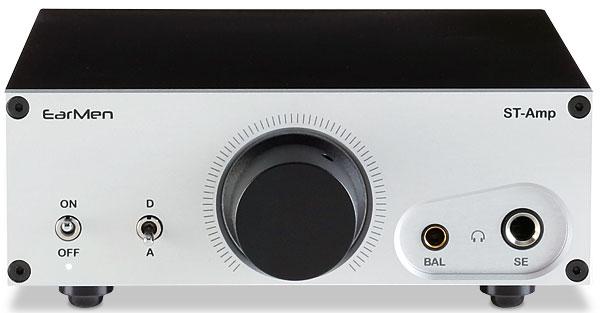 Based in Chicago but with manufacturing in Serbia, the EarMen brand is developing its range at pace. The new ST-Amp DAC/headphone unit is a 'back to basics' audiophile hit
After collecting an EISA Award last year for a complete headphone system featuring a stack of four mini-sized separates – the Staccato, Tradutto, CH-Amp and PSU-3 [HFN Oct '22] – EarMen has doubled back with this minimalist ST-Amp. This is a book-sized, do-it-all unit combining a DAC and dedicated headphone amp, aimed at head-fi enthusiasts looking for a quick and effective path to high-quality desktop listening. So while the ST-Amp moniker might suggest it's simply a more affordable alternative to the aforementioned CH-Amp, it's really a different beast altogether.
Luring headphone buffs with a device like this is no easy task, mainly because the competition is daunting – if not in quality, then in quantity thanks to the surge in, typically China-sourced, USB headphone amps flooding through online retailers. Despite this, Serbian/American manufacturer EarMen, a sister company to Auris Audio, has managed to carve out its own niche, not only with the higher-spec CH-Amp and Tradutto DAC system, but initially with affordable, pocket-friendly USB DACs like the Sparrow, and its rather capable TR-Amp.
Compact Style
The £599 ST-Amp follows on from those early steps, the brand preferring a no-frills industrial design which can make its products – including this one – seem more basic than they really are. At close quarters you'll appreciate the solid workmanship and nice detailing. The ST-Amp's straight lines and compact box design (just 30mm high and 150mm wide) are embellished by a silver-coloured aluminium fascia attached with visible screws, for example, and its connections and functions are nicely spaced out. The recessed area for the headphone sockets – 4.4mm balanced Pentaconn and a regular, single-ended 6.35mm output – is smartly done too, with a small chamfered edge on the inside of the elliptical cut-out to catch the eye.
In terms of control you shouldn't expect too much from the ST-Amp, but that's fine as you'll likely be using software such as Roon or Audirvana as a source. These apps offer plenty of head-fi friendly features, including upsampling and crossover control, so not finding anything similar here is hardly a disaster. While this means there are no user-selectable digital filters, which more 'fiddly' audiophiles might miss, it does separate the ST-Amp from rivals overladen with features and buttons.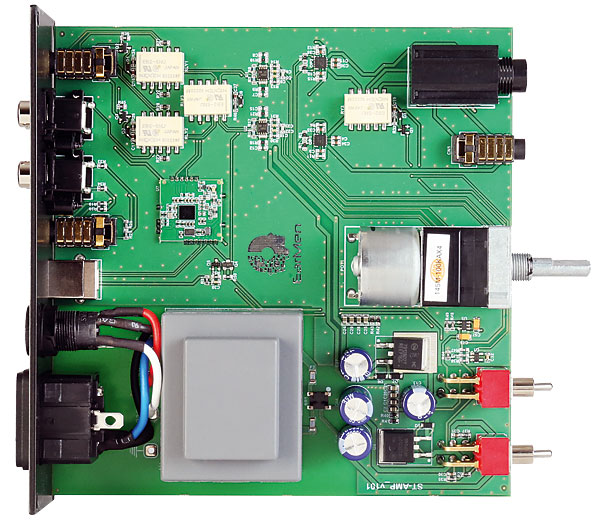 Lifting the lid reveals a good-quality ALPS volume control also used in EarMen's costlier products where the integrated motor unit is enabled via remote control. It's disabled in the ST-Amp but left in situ for no other reason than streamlining the assembly process! Two old-school toggle switches on the front panel are provided for power-on and to alternate between digital (with DAC) and analogue (pure headphone amp mode) operation. In that last state, the DAC stage is effectively switched off.
Bang On Trend
The rear of the ST-Amp is only slightly less ascetic with legacy S/PDIF inputs abandoned in favour of a lone USB-B connection. Analogue sources may be introduced by single-ended RCA or balanced 4.4mm Pentaconn sockets, the company following a wider head-fi trend by replacing large XLR connections with this slender alternative. Furthermore, there are both unbalanced and balanced line outputs for using the ST-Amp as a preamplifier with active speakers or power amp.
When employing the ST-Amp as a combined DAC/headphone amplifier, the single ESS ES9280PRO DAC chip comes into play, which supports PCM audio up to 384kHz/32-bit and double-rate DSD (DSD128). A pair of Texas Instruments TPA6120 op-amps feature in the main headphone amp, rated by EarMen at a very respectable 1.85W/32ohm via the unit's balanced connection, which suggests difficult-to-drive designs shouldn't present too much of a challenge.
Some headphone amplifiers stumble at the very last hurdle by saddling their output with too high a source impedance. That's not the case here, so the ST-Amp will drive low/variable-impedance 'phones without too much variation in frequency response. IEMs are welcome too, which was borne out when I connected a pair of AKG N5005s and was met with total silence (well, until I pressed play). Similarly, the eccentric Final Audio Sonorous VI over-ear headphone, which has a rated impedance of 8ohm and sensitivity of 105dB, didn't uncover any unwanted noise either. Therefore, the power rating, low noise and low output impedance – all confirmed by PM's measurements – qualify EarMen's affordable unit as a bit of an all-rounder, well suited to all kinds of head-fi fun.

Universal Appeal
Used in DAC/amp mode, EarMen's ST-Amp delivered music in a very even-handed way, with great clarity and control. Technically it has the capabilities to drive most cans, but sonically it does too, opting for a broadly universal 'sound tuning' that allows the different flavours of headphones to shine through. Meanwhile, with both digital and analogue inputs, 'upgrading' its performance with an external DAC remains a possibility.