dCS Lina System DAC/Headphone Amp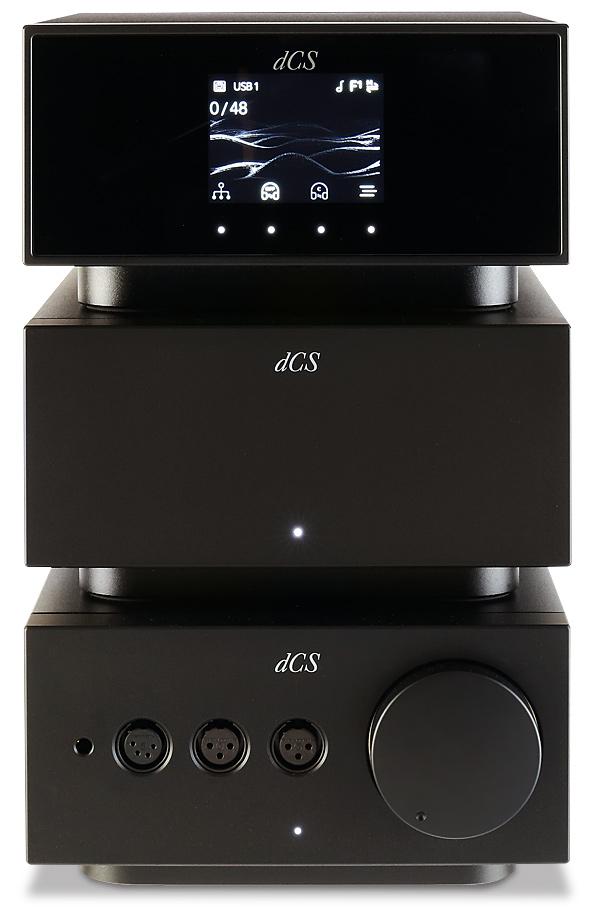 Aimed at very high-end headphone users, dCS's Lina Network DAC, Master Clock and Headphone Amplifier might also be the ideal compact system front-end for audiophiles
Headphone use has changed in recent years, from something to be endured through necessity to its own subset of hi-fi listening, with no shortage of ambitious and upmarket hardware currently available. Now dCS is on that bandwagon, for while it's been busy launching its APEX DAC technology for its 'full-size' offerings [HFN Jun '22] it's also developed the Lina, which is not so much a headphone amp as a complete playback system.
The 'stack' comprises the £11,750 Lina Network DAC, £8400 Lina Headphone Amplifier and £6750 Lina Master Clock, all three units housed in identically sized casework of remarkable quality and weight. Each is just 22cm wide in its black machined aluminium housing, with the weight hovering around 7kg per box. The compact industrial design is something of a departure for dCS, with the Network DAC's front-panel dominated by a large display, and that of the Headphone Amplifier by a big volume control and an array of output sockets – a standard 6.35mm unbalanced, plus balanced XLRs for stereo and separate left and right channels.
You Can Go Your Own Way...
Both the amp and DAC can be used in isolation if so desired, the latter offering single-ended and balanced (XLR) outs to run into any amplifier you wish. The Headphone Amplifier has matching analogue inputs, plus a buffered option with an extra gain stage that's a little easier to drive. Again, it could be fed from any analogue source. And the Master Clock with its oven-controlled crystal oscillators? Well, that's to be used with the Network DAC, but could be used with other equipment featuring 44.1kHz or 48kHz-centric word clock inputs.
The Lina Network DAC does what it says on the box: it has an Ethernet connection to link it to the outside Internet world, and can play from local network storage as well as online services including Deezer, Qobuz, Spotify, Tidal and Internet radio. It also supports Apple AirPlay 2 via that network connection, and is Roon-ready. The generous range of digital inputs includes a USB-B for computer connection, plus USB-A for storage devices up to a suggested 32GB. Legacy inputs include optical and four electrical – two S/PDIF and AES/EBU on XLRs.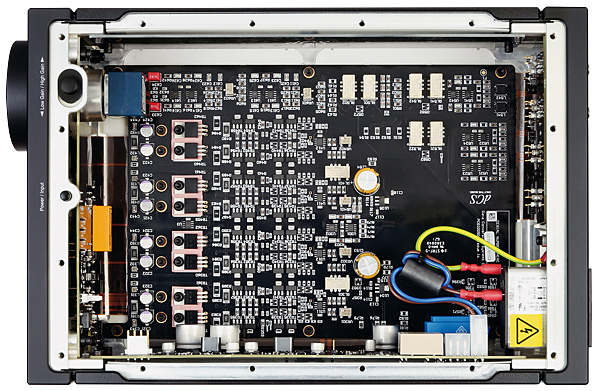 Depending on the input chosen, the Network DAC can handle file formats up to 384kHz/32-bit and DSD128, and offers selectable upsampling to DXD or DSD, plus a choice of two digital filters in PCM operation and four in DSD. There are also three crossfeed settings, achieved here in DSP rather than in the all-analogue Headphone Amplifier. The Network DAC has two extra RJ45 sockets to link all the units together for synchronised power on/off.
Streaming here is supported by the S800 platform from Vienna-based StreamUnlimited, dCS concentrating instead on the audio section of the Network DAC, which utilises its familiar RingDAC technology. The Lina unit runs the 'standard' iteration, rather than the new APEX RingDAC version rolling out across the company's other separates, but then the development of this headphone system predates its arrival. However, given the adaptable nature of dCS's designs, don't rule out the possibility of future upgrades… never say never!
Artful Control
Operation of the Network DAC is possible using third-party UPnP apps running on a smartphone or tablet, but the smoothest interface is provided by dCS's own Mosaic Control app [HFN Sep '19], available for iOS and Android. Not only does Mosaic allow the user to stream music from local and online sources, including Airable podcasts, it also lets you browse music across the range on offer, and handles configuration, setting and operation of the Lina devices. You can really dig deep into the Network DAC's settings via the app, including the selection of upsampling and filter modes. There are neat touches too, like the ability to reassign three shortcut buttons on the app's homescreen – for input, PCM filter and crossfeed settings – to functions you think you're going to use most.
Though the easiest approach is to use this 'stack' as a complete 'just add cans' system, the modular nature of the set-up almost demands one looks at the various components – and more specifically the network player/DAC and the headphone amplifier – as standalone units. After all, the former has the makings of an intriguing streaming solution, while the latter is interesting as dCS's first all-analogue amplification product. Until recently, it had the combined streamer/DAC/headphone amp market covered with its £17,750 Bartók [HFN May '19], elements of which seeded the Lina.

Simply Irresistible
That temptation to consider the Lina units as separates as well as a system proved too hard to resist, with the result that, as well as extensive listening to the stack with a variety of headphones, the Lina Network DAC also saw service as a streaming front-end for my main system, in which role it proved itself to be highly accomplished.