HiFi Rose RS250A Network Attached DAC


Korea's Citech group continues apace with yet another 'full colour widescreen' offering from its HiFi Rose brand – this time with an updated network-attached media hub
ARose by any other name? As has happened in the past, Korean manufacturer HiFi Rose has launched a new version of an existing model – in this case its RS250 network player – with worthy specification changes and a suffix to set the two apart. But there's a mild inconsistency here, for when the company upgraded the RS150 [HFN Jun '21] to the current version, due to a DAC chip change forced upon the company by the 2020 fire at AKM's semiconductor plant in Japan, it became the RS150(B), selling for £3899, but the revised RS250 is now the £2349 RS250A, available in either silver or black finishes.
Again, there's a chip swap at the heart of the new machine – along with other audio-related changes – but this time HiFi Rose has kept things 'in the family'. So, in place of the ESS9038Q2M converter of the original, the 'A' version uses the eight-channel ESS9028PRO which, in double-differential guise, promises greater dynamic range and reduced distortion as a stereo DAC. Also into the mix are added a new low-phase-noise clock oscillator, 'enhanced' linear power supply and new, discrete op-amps in the analogue output stage.
Setting The Pace
But we're getting a little ahead of ourselves here as the first RS250 – which was only launched in 2021 – never made it into these pages. So what is the RS250A? Well, it's clearly intended as a more affordable option for those who don't want to stretch to the RS150(B), with distributor Henley Audio describing the pricier model as a 'High Performance Network Streamer', and the RS250A as a 'Hi-Fi Streaming Solution'. Mind you, the original RS250 is still on Henley Audio's books, at £1949, and that one's a 'Complete Hi-Fi Network Streamer'.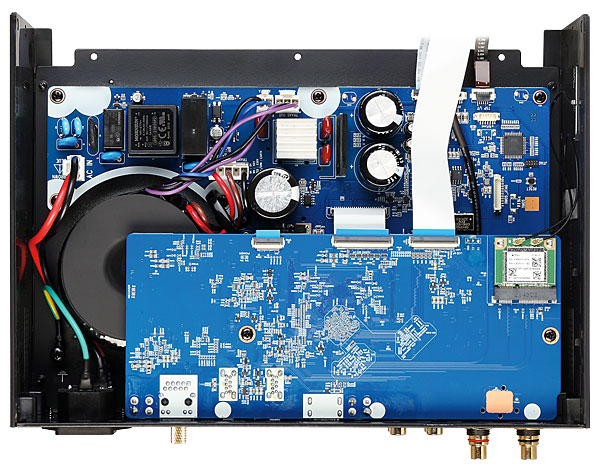 Hmmm – perhaps the speed with which new models keep coming from Korea has us all confused: after all, in recent months we've had the excellent-but-quirky RA180 amplifier [HFN Jul '22], and the all-in-one streaming amp, the RS520 [HFN Jan '23]. And word is there's more on the way…
All Bases Covered?
So the RS250A is a network player. Or a network DAC. Or a network DAC/preamp. Actually it will fulfil all those functions, having both analogue and digital inputs – the latter running to USB-A and -B, optical/coaxial, two-way Bluetooth, AirPlay, and a choice of wired or Wi-Fi networking – and analogue and digital outputs. The RCA outs offer a choice of fixed-level for your preamp or integrated amp, or 'straight to power amp/active speakers' variable, while digital outs are on coaxial/optical again, plus a USB 3.0 for suitable DACs should you want to use the unit as a transport. There's also an HDMI 2.0 output, good for video at up to 3840x2160 resolution (4K), should you tire of watching your hi-res videos on the built-in 8.8in/225mm touchscreen display occupying most of the front panel.
Missing here are the balanced outputs and AES/EBU, HDMI ARC and I2S digital inputs of the RS150(B), but then the new arrival is rather more compact at just under 28cm wide and a little over 8cm tall. For all that, it looks good and solid, thanks to the usual HiFi Rose build quality and finish, and the controls feel smooth and precise. There aren't many of them though – all you get to push and twist are a power button and a volume control, below which sits the headphone socket. All remaining controls are accessed via the touchscreen, the Bluetooth remote handset, the Rose Connect Premium app for Android or iOS, or using a web browser interface on your computer.
The RS250A can stream music up to DSD512 and 768kHz/32-bit over a network. Well, sort of. I only managed to get it to access music on my QNAP NAS by downgrading the server's networking to SMB1, something QNAP advises against on security grounds. Fortunately, music can be fired to it using a third-party app such as mConnect, and with Asset or MinimServer running on the NAS, but the smoothest means of access was via Roon.