SPL Diamond USB DAC


From Germany's SPL (Sound Performance Laboratory) comes this multicolour USB DAC designed for both 'legacy' and computer connection. There's a volume control too...
Given that most of today's digital components seem to be multifunctional – streamer DACs, DAC/headphone amps and the like – it's unusual to find a product as simple in its operation as its design. Yet that describes the latest arrival from German manufacturer SPL, the £2499 Diamond DAC, available in silver, black or red like all the company's products. A back-to-basics DAC? Well, almost...
You see, the Diamond may be both slender and simple in its core functionality, but it has a trick up its sleeve, revealed by the presence of a volume control alongside the input selector and simple-but-effective red-on-black dot-matrix display. Of course, that trick is the ability to be connected straight into a power amplifier, such as the company's own Performer S800 or s1200 [HFN Sep '22] models, or a pair of Performer m1000 monoblocks, thanks to the option of fixed or variable analogue output. This would enable it to sit at the heart of a simple and gloriously minimalist digital-based audio system.
Meet The New Boss
Part of SPL's 'Professional Fidelity' series, in which the company's studio heritage crosses over to the domestic hi-fi arena, the Diamond sits below the Director Mk2 and Elector models [HFN Sep '22]. These are certainly DAC/preamps, complete with both digital and analogue inputs (and VU meters for good measure), while the Phonitor units [HFN Jul '21] combine digital-to-analogue conversion and headphone amplification.
The Diamond has been designed by SPL's Bastian Neu, who is also at the heart of the biggest change in the company's four-decade-plus history. Having joined in 2012, and worked on SPL's studio-focused 'Mastering Universe' devices and its Professional Fidelity hi-fi series, he's now taken over as MD from founder Wolfgang Neumann, who is retiring from his position but will continue as a developer.
Show Me The Honey
In common with other SPL products, the Diamond DAC is a 'just over half-width' unit at 278mm wide, stands a mere 57mm tall, and shares the solidity of build found throughout the company's range. The anodised alloy front panel is thick and well-finished, and the controls, such as they are, operate with a feeling of precision. That's especially true of the volume control which, like the input selector, is milled from a solid block of aluminium. It fronts an Alps RK27 'Big Blue' potentiometer which, SPL says, 'gives a pleasant "spoon in the honey" rotary feel'. Very sensuous, but on a more prosaic level both the black and silver versions of the DAC have matching finishes on these controls, while the red looks purposeful with its black highlights.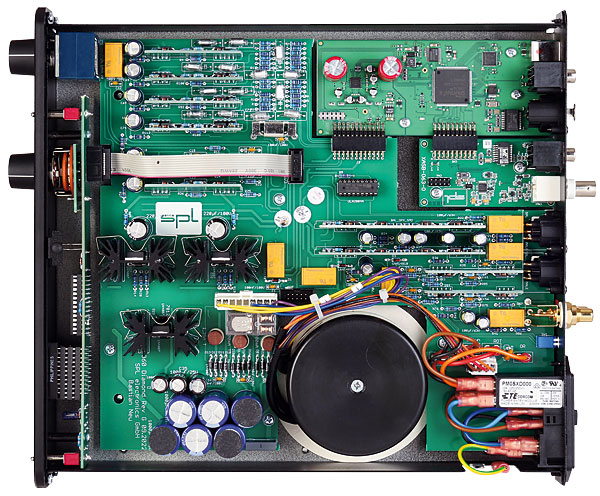 Switchover from fixed- to variable-level is via a pair of DIP switches on the rear where there are both unbalanced RCA and balanced XLR outputs. There's a separate switch for each, so you could, for example, have the balanced out running through the volume control to feed an external power amp, while the RCAs feed a headphone amplifier. It's a neat solution, and indicative of the way SPL delivers the flexibility often required in the pro-audio arena.
Also redolent of its studio heritage is the presence of a word clock input on the rear and selector on the front. Switch this to 'source' and the Diamond syncs to the clock in the AES/optical/coaxial source. Choose 'word' and the DAC can be slaved to an external clock generator.
Beyond that, you only need to select the digital input, the Diamond accommodating up to six sources: two coaxial and two optical, AES/EBU, and USB-B. Of course, these days the last of those isn't just for hooking up your PC or Mac, as an increasing number of music servers and network audio transports offer a USB output, not least because this opens up formats beyond the 192kHz/24-bit limit on S/PDIF and AES/EBU connections. Via USB, the Diamond DAC can handle up to 768kHz/32-bit PCM, and DSD at up to DSD256/11.2MHz, with the unit automatically detecting the incoming signal and configuring itself accordingly.
The display shows the signal type being received and the type of connection being used, after briefly indicating the source in use as USB, COA1, COA1, OPT1, OPT2 and AES. After two seconds this changes to an identifying letter – U, C, etc – and an indication of the sampling rate, so 'C192', for example, is 192kHz via coaxial. When receiving DSD via USB, the display simply indicates DSD1 to DSD4. And that's it – no faffing about with setting upsampling or fiddling with digital filters, for which small mercy I offer great thanks.