iFi Audio xDSD Gryphon Headphone Amp/USB DAC Page 2
In a further example of trickledown, the Gryphon's headphone amplifier is inspired by the dual-mono NEO iDSD desktop model [
HFN
Mar '21]. This focus on component tweaking is very much what iFi Audio seems to stand for and, in this instance, the xDSD Gryphon turns out to be more powerful.

Plug And Play
The bundled USB-C to USB-A lead was a little too short to connect the xDSD Gryphon comfortably to the rear ports on my iMac, but that small niggle aside, there's not much to grumble about in terms of getting this compact DAC up and running. Opening Roon confirms iFi Audio's device is Roon Tested, as the software immediately recognises it and presents an xDSD icon in the interface. Plug and play, as it should be.
PM's boxout indicates the Gryphon ought not to be fazed by a demanding headphone, and my initial experiences with a Beyerdynamic DT 1990 Pro and Sennheiser HD 650, both connected via the balanced 4.4mm jack, supported this. The energy to present 'Franacapa' from Alessandro Quartra plays Astor Piazzolla [IAN Solutions LC30467; 96kHz/24-bit ALAC] in its full, fast-paced intricacy was certainly there on Sennheiser's difficult-to-drive HD 650, including the sustained low note played on a contrabass at the end of each main section.

Now, that note should really be even more physical, and while I was hitting the limits of the HD 650 itself, a quick comparison with a decidedly not-portable Ferrum OOR amplifier [HFN Dec '21] did reveal the headphone could unleash more. At the same time there's no need to labour this point, as the more affordable xDSD Gryphon certainly proved an able partner. In contrast, the original xDSD handles this track with the Sennheiser headphone competently but with less authority.
Bass Invader
I rarely experiment with bass lifting functions, but iFi Audio's XBass II analogue processing is the exception, as it manages to narrowly boost lower frequencies without suppressing the lower midrange. Its effect is enjoyable too, ensuring the incessant beat drone on 'Release' by Kelly Lee Owens [LP.8, Smalltown Supersound STS394; 48kHz/24-bit FLAC] dominated the track without darkening it.
I wouldn't engage XBass II with every model of 'phone, but it did make some presence-focused Final Audio B1 in-ears more to my liking. As expected, on a bass-oriented headphone, such as Sony's MDR-Z7M2, the processing can be a bit too much. Approach with care!
XSpace, a crossfeed function for a loudspeakers-in-the-room listening effect, is more of mixed bag. According to iFi Audio it adds a 'cavernous soundstage' to recordings, which happens to be an accurate description. It does conjure a sense of grandeur, but this often comes at the expense of natural tonality. For example, 'Armee Der Tristen', from Rammstein's recent Zeit album [UMG 0602445085019; 48kHz/24-bit FLAC], sees a midrange lift with XSpace engaged. Not a bad thing per se, but noticeable with guitar-driven music.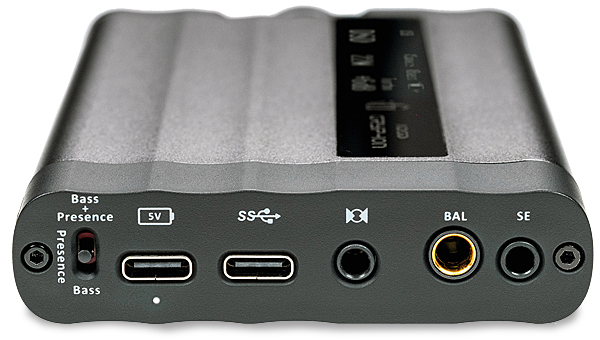 It was with the Final IEMs I pondered if composer Max Richter really needed to re-work his controversial Vivaldi: Recomposed album from 2012. Listening through the B1, which the xDSD Gryphon drove nicely without a trace of background hiss, it turns out, that, yes, Vivaldi Recomposed (2022) [DG 4862468; 96kHz/24-bitFLAC] is at least a worthwhile effort. Returning to period instruments, Richter has created a grittier performance – a 'punk rock sound' – which the DAC/amp painted intensely and richly. It was possible to focus on the strings in the background of 'Spring 3' and discover a lot of texture, getting a real sense of the character of these Baroque era instruments.
Sounds Of Summer
That said, it was the tempestuous violin playing from Elena Urioste which really grabbed my attention. The sheer speed and accuracy delighted here, while at the same time the xDSD Gryphon DAC/amp avoided presenting it in too penetrating a fashion. Even the violin finale 'Summer 3', which the DAC resolved so finely you get the impression the violin strings are ready to snap, stayed away from jarring brightness.
Hi-Fi News Verdict
The xDSD Gryphon possesses an admirable combination of useful features and superb sound, all at an affordable price. Comprehensive Bluetooth support, proprietary eq modes, plus a balanced output, make it as well suited for those seeking an on-the-go upgrade as for audiophiles feeding demanding headphones at home via their hi-res library. iFi Audio's impressive track record continues…