iFi Audio xDSD Gryphon Headphone Amp/USB DAC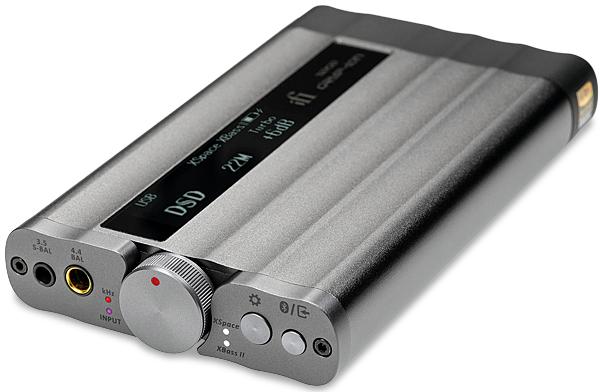 Replacing both the xCAN and xDSD, iFi Audio describes the xDSD Gryphon as its most ambitious portable headphone amplifier yet. Is this another boost to the success story?
Since launching in 2012, iFi Audio has established a reputation for delivering affordable, compact, often portable audio products. And at some pace too – looking back over the past decade, it's hard not to feel overwhelmed by the number of devices the company has released. Not all are entirely 'new', because iFi Audio likes to 'tweak' its products, which is why the xDSD Gryphon tested here follows the EISA Award-winning xDSD DAC [HFN Jul '18], and also serves as a successor to the xCAN [HFN Feb '19].
True to form, the xDSD Gryphon is a (just about) pocket-sized unit packed with inputs, outputs and a few tone/eq features unique to iFi Audio, plus an internal battery allowing for operation on the go for up to eight hours, depending on usage. Charging is via USB-C, but when connected to a computer you have the option of juicing the Gryphon via the same port or connecting a second USB charging device.
Added X Factor
This DAC/amp looks a little sleeker than its predecessor, even though it's slightly larger. Luckily the size increase brought about by its larger battery has been put to good use with improved ergonomics. The centrally placed volume button is more user-friendly than that of the original xDSD, as are the controls – it's a lot less fiddly to switch inputs or engage iFi Audio's XBass II and XSpace functions, for example.
The xDSD casework now has a matt finish, so it's no longer a fingerprint fest, and build quality is excellent. Based on my own usage in the last few months, you can throw the Gryphon in a bag when you leave the house without worrying about it showing damage afterwards. Nonetheless, acquiring the optional suede-effect case from iFi Audio might be a good idea. At 215g the DAC/amp weighs about the same as a flagship smartphone.
A major new addition is the Gryphon's OLED screen, which appears to span the top of the device but doesn't actually make full use of all that real estate. During operation this display shows the selected input, volume level and the format of the incoming audio stream, and is bright enough to be viewed even in strong sunlight. Better than the colour-coded LED lighting scheme on the first-generation xDSD, or the glowing spheres of the rival Mojo 2 from Chord [HFN Apr '22]? Definitely.
Streaming via Bluetooth might be frowned upon by many audiophiles, but in the 'real world' it can be extremely useful. OK, it's not totally impossible to wander around with the xDSD Gryphon dangling from your smartphone via the supplied USB-C cable, but I'd expect most people will prefer the Bluetooth mode for casual, portable listening, and utilise the cable connection when at home.
However, until Qualcomm releases a chipset with lossless support – apparently in the works – Bluetooth will remain a lossy experience. At least iFi Audio seems determined to make it as high quality as possible, utilising the current top-spec QCC5100 silicon, and – crucially – the xDSD Gryphon supports an exceptional range of compression codecs. AptX HD and LDAC are the main, high-performance options, but even the HWA/LHDC codec, which supports (lossy) 96kHz/24-bit, is included. Of course, this last one is only relevant if you happen to own a Huawei smartphone, which is a rarity nowadays in Europe and the US.
There are plenty of other input options – USB caters for hi-res audio from a computer or network transport, and there's an S/PDIF input too. If you want to use the device purely as an amp, a third-party DAC can be hooked up via single-ended or balanced 4.4mm Pentaconn rear-panel connections. This is another departure from the past, as the earlier xDSD sported only digital ins. Around the front there's a similar dual-port arrangement of 3.5mm single-ended and 4.4mm balanced outputs.
Going Native
For the Gryphon's digital side, iFi Audio is using the same DAC we saw in the £3249 Pro iDSD Signature [HFN Jan '22] but note that the latter contains four of the DAC chips in an interleaved configuration, not just one. Regardless, the 'True Native' design of the DAC (PCM and DSD files have discrete pathways), together with an XMOS microcontroller running iFi Audio's homegrown firmware, delivers first-rate performance. The Gryphon's USB connection handles up to DSD512, PCM to 768kHz, and offers full MQA decoding. The S/PDIF inputs are necessarily capped at 192kHz.