iFi Audio Pro iDSD Signature USB DAC/Headphone Amp


Sporting a Signature nameplate, the flagship of iFi Audio's sprawling digital product range has been fine-tuned with 'audiophile' components and offboard iPower Elite PSU
No, you're not having a flashback, but you'd be forgiven a sense of déjà vu, given that we reviewed the original iFi Audio Pro iDSD DAC/headphone amplifier [HFN Sep '18]. Then it sported what we thought was an ambitious £2500 price tag, and pro-audio aspirations with a range of facilities so extensive that it paid to know what you were doing when tackling its myriad options and adjustments.
Fast-forward three-and-a-half years and the flagship model from the Southport-based company now carries 'Signature' badging, glitzed-up styling, and a boost in price. The new Pro iDSD Signature is yours for £3249, or £500 more than the current £2749 of the original model.
And it's not the only 'Pro Signature' model in iFi Audio's catalogue: if you want an all-analogue headphone amp there's also the Pro iCAN Signature in a matching format and boasting a wider range of balanced headphone outputs. It sells for £2249, or £450 more than iFi Audio's standard Pro iCAN model.
A Feature-Fest
The new Pro iDSD Signature can still be used as a DAC, a headphone amp and even as a preamp, thanks to fixed/variable analogue outputs on both RCAs and balanced XLRs, while headphones are catered for across both balanced and unbalanced outputs. There's also the same choice of output stages – 'solid-state', 'Tube', or 'Tube+', the latter employing minimal negative feedback in an effort to sound even more 'valvey'. There's the same vast range of adjustments available via multifunctional front panel controls, as well as its dedicated app, so it's hardly surprising that iFi Audio backs up the product with not just a user manual, but also video connection guides.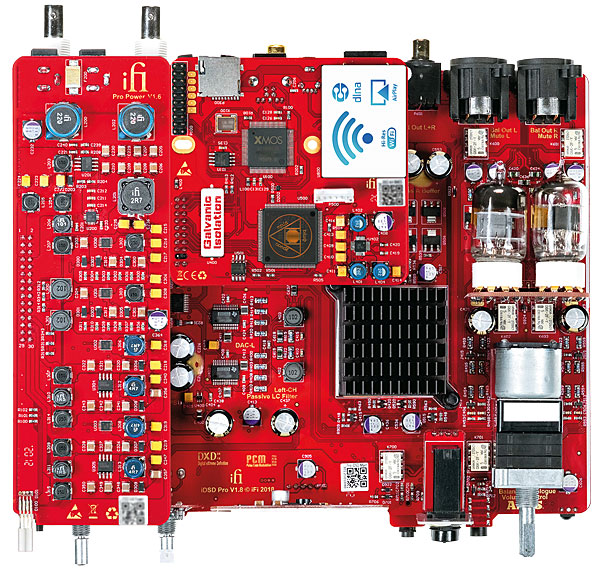 The most obvious difference, apart from all that bling, is inclusion of the company's range-topping iPower Elite power supply, clad like the main unit in aerospace-grade aluminium, and itself selling for £299. So that's more than half the price increase accounted for… The company claims this works in concert with the redesigned power supply board within the Pro iDSD Signature, which also uses upgraded components, to lower noise by either 300% or 300x, depending on which bit of the promotional material you read. The aim? A 'sonically-darker background and more punchy bass', the company says.
Also new are more precisely matched 'new old stock' General Electric 5670 valves in one of the unit's two output stages, a more comprehensive alloy-skinned remote handset, and support for USB1.0 audio, should you want to use this £3249 DAC/amp with your PS4 or PS5 games system. Well, someone might…
Inputs Galore
Otherwise much is as before, including its phenomenally wide-ranging connectivity. Not only does it have a USB-B input for computer hook-up, alongside AES/EBU and a combined optical/coaxial digital input, but it can also play music from network audio sources via Ethernet or Wi-Fi. With DLNA streaming built-in, support for services including Spotify and Tidal, plus MQA decoding for those Tidal Master files, this busy little box seemingly leaves nothing to chance. Furthermore, all the electrical inputs are galvanically-isolated and the USB section is equipped with dedicated power management.
It's also possible to play from USB drives or microSD storage cards, while the Pro iDSD Signature also accepts Apple AirPlay via its supplied Wi-Fi antenna. Finally, the unit has BNC clock inputs and outputs, should you want to sync the DAC with external digital equipment, most likely in a pro setting.
Sequestered within that casework is a stack of four interleaved DACs from Burr-Brown, permitting the unit to handle content at up to 768kHz PCM and DSD1024. There's also buffering upstream of the DACs to suppress jitter and custom software running on an FPGA to 'remaster' music up to DSD1024 if required.
IFi Audio's menu of digital filters is now the stuff of legend – à la carte options including 'Bit-Perfect', 'Bit-Perfect+', 'Gibbs Transient Optimised' (said to 'add gravitas and a new dimension'), 'Apodising' and 'Transient Aligned'. Regular readers will know what's coming next – by all means play with these to your heart's content, but you might well spend a lot of time scrutinising them when you could be enjoying music instead.