Chord Mojo 2 USB DAC/Headphone Amp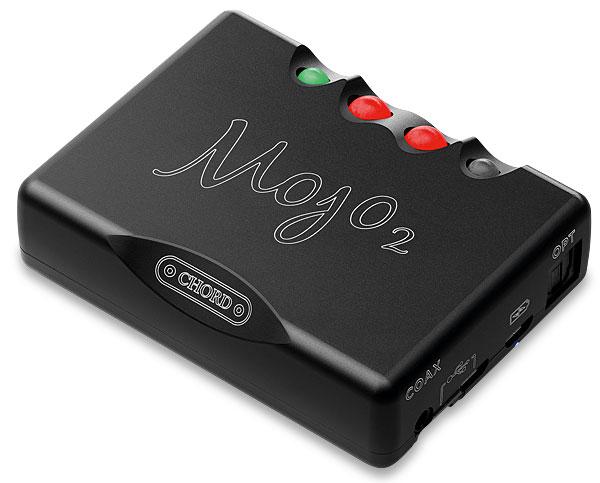 Tiny, solidly made, UK-built and now even more capable, is this compact USB DAC/headphone amp from Chord Electronics still the one to beat below £500?
Inundated as we are with pocket-money portable headphone amp/DACs, Chord's Mojo 2 asks the question: why drop £449 on a portable headphone DAC? Once you hear it, you'll understand, especially if top-quality sound on the move matters to you. The Mojo 2 is an upgrade on the top-drawer Mojo [HFN Jan '16], the battery-powered, smaller-than-a-deck-of-cards DAC/headphone amp. It arrives with only a £50 price increase that doesn't even correspond to real-world inflation. Even without the Mojo 2 improvements, the original Mojo should retail for £470 in 2022 just for the inflation, so Chord has somehow managed to squeeze in a host of upgrades with but a nominal price hike.
Two visual clues, aside from the engraved '2' on the surface, identify the new version. The most obvious is a fourth control sphere, adding to the bespoke light show which tells you what function or level is being addressed via the new menu system. And you need good eyesight, as some of the colour differences are subtle. If you're colour-blind, forget it.
Over The Rainbow
While most of these functions are secondary, many will welcome them: access to mute, crossfeed, button-lock and tone control adjustment in addition to battery level and charging status. I almost said 'easy access', but that would be a fib for I found the Mojo 2 especially challenging to navigate. Its 'user interface' is simply very different...
The ±9dB four-band tone adjustment, in particular, is accessed and set via no fewer than 14 permutations of the centre pair of buttons. The menu button, meanwhile, lights up red to indicate the 20Hz (bass) tone shelf is active, yellow for 125Hz (upper bass), green for 3kHz (presence/treble) and blue for 20kHz (high treble).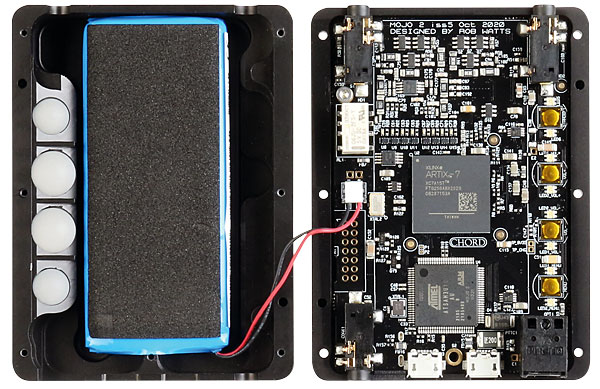 For me the most valuable external change is the addition of a symmetrical, (plus 768kHz/32-bit and DSD256 compatible) USB-C input, bringing the Mojo 2 into line with most current smartphones, MacBooks, etc. However, while the Mojo 2 might be purchased by some users mainly as a top-flight headphone amp, remember that this is an exclusively digital in/analogue out device. So, if you only want a portable headphone amp, to improve on your smartphone or tablet's meagre analogue headphone output, there are other solutions available without a DAC section.
The abundance of digital inputs increases the Mojo 2's usability while Chord has also held onto its two 3.5mm headphone sockets, for two listeners, albeit without separate output levels for each. The retention of the original Mojo's Micro-USB port also maintains compatibility with Chord's £495 Poly add-on, which adds wireless connectivity and microSD card storage – although my personal experience of the various interfacing apps between the two gave me a headache. Then again, I often find myself dreaming about the glory days of installing scanners, modems and printers in Windows 95...
DSP To Spare
Internally, the changes from Mojo to Mojo 2 are extensive, not least being the addition of those lossless DSP tone controls (hence the need for the fourth button), and the removal of coupling capacitors in the output stage. Processor coding and filtering have been upgraded, the noise shaper has been improved for 'greater depth and detail', while the dynamic range is said to have increased from 122dB to 125dB (like I'd notice...).
The lithium-ion battery has witnessed a 9% uplift in capacity and benefits from swifter, more efficient charging. The loss from heat (the original Mojo could double as a hand-warmer during cold months…) has been reduced by 75% according to Chord and while the Mojo was said to offer eight hours' playing time this has been updated to 'over 8 hours' for the Mojo 2. Before, the amp was fed by the battery but in the Mojo 2, it's fed via regulators, so there's lower PSU noise. Importantly, if the Mojo 2 is left plugged in to a charger, the battery now remains isolated.

Mojo Risin'
To pitch this against the original Mojo, I used it with EQ set to flat, and employed the input types common to both. For my final verdict, however, and optimising the conditions, I used the aforementioned USB-C port. Both Mojos were tested with a selection of headphones from Audeze and Master & Dynamic, including the high-end Audeze LCD-5 which need lots of power.