Cambridge Audio DacMagic 200M USB/Wireless DAC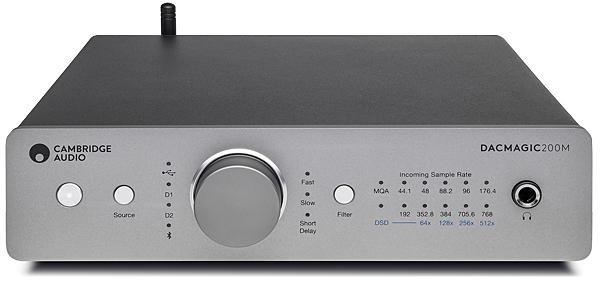 The latest in a lineage of DACs stretching back some 27 years has a name – 'DacMagic' – that's as memorable as the parent brand itself. Hey presto, here's the 200M...
The modern hi-fi market is not exactly short of affordable DAC/headphone amplifiers, but the £449 Cambridge Audio DacMagic 200M has not only previous form, but an impressive pedigree on its side. Indeed, a full 27 years have passed since the arrival of the original DACMagic-1 as a slightly late, but very affordable and accomplished 'CD upgrade' DAC. Since then, the company's range of digital-to-analogue converters has been developed and refined, as well as adapted to the requirements of the changing hi-fi arena.
Yes, this latest arrival still has the same optical and coaxial inputs as the original model, but now we also have both asynchronous USB-B and Bluetooth 5.0 with aptX, for which a tiny stub antenna is provided, and which allows wireless connectivity with portable devices. In addition, the new model, thanks to its ESS Sabre ES9028Q DACs, also handles MQA files and DSD512 in native form, as well as PCM to 768kHz/32-bit. So as well as being 'on-trend' with rival designs in handling extended 'hi-res' file formats, the DacMagic 200M is also sized to fulfil the dual duties of main system and 'desktop' audio.

Lunar Surface
Like other current Cambridge Audio products, it's also beautifully built, with a feeling of solidity belying its slight 1.2kg mass, and the company's 'lunar grey' finish being of high quality, even if I can't help feeling that the whole enterprise would look classier if the main casework matched the silver fascia, rather than being black. The control layout is also simple enough to make it 'plug and play' for the inexperienced user, while offering sufficient flexibility for the more adventurous. Most of the everyday functions are right there on the front panel, including source selection, the choice of three digital filter options and the volume control, but there are one or two hidden menu items activated by multiple button presses.
For example, by default the 200M will power down after 20 minutes of no signal, but this can be bypassed with a five-second press on the volume control, and reinstated with a 10sec press, the input LEDs blinking to confirm the change. Also, the analogue output can be switched from fixed to variable by pushing the volume and filter buttons together (the headphone output is always variable level).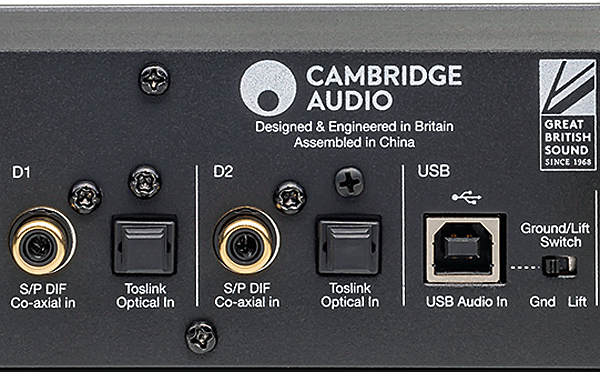 The source selection button also serves to set up Bluetooth pairing, the indicator showing whether the aptX or SBC codec is in use, as well as selecting the physical digital inputs. There are both optical and coaxial ins on both the 'D1' and 'D2' inputs, but each will accept only one of the two connections provided.
Input format detection is automatic, with ten miniature LEDs to indicate the sampling rate being processed, from 44.1kHz to 768kHz, the last four also showing the DSD format incoming – 64, 128, 256 and DSD512 in conjunction with a DSD indicator. A final lamp will illuminate when an MQA file is being processed, changing colour to indicate the MQA processing in operation: green for MQA, blue for MQA studio, and magenta when an MQA stream or file is being rendered.
Filter Settings
Only file formats up to 96kHz/24-bit are supported on the optical inputs, as is usual, with the coaxial ins extending to 192kHz/24-bit. To go beyond this you'll need to use a computer, or a music server with a USB output, into the USB-Type B port. You'll need to download a driver from the Cambridge Audio website to use the DAC with a Windows computer, but no driver is needed with Mac OSX machines.