Balanced Audio Technologies REX 3 DAC USB Tube DAC Page 2
Two are employed as PSU current sources for the output stage, the latter using no overall negative feedback, buffers or followers in the signal path, and which BAT calls 'UniStage'. It also lacks any signal path capacitors, and has amorphouscore transformers for output coupling – a technique rare in 'consumer' audio, but widely used in pro-audio equipment. Amusingly, where this design is used in the REX II preamp, BAT refers to this transformer-coupled layout as T-REX.
The other element of the design is the use of the company's 'SuperPak' capacitor bank, now in its second generation, and previously available as an upgrade for the last REX DAC model, as indeed it still is for models such as the VK-P12SE phono amp. Fitted as standard to the REX 3 DAC here, it adds to the usual electrolytic power supply capacitors a bank of large oil capacitors, greatly increasing the energy on tap. It's all part of the design of this DAC's highly-specified output stage.

Right Off The Bat
Clearly, then, the REX 3 DAC is a long way from the fallacious stereotype of 'well, all DACs are not much more than a chip and a simple output stage, so why are they so expensive?'. There's a lot of engineering going on here – even if the remote looks like it's escaped from a 1980s TV – and fortunately no shortage of performance to set the REX 3 apart from its peers.
Fire it up and right from the off – well, right from the minute or so's wait while it soft starts and stabilises itself ready for action – you realise you're on to something special, even when doing something as simple as playing CD-quality music in through one of the coaxial digital inputs.
An album like Yazz Ahmed's Polyhymnia [Ropeadope RAD506CD] is immediately notable for the way the transients of Sophie Alloway's percussion opening 'Ruby Bridges' really zings out of the speakers, and then remains just as crisp, tight and focused however busy the track becomes, the slinking beat driving the music along.
And with more than 30 musicians involved in this album, things do tend to get a bit complex at times, yet the beauty of the REX 3 DAC's sound is that it gives every instrument, every line of the scoring, plenty of breathing space, allowing the listener that luxury of 'listening around' the performance, to focus on single performers or luxuriate in the sheer spread of sound.
It's an experience akin to that 'live performance' presentation so often sought, and a very long way from the technical fireworks with which so much audio equipment seeks to dazzle. Instead, when one reaches the album-closing homage to influential saxophonist Barbara Thompson, the lasting impression is of the rich variety of musical colours and textures on offer in the playing and recording, and not how good the hi-fi is sounding.
King Of Hearts
That sparkling sound, packed with freshness and vitality while maintaining the illusion of total ease, is the clever stuff here, as is clear with Compagnia di Punto's 'small band' recordings of Beethoven's first three Symphonies [Deutsche Harmonia Mundi 19439706502-2; 48kHz/24-bit].
With just 11 musicians deployed instead of the usual massed forces, these arrangements are sprightly, crisp and intimate, and the REX 3 DAC again does that wonderful thing of taking the listener to the heart of the music while allowing each individual contribution to be examined if required.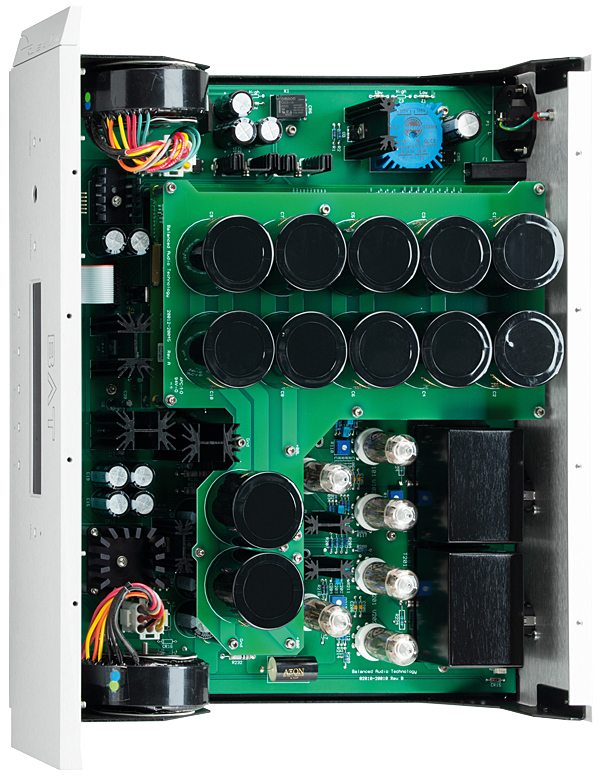 That's not to say it can't turn on the thunder if really necessary. With the blazing 'Walk On Hot Coals' from Rory Gallagher's Check Shirt Wizard live set [Cadet Concept/Chess 0836846; 96kHz/24-bit], the sheer vitality of performances, recorded in 1977 on the Rolling Stones and Jethro Tull's Maison Rouge mobiles, is irresistible. Mixed from the original multitracks, the album allows the guitarist's performances new life, and the REX 3 DAC's winning combination of spark, speed and dynamic power makes the most of them, whether Gallagher is blues picking almost solo, or crashing it out with the band.
With all this ability, it's a given this remarkable DAC will do its thing with demo-quality jazz, too, and it passes the piano, bass and brushed drums test with total nonchalance. But don't even consider it if you limit your musical choices by what's likely to show off your system at its best. So well does the REX 3 perform across the board that you're going to be spending a lot on music.
Hi-Fi News Verdict
Despite what some would have you believe, all DACs don't sound the same, and they certainly don't all deliver in musical terms as well as the REX DAC 3. Simply, this unashamedly expensive converter gets you closer to the music without you even realising it's doing it. Just let it weave its magic, and you'll be too immersed in what's being played to give another thought to all the engineering making it possible.