Balanced Audio Technologies REX 3 DAC USB Tube DAC

Launched to the audiophile world at CES in 1995, Balanced Audio Technologies may have lifted off like a rocket but has only had patchy distribution in Europe. Until now...
Balanced Audio Technologies – BAT for short – has been much discussed over its 25-year life to date, but until now has remained an object of distant interest for UK audio fans. Now, thanks to distribution by Yorkshire-based Karma AV, all that might be set to change, so perhaps now is the time to take a closer look at the brand.
Where better to start than the latest version of the company's DAC, the £19,995 REX 3? After all, the company has its roots in digital technology, co-founders Steve Bednarski and Victor Khomenko having met at Hewlett-Packard, and bonded over an interest in recorded sound. Legend has it that, growing up in what was then Leningrad, Khomenko built his first crystal radio set when he was just eight, and was sourcing parts from various places including the dump used by the Svetlana factory, best-known for its manufacture of valves.
Tube Powered
Not surprisingly, the company's debut products – the VK-5 linestage preamp and the VK-60 power amplifier, which launched at the 1995 CES (in an age when that show was still a major focus for hi-fi) – both used valves and, given the name of the new company, were of balanced circuit design. Joining forces with Geoff Poor, then sales director of Dunlavy speakers and later to join BAT, the pair demonstrated the new products driving that company's SC-V loudspeakers, which were also being introduced at the show that year.
That's the history: scroll forward a quarter of a century, and the Wilmington, Delaware, company now has an extensive offering covering six preamps, eight power amps (both valve and solid-state), an integrated amplifier and two phono stages, each available in a range of specifications. And a DAC... the REX, now in '3' guise and reviewed here for the very first time. The REX 3 is part of the company's flagship valve-powered line alongside the REX II preamp and 'no-compromise' all-triode REX II power amp.
The latter employs two single-ended power amps per channel, summed at the output transformers to deliver 80W in stereo, according to the company, or 160W when it is bridged as a monoblock. You can even go further should you want, by daisy-chaining two mono'd REX II power amps per channel, to yield a claimed 320W. Which, as they say, should certainly be adequate for most requirements.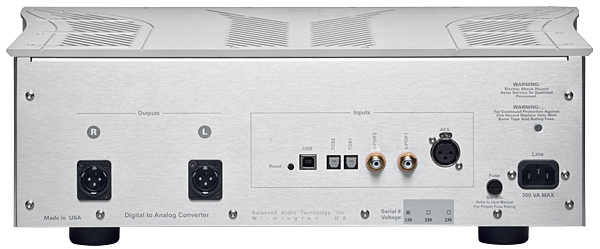 Unique Solution
The REX 3 DAC shares the styling of the REX II preamp, which is striking with its thick, curved front plate (available in either silver or black), and also much of its tube technology. Editor PM covers off the proprietary DAC technology but the 'executive summary' is that the REX 3 uses independent designer Andreas Koch's unique signal processing solution that, in this implementation, handles PCM inputs up to 384kHz/24-bit and DSD512, at least via its USB input.
As is usual, a driver is needed to connect the USB input to a PC: the fact that this is also provided by Koch's AKDesign company via the BAT website indicates that the USB interface is also designed by Koch. Mac users won't need a driver, but in this case DSD input is purely by DoP.
Other inputs are provided for AES/EBU (XLR) and S/PDIF (two optical and two coaxial), these selected using front-panel pushbuttons or the VK-R4 remote handset supplied. As far as controls go, that's almost it on the REX 3, apart from standby and mute buttons. It's also possible to dim the display from the handset and – slightly laboriously – rename the inputs.
Back to the internals of this DAC, and while the digital-to-analogue conversion is essentially an 'off the shelf' solution (if a very superior one), the BAT philosophy is clearly apparent in the design of both the analogue output section – which only feeds balanced sockets, by the way – and the power supply provision. Like BAT's preamps, the REX 3 uses an all-valve output section (complete with a wrench in the box in the unlikely event you should need to pop the lid to do a spot of tube-reseating after transportation), using six 6C19s in total.