T+A HA 200 USB/DAC Headphone Amp


Close on the heels of T+A's flagship Solitaire P headphone comes this appropriately luxurious partner combining familiar digital tech with a Class A headphone amplifier
Well, it seems everyone's doing it, so why shouldn't German high-end company T+A have its own headphone system? Hot on the heels of its first headphone offering, the Solitaire P planar magnetic design [HFN Jun '20], T+A also has a matching headphone amplifier, the HA 200 – and here it is. Even by the standards of some of the headphone exotica out there, the Solitaire P/HA 200 duo is pitched unashamedly high: the 'phones will set you back £4800, and this headphone amp £6600 in either black or silver finishes, making the whole system the thick end of £11,500. So you're going to have to be pretty serious about your headphone listening to consider it.
However, though the price may be high, as is usual with the Herford brand's products it's not hard to see where all the money has gone. Like the headphones (and just about every other T+A component we've encountered) the HA 200's finish is exquisite, thanks to high-quality materials and painstaking hand-assembly.
At just 32cm wide and 10cm tall it may be smaller than some of the behemoths we've seen from the brand, but it still has the same 'carved from solid' feel about it, not least due to the thick alloy front panel – which is literally machined from billet – and the use of the same material for all the other panels. Even the side panels, which form the heatsinks, are extruded from aluminium, meaning this relatively compact unit still weighs a healthy 6.5kg.
Universal Appeal
While it was launched alongside the Solitaire P 'phones, with which it is obviously matched, this is by no means a dedicated unit so will appeal to a wide range of 'head-fi enthusiasts'. Catering to every flavour, output is available on a standard 6.35mm socket, with balanced alternatives on a 4.4mm 'Pentaconn' socket and a four-pin XLR. Each output has its own selector button beside it – so you could have headphones connected to all three at the same time if you wanted (though only two should be switched on at once) – while the menu system allows one of six impedance settings to be chosen for each output: 8, 12, 18, 25, 40 or 80ohm.

While the HA 200 has both analogue and digital inputs, the former on both RCAs and balanced XLRs, and includes a DAC (or DACs), it doesn't have any form of analogue output beyond its headphone sockets. So the HA 200 won't double as a DAC/preamp in a conventional system – the high-quality Class A output is a dedicated headphone preamp only. Quite why there's no line/preamp output is not clear, though perhaps there simply wasn't space on the rear panel. In addition to the analogue ins, there are two S/PDIF coaxial and optical inputs, AES/EBU and BNC ins, an asynchronous USB-B port for computer connection, plus a Bluetooth antenna.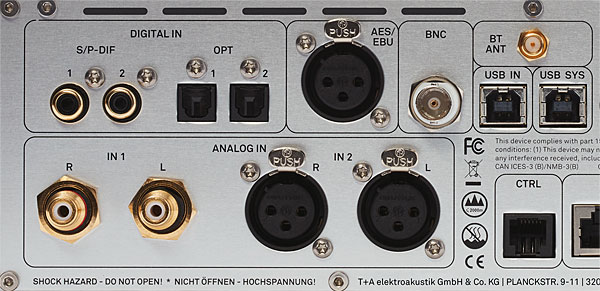 Formats 'N' Filters
Beyond that there are more sockets that look familiar but aren't quite what they seem. The second USB-B and an RJ45 Ethernet-style port are included, T+A says, for the connection of 'future devices', while two more RJ45s labelled for the company's E2 Link system perform the same function. A USB-A socket is provided, but this will not take audio from a pen drive – it's for USB charging only and most notably for the supplied FM8 remote. A two-in/one-out HDMI board is also available as a £480 option, allowing TV/video sound (LPCM stereo only) to be fed to the HA 200 while the video signal is passed to a screen.
The USB-B socket will accept a wide range of file formats, up to 768kHz/32-bit and DSD1024 when used with a Windows computer loaded with T+A's driver. Mac users are limited to a maximum of DSD256. In common with other high-end T+A digital products, the HA 200 uses separate signal paths for LPCM and DSD datastreams. The former uses what the company describes as a 'Double-Differential Quadruple-Converter with four 32-bit Sigma-Delta converters per channel', while the latter uses the company's proprietary 'True-1-bit DSD converter', which handles the single-bit signal in native form, all the way up to DSD1024's 49.2MHz sampling frequency.
T+A's four tried-and-tested digital filter settings are available here in addition to two new NOS (No Oversampling) types. The two linear-phase FIR types are the 'classic' filters of choice while the two Bezier types – a T+A staple – are interpolative filters. The combined Bezier/IIR filter is a minimum phase type with very little pre-ringing while the pure Bezier option has almost no pre- or post-ringing but has an early treble roll-off with CD/48kHz media. As is often the case, I spent an unfeasible amount of time playing with these settings before concluding that there was no one 'sweet spot' fits-all option. Hours of fun, for those so inclined, lies ahead...
And there are more options to explore, including a bandwidth setting that lets you switch between a 60kHz low-pass response and a 120kHz 'wide' option, the latter said to give 'a more spatial music reproduction'. The HA 200 also has balance, bass and treble controls, along with a variable loudness setting for use when listening at low levels. And if all that isn't enough to fiddle with, there's also a crossfeed facility, which bleeds signal between the two channels for a more speaker-like sense of stereo imaging. Again, you and your headphones will be the judge of this.