Astell&Kern KANN Alpha Portable Player/Headphone Amp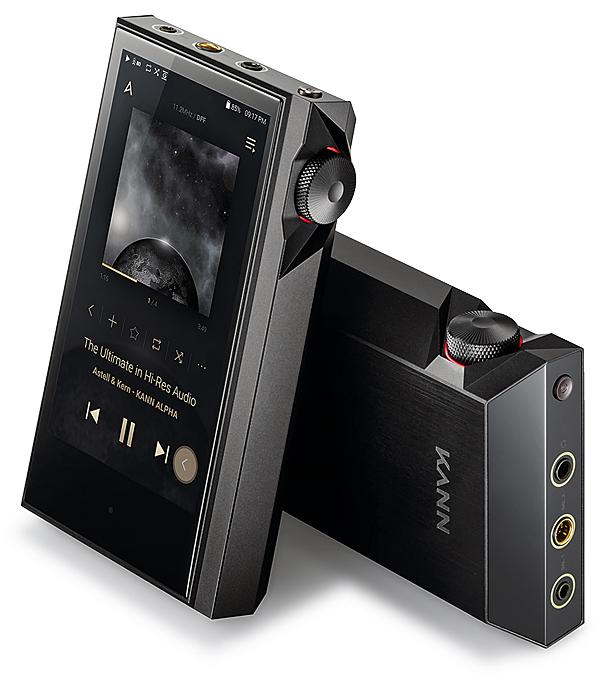 The third portable player in A&K's 'alloy brick' KANN series boasts extended battery life, a higher powered headphone amplifier and compatibility with Bluetooth 5.0
With modern smartphones able to offer high-resolution audio playback, the market for dedicated portable audio players is now fairly niche. One of the biggest fish in this relatively small pond is Astell&Kern, which offers an extensive range of models priced between £625 and £3400. These are divided into four lines – KANN, A&norma, A&futura and A&ultima – with the £1099 KANN Alpha being the latest addition to the KANN series and slotting in between the existing KANN and KANN Cube players on price.
These ranges are not hierarchical and the KANN series overlaps with the A&norma and A&futura models. This is because the KANN players have a different design brief which shapes both their appearance and specification. Astell&Kern views the KANN models as portable headphone amplifiers, able to partner with the headphones its more conventionally shaped models might struggle with. This means that the KANN players are somewhat more portly than similarly-priced models in its other ranges.
Gain, Set And Match
This extra capacity means more space for amplification with a view to meeting a 'drive anything, anywhere' mission brief. Astell&Kern claims the KANN Alpha can deliver 6Vrms via its single-ended output and 12Vrms via balanced which should be sufficient to give the user pretty much a free choice when it comes to partnering headphones.
In order to make using the KANN Alpha more practical with relatively sensitive partnering equipment, there are three selectable gain settings. The lowest of these drops peak output to 2Vrms and 4Vrms respectively, and the intermediate one to 4Vrms and 8Vrms. This should avoid the undesirable 'hair trigger' effect of using sensitive headphones with relatively powerful amplification. All three gain settings can be switched to a fixed line out if the KANN Alpha is being used with a device having its own volume control.
Decoding is taken care of via a pair of ESS ES9068AS DACs with support for PCM up to 384kHz and DSD to 11.2MHz. This is the same duo that forms one side of the recently-tested A&futura SE200 player [HFN Feb '21] but here there is no additional DAC option from AKM, or indeed anyone else. This means a reduced number of outputs on the chassis, but only to three from the four of the SE200, rather than the expected two.
This is because the KANN Alpha is the first Astell&Kern player to feature a 4.4mm Pentacon connection in addition to the company's preferred balanced option of a 2.5mm four-pole socket and 3.5mm single-ended connection. Charging and data transfer is via a single USB-C socket, which also supports OTG functionality. Meanwhile, battery life is said to be around 14.5 hours depending on pattern of use, and this feels achievable in practice.
The other new fitment doesn't involve cables at all. Astell&Kern has been including Bluetooth on its players for some time but the KANN Alpha is the first to feature Bluetooth 5.0. When it comes to sound quality, there is no difference over the preceding versions because performance is still determined largely by the extended codecs that are supported.
Size Matters
Where Bluetooth 5.0 comes into its own is the significant improvement in efficiency it affords, which means compatible devices should enjoy longer batter life. Thanks to aptX HD and LDAC support, the KANN Alpha should also be able to send a 44.1kHz/16-bit file to suitable partnering equipment without significant compression.
Nevertheless, not everything about the player feels quite so well thought through. Internal memory is fixed at 64GB, which frankly feels somewhat parsimonious. This can be expanded via a microSD card, with cards up to 1TB supported, but these, of course, will need to be budgeted for in addition to the player itself.
I also found the size of the KANN Alpha's screen problematic [see boxout, p73] while the control interface threw up its own issues. At its heart, the interface used by all Astell&Kern products is a modified Android platform, but rather than allow apps to be installed via Google Play, they must be loaded via APK and transferred over USB – a process that was not always seamless under test. Meanwhile, the embedded Tidal app ceased functioning during review due to a login problem, although Astell&Kern says this is a temporary issue and would be fixed, around our publication date, via a firmware update for the player.