Manley Absolute Headphone Amp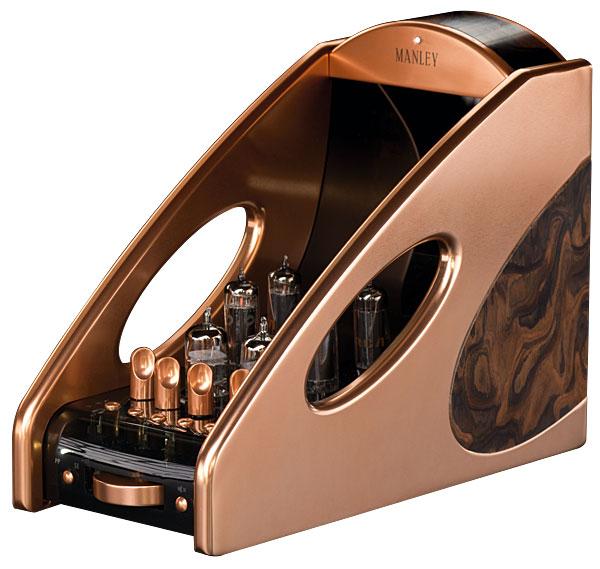 High-end headphone amps for connoisseurs of cans require total adjustability – has Manley Laboratories delivered the goods with the Absolute Headphone Amplifier?
Veteran makers of headphone amplifiers for studios, Manley Laboratories is taking on the extreme high-end of the domestic genre with a £4500 unit – the Absolute – that marries audiophiles' sonic requirements with the total control demanded of professionals. Company CEO Eveanna Manley says, bluntly, 'Our goal was simply to produce the most awesome-sounding and sonically flexible vacuum tube headphone amplifier!'.
To address consumer usage, the thing looks cool and is designed to stand proudly on a desk, nightstand or anywhere else one's headphone amp might be sited. Unlike Manley's lab-look stuff for studios, the Absolute is made with a sculpted-from-solid chassis in three colours – black, copper or silver. Hand-rubbed walnut burl veneer covers the headphone rest areas, the Absolute doubling as a stand.
Manley eschewed fitting a DAC, Eveanna explaining, 'We already have a ton of features crammed into this unit. Besides, a better DAC can be designed into a larger chassis, with a dedicated power supply to be its own full-featured thing. We never set out to cram a DAC into this form factor, nor to fit a Bluetooth receiver'. As for wireless, she added, laughing, 'We have provided an awesome RF wireless remote control!'.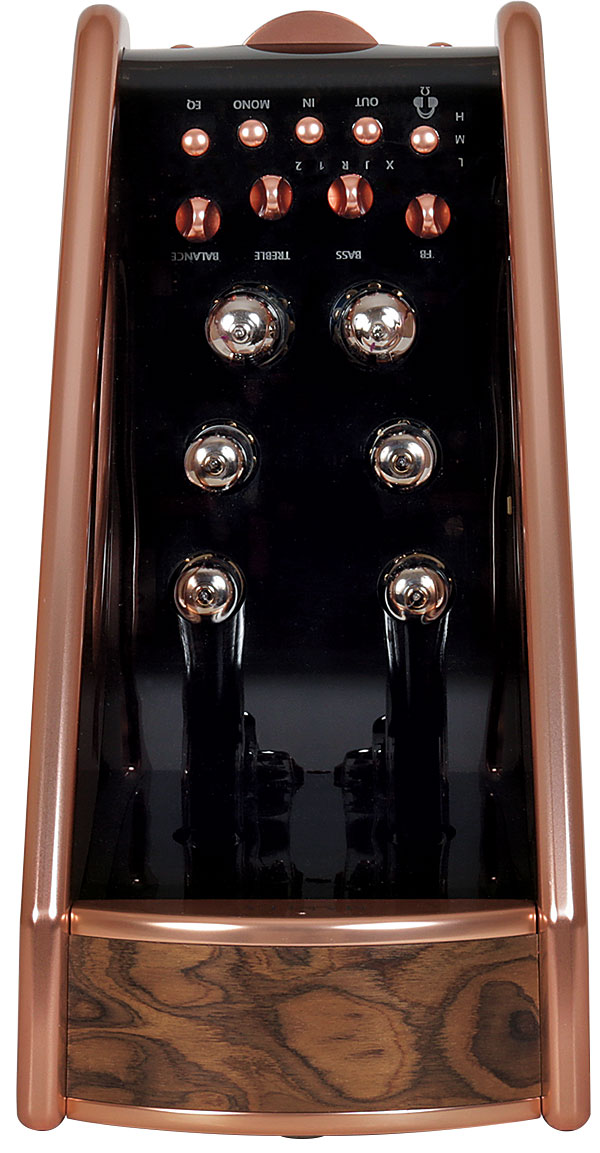 Set 'N' Match
DAC notwithstanding, this is certainly the best-equipped headphone amp I've come across. I cannot, off-hand, name one that does everything of which the Absolute is capable, though AudioValve's Solaris comes close. As is the norm at this level, the Absolute accommodates balanced via XLRs and regular headphones with ¼in jacks, and can be used as a preamp thanks to RCA line-level outputs and two pairs of RCA inputs for line sources. So far, so normal.
Manley says the device provides 'fifteen independent controls,' and I tried all of 'em. With the exception of balanced headphones requiring two XLRs or two ¼in jacks, the intention is to be able to match this to any headphone on the market. The volume control on the fascia is a horizontal thumbwheel to bring tears to the eyes of those who remember vintage Marantz FM tuners. To the right is the mute button, to its left a button to choose between push-pull or single-ended tube modes.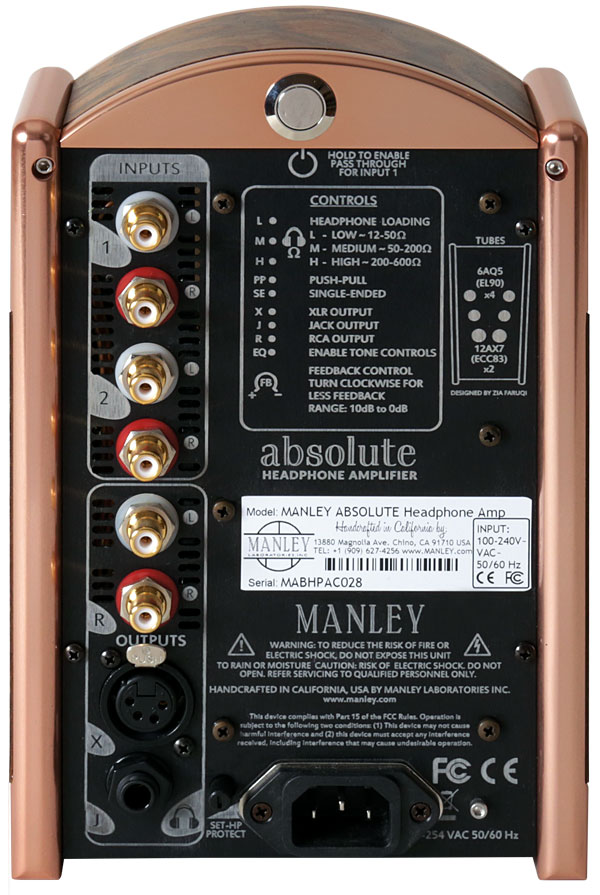 This unit, better than any other I have tried, enables you to experience without doubts the differences between the two topologies, while teaching a valuable lesson: they are not mutually exclusive, so absolutists should put a sock in it. You will find yourself 'learning' which suits which headphones, music types or, when used as a preamp, which power amps. The variances are subtle but decisive, and do much to help you optimise headphone performance.
Volume is indicated by a row of 16 white LEDs above the thumbwheel, with 127x0.5dB steps. Next come five buttons and four knobs on the top of the front section. The buttons control (left to right) headphone load, set via custom output transformers hand-wound in-house, with settings of Low (L) for 12-50ohm, Medium (M) for 50-200ohm and High (H) for 200-600ohm and above.
Into The Valley
Balanced (XLR) and single-ended (¼in jack socket) headphone outputs are selected together with the RCA preamp output. The middle button selects either of the two line inputs, the next toggles stereo/mono, and the last button is the EQ control which activates or bypasses the tone controls. Again, white LEDs indicate all choices.
Above these buttons are four tall, slim rotaries. From left to right are a 'Feedback Control' its usage affecting the levels of refinement. The two rotaries in the middle are bass and treble controls, activated or bypassed by the EQ button. Lastly the balance control provides a claimed 72dB swing each way, with a centre detent taking it out of circuit.
Next come two 12AX7 input tubes and four 6AQ5 output tubes, wired as triodes, housed in the valley formed by the metal sides. At the back, alongside the RCAs, is a tiny rotary for 'Headphone Protection Control'. Inactive when turned completely counter-clockwise, it can be used to set a threshold to protect expensive headphones (or one's hearing) from overload, by monitoring the output level and automatically decreasing the volume when the user-threshold is exceeded.