PS Audio DS Memory Player/PW DirectStream DAC CD player/DAC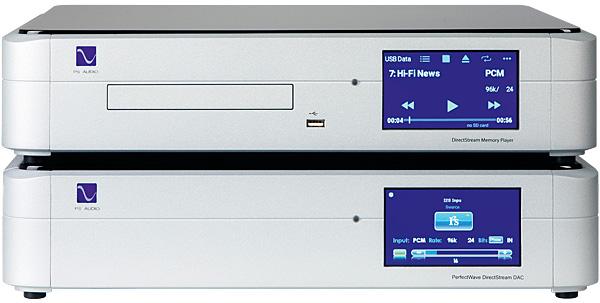 Claiming to be 'the last digital front-end you will ever need', can this combination of wide-ranging compatibility and ongoing upgrades match up to that ambition?
The ever-evolving digital audio landscape has made buyers wary and manufacturers jumpy. It seems that each time a company launches a 'definitive', future-proofed product, some new format or twist pops up for its moment in the sun as the 'must-have' way to store and play music. However, some manufacturers handle this problem better than others, thanks to designs able to deal with every known format of the moment, and having either modular construction or firmware upgradability to keep up with changes.
That's certainly the case with the PS Audio duo here. Both the £6000 DirectStream Memory player and the £5500 DirectStream DAC have been improved during their short lives, and there's no sign that the running upgrades, mainly in the form of ongoing firmware updates, are slowing down.
All Flavours
That's reassuring for buyers of what are, after all, not inexpensive units, but the Boulder, Colorado-based company makes the bold claim that this combination is 'the last digital front-end you will ever need'. OK, so we've heard all that before but on paper at least, the PS Audio combo looks to have the specification to back up that statement, and the company certainly has shown it has the digital chops to instil a degree of confidence in this area.
So what sets the DirectStream Memory Player and DAC ahead of the crowd, aside from the provision of quaint, old-fashioned disc playback in the streaming age? OK, I tease a bit, but then I have to admit that in my current set-up, discs are typically things to be ripped from, rather than played directly. Certainly, younger acquaintances view loading a physical carrier into a player as almost as outmoded as playing records used to be before it became hip – or is that hipster? – all over again.
As the name suggests, the DirectStream Memory Player is much more than just a disc transport – or perhaps, more to the point, it treats discs as just so much more memory. It will seemingly play every flavour of CD, SACD, DVD-R/RW, AVCHD and HRx discs, not to mention FLAC, APE, WMA, MP3, M4A, AAC, DTS, AC3, WAV, DSF, MKA, PCM and OGG music files from discs or via the front panel USB input. Yes, it also has a network connection, though it won't play music from a network source, but rather uses this connectivity to access album artwork in real time when content is played, and to allow the player to be controlled by a computer using the company's 'My PS' protocol.
Digital Connections
Almost as remarkable as the wide-ranging format capability is the Memory Player's output provision. Of course it's digital only, but it goes a long way beyond the norm by not only offering digital output from SACDs, and indeed multichannel digital output, but also doing so with an I2S interface designed to service the same inputs on the DAC.
The problem with SACD is that the format itself precludes digital output as part of its copy protection regime. Dedicated SACD players may have offered a digital output, but this has always been restricted to playback from the CD-quality 'Red Book' layer of hybrid discs, and one of the only ways around this has been to use a universal Blu-ray player via HDMI into a suitable AV receiver.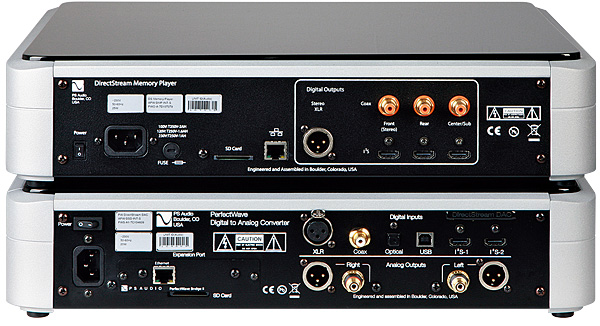 By going for an I2S connection, PS Audio has been able to preserve the encryption between transport and DAC while still getting the SACD data out of the transport as a native 1-bit bitstream. And of course maintain the I2S advantage of carrying the clock signal on a separate connection from the datastream, rather than mixing the two together as happens in S/PDIF and AES/EBU interfaces.
The Memory Player has S/PDIF and AES/EBU outputs, of course, but the serious stuff uses PS Audio's proprietary HDMI-based I2S connection, with three sockets carrying front L/R, surround L/R and centre/subwoofer channels for use in surround systems. An HDMI cable, with its 19 cores, easily allows the carriage of both digital data and clock signals, though it must be pointed out that the connection only uses HDMI connectivity, and isn't to the HDMI standard. So you can't connect the Memory Player into an AV receiver/processor with a conventional HDMI input.
The Memory Player also uses the company's so-called Digital Lens technology, originally debuted in its PerfectWave Transport [HFN Aug '09], to isolate and buffer the output from the disc-reading section. Here it uses a large-scale FPGA to provide what PS Audio describes as 'a segmented structure including intelligent RAM, two-way isolated communication with the drive, and nearfield output latches controlled by an ultra-low jitter fixed clock' – a development of the original's relatively simple buffer between disc-reading and digital output.
Message Received
Also featured here is a fully analogue power supply, in place of the more common switch mode option. A toroidal transformer with three galvanically isolated windings feeds the trio of power sections, each with its own regulation and capacitor storage banks, and then further regulation for power supplies offering both smoothness and low impedance.
And all that's just the transport! The DAC, meanwhile, is fully 'on message' when it comes to the latest developments in digital audio – a testament to PS Audio's policy of continual upgrades, available free to existing owners [see Sidebar]. The short version, however, is that while the 1-bit/DSD DAC technology here may be familiar – from the PerfectWave DAC [HFN Aug '14] and the more recent DirectStream Jr [HFN Jun '16] – thanks to the FPGA at the heart of the design, carrying the software handling the digital conversion, updates in both facilities and performance have been made available.