Canor CD 2.10 CD Player/USB DAC


What is the connection between this Slovakian-built CD player/DAC and global turntable giant Pro-Ject, and does its triode tube output stage give it an edge?
In the music business, an eight-year wait between albums might give fans cause for concern and raise fears of 'issues' behind the scenes. But we have no such worries about the similar gap betwewen Canor's latest CD player and its predecessor – it's all par for the course for this Slovakian marque. Since arriving in 1995 with the TP101 amplifier (under the brand name Edgar), this self-proclaimed tube specialist has developed a modest catalogue, always at its own pace and with little apparent attention paid to current hi-fi 'trends'. So the promise of the CD 2.10 is firmly rooted in physical CD playback, and a sound informed by Canor's love of tubes, a well-regarded DAC and its detailed attention to build and finish.
Priced £3250 and available only in the aluminium front/grey metal chassis finish that's shared across the brand's range – Canor also currently sells three integrated amplifiers and a phono preamp – the CD 2.10 is both CD spinner and standalone DAC, with the addition of digital outputs enabling it to be used as a CD transport too. Add in that tube-based analogue output stage and it becomes an intriguing hybrid that's far from commonplace in the wider hi-fi market.
Chip Off The Old Block
This new player joins the pre-existing £4350 CD 1.10 [HFN Aug '14], a bulkier player that uses dual Burr-Brown DACs, a combination of 6922 and 12AX7 triodes in its output stage, plus a tube-rectified power supply. The CD 2.10 has a 50mm shorter and generally easier-to-accommodate 435x120x420mm (whd) chassis, is some 3kg lighter and employs the newer 'Velvet Sound' AK4490EQ DAC.

It uses a slicker StreamUnlimited Blue Tiger CD-Pro 8 CD mechanism too, with a slot-loading drive. Furthermore, the CD 2.10's PSU is all solid-state while matched pairs of 6992 valves drive the output. It's possible to finesse the analogue stage using Canor's five-way filter selection, although these are subtle in operation.
As PM also reports, Canor has a relationship with Pro-Ject, but the company retains its own R&D. At its headquarters in the eastern Slovakian city of Prešov, tubes are burned-in, matched and tested on proprietary equipment. It also produces its own PCBs using what it calls CMT (Canor Milling Technology) in 'a long-standing endeavour to improve the sonic performance of our products'.
Back-panel outputs on the CD 2.10 include balanced XLR and single-ended RCAs, in addition to the aforementioned coaxial and optical outs. To feed the AK DAC with something other than a CD, Canor provides three digital inputs – 192kHz/24-bit coaxial and optical, and USB 2.0 supporting 384kHz/24-bit PCM and DSD64 to DSD256. USB-to-Mac connections are plug 'n' play, the CD 2.10 being immediately recognised by both Tidal and Audirvana, but PC owners will need to download a separate driver.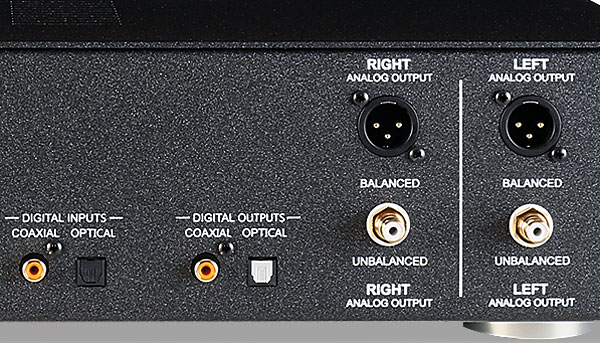 Loveable Light Show
The rather prosaic photography on the company's website had me worried that I might not take to the look of the CD 2.1, but in the flesh it has its charms. Sure, it's bulky compared to many rivals, but it feels extremely well built and the overall styling – while far from modern – is unfussy.
The one love-it-or-hate-it element of Canor's aesthetic is probably the orange dot-matrix display, which is wilfully retro. Whether or not the Great Wall of China is visible with the naked eye from space is debatable, but I'd give this display half a chance. It can be dimmed if necessary, but I genuinely appreciated its oversized text. Spin a CD and it shows track number and time elapsed; switch to a digital input and it displays the sample rate. Simple, but effective, and no need to squint.
While there have been changes under the hood, day-to-day operation of the CD 2.10 follows the template of the earlier CD 1.10, including the same operational foibles we reported in our review of the CD 1.10. For example, the central rotary control dial (no longer bathed in an orange ring light) offers tactile, easy manipulation over play/pause and track skipping, but eject, stop, input and filter selection are relegated to tiny front-panel buttons.
I'd suggest more joined-up thinking between these controls, and the IR remote, could make the CD 2.10 a more intuitive drive, but as Canor has made no attempt at this in eight years it presumably thinks it doesn't need to. Note that the design and layout of its aluminium-faced handset is older still as this is a system remote also supplied with its integrated amplifiers.
A few ease-of-use grumbles then (another one being that the deck takes around 45 seconds to stir into life while its tubes are pre-heated) but – spoiler alert – when it comes to the sound of this CD player it compensates in spades.

On Song
Whether solely a by-product of its tube-powered analogue output, or the wider design and engineering at work here, the CD 2.10 has a sonic signature that may floor some silver disc devotees. It delivers CDs with rich detail in a layered fashion, with an impeccably drawn soundstage that projects both front and back, yet among this precise – and dare I say 'digital' – presentation it proffers a sweet, airy and delicate touch and a plumped bottom end.