Marantz SACD 30n/Model 30 SACD/Network Player/Amp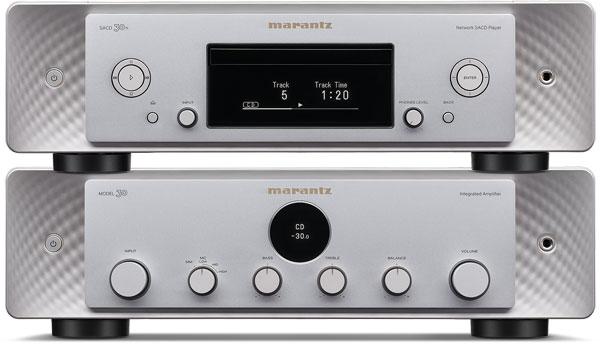 Trickledown engineering wins hands down as the core technology behind Marantz's 12 series is buffed to a new polish, gaining network compatibility at an even lower price
The expression 'hot on the heels' is one thing, but to launch two sets of products seemingly offering similar features at much the same price might be seen as inviting customer confusion. Yes, that's just what Marantz has done, with the SA-12SE/PM-12SE SACD player and amplifier [HFN Nov '20] followed within weeks by the arrival of the 30 Series models – yes, an SACD player and amplifier. Add in the fact that both ranges draw heavily on previous models – to put it charitably – and one might well wonder what exactly is going on.
Well, it's not quite as simple, or baffling, as it may look. For a start, the 30 Series models have a whole new look, albeit one the company says is influenced by classic designs of the past. And the pricing, at £2700 apiece for the Model 30 amplifier and SACD 30n player, undercuts the '12SE pairing by a healthy 10%. More strikingly, the player is not just an SACD spinner, but also a fully-loaded network streaming device – that 'n' suffix giving the game away.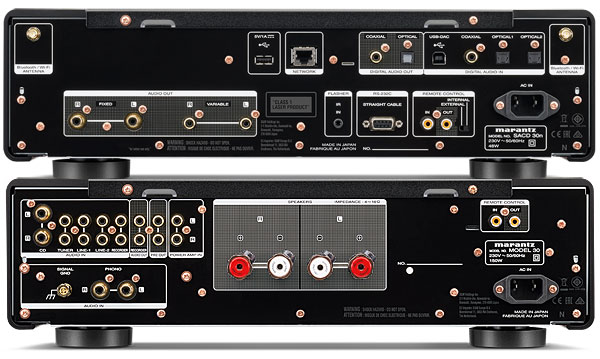 Cross Platform
That arguably makes the SACD 30n a more tempting prospect than the SA-12SE in the modern multi-platform era, where music is just as likely to come from a network file or online streaming service as it is from a silver disc. Also, I rather suspect the lower price will provide the icing on what is already a very toothsome cake.
Having lived with the 30 Series for a while now, and with recent memory of using the '12SE pairing, I have to say that – while the new models do look very different – the player and amplifier we have here (in silver or black) are still very distinctly 'Marantz'. Operation is clear and logical, and best of all the 'Marantz sound' hasn't been 'messed with' in the transition.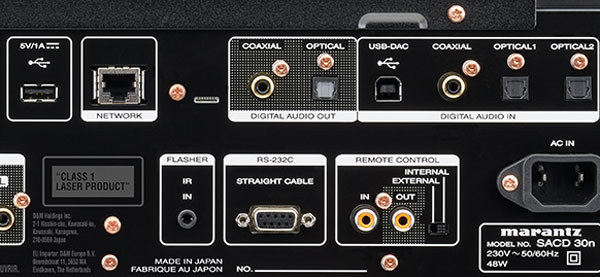 A major contribution to that ease of use is made by the integration into the SACD 30n player of parent company Sound United's HEOS multiroom platform. This brings slick streaming, from network storage via UPnP and online services including Amazon Music HD, Spotify and Tidal, and also Bluetooth and Apple AirPlay 2 wireless connectivity, not to mention voice control – if you desire.
The player will also handle music that's stored on CD-ROM and DVD-ROM media, using the same dedicated drive designed for SACD/CD playback, can be fed from a computer via its USB-B input, and also allows USB storage to be connected to its USB-A port for playback. File formats up to 384kHz/32-bit PCM and DSD256 are supported via USB, and 192kHz/24-bit and DSD128 on the network connections, and legacy digital inputs are also provided on optical and coaxial connections.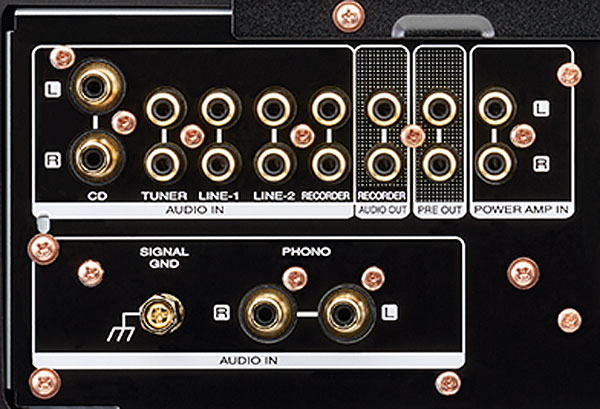 Custom Processing
The SACD 30n uses the Marantz Musical Mastering 'no DAC' digital signal path, in which all incoming signals are upconverted via user-selectable digital filters, converted to DSD128 and then output from the player via a simple low-pass filter. It's a system that was first seen in the company's SA-10 flagship disc player, and which has now trickled down to the SACD 30n via the SA-KI Ruby [HFN Jan '19] and SA-12SE.
The analogue output is available in both fixed-and variable-level forms (on RCAs), the latter allowing the player to be used straight into a power amplifier or – as we'll see later on – into the Model 30's direct power amplifier input.
If the SACD 30n player looks rather like a cross between the SA-12SE and the company's earlier ND8006 [HFN Sep '18], described at the time of its launch as 'the complete digital music source player', then the partnering Model 30 amplifier will be even more familiar to those who follow the more elevated Marantz ranges.
Core Values
Rated at 100W/8ohm, it's based around the company's favoured Hypex Ncore NC500 power amp modules. Feeding that power amp section is a preamp design in many ways similar to that found in the PM-12SE. It's analogue-input-only, with five line-ins (plus that power amp in already mentioned) and a MM/MC phono stage. This uses the Marantz Musical Premium Phono EQ circuit, a two-stage affair with a low-noise J-FET input combined with the latest example of its, by now, very familiar HDAM (Hyper-Dynamic Amplifier Module) op-amps.