PS Audio DS Memory Player/PW DirectStream DAC CD player/DAC Page 2
All of which, plus the addition of the £799 PS Audio Bridge II, the company's add-on network card slotted into the rear panel, means the DirectStream DAC can now do just about everything any user could sensibly want it to. Apart from accepting digital data in I2S format from the Memory Player, via one of its two HDMI-socket inputs, it can also be connected to a computer, via an asynchronous USB Type B socket and also has 'conventional' XLR, coaxial and optical digital inputs.
And via the Bridge II it can act as a network streaming client under the control of a tablet or phone, connected to the home network and running third party software such as mConnect or PlugPlayer, streaming from a computer or NAS running UPnP server software. And thanks to recent upgrades, it can now handle full MQA, Tidal, Spotify, vTuner radio and Qobuz, as well as being Roon-ready.
Files at up to 352.8kHz/24-bit and DSD128 can be handled via the I2S (HDMI) and USB inputs, with the DAC being entirely DSD-based. All inputs are resolved into what is, in effect, a DSD128 datastream that's pushed out via a transformer, this combining the functions of low-pass filtering and galvanic isolation. Thanks to a choice of fixed or variable outputs on both single-ended and balanced socketry, the DirectStream DAC can also function as a digital preamp.

Chink-Free Armour
For all the 'complex simplicity' on offer here – that combination of easy to understand units with wide-ranging compatibility – the abiding first impression of the Memory Player/DAC pairing is that it does everything you ask of it supremely well. The sheer scope of this duo meant I spent longer with it than I do with many a product, just to have time to explore everything it could do, but I can safely say that there was no sense of slogging through all the inputs and services looking for a chink of weakness.
Instead it was matter of revelling in the cleanly-detailed, dynamic and powerful delivery of everything from Spotify streams and Internet radio stations all the way up to double-DSD recordings. And it must be said, set all the hi-res stuff aside for a moment, that it's a pleasure to immerse yourself in just how good this pairing can make standard Red Book CD sound, whether the audio is derived from a physical disc or a digital rip on computer, USB storage or NAS.
Playing 'Visions Of China' from Japan's Tin Drum album [Virgin CDV2209] was a delight, the sinuous rhythm section sounding at once tight and fluid, and David Sylvian's voice crisply rendered in its mannered fragility. I'm not sure I've ever heard this album sound so good. Furthermore switching between the same content at CD quality and in DSD, not to mention accessing it via USB-B, network streaming or using Roon, reveals there's really not much in it when played through the DirectStream Player/DAC.
Definition And Dynamics
Similarly, explore the hard-hitting, multilayered percussion of The Rhythm Devils' The Apocalypse Now Sessions [Rykodisc RCD 10109], Mickey Hart's sub-soundtrack for Coppola's Vietnam epic, and the sheer definition and dynamics of the DirectStream Player/DAC is much in evidence, from the 'this is going to end badly' jungle ambience of 'Street Gang' through to the disquieting, slamming drumming of 'The Beast'.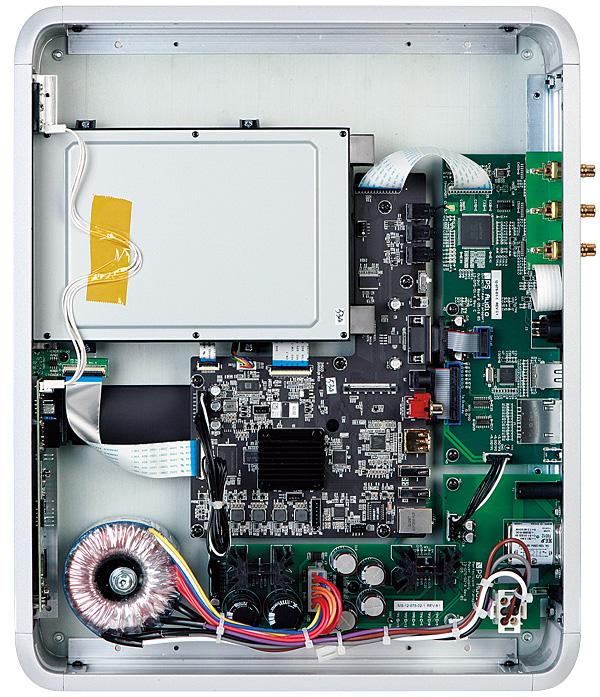 What this duo does is level the playing field between all of the digital sources with which you confront it, making them all equally enjoyable, and switching seamlessly between them. Indeed, if ever there was a 'whatever you've got, it can play it' digital front-end, this is it.
Not that it does a 'silk purse' job on recordings – faced with audiophile darling Melody Gardot's recent Live In Europe set [Verve Records B0027919-2; 96kHz/24-bit], there's not much that can be done with the singer's swallowed, affected vocals, even though the recording itself sounds reasonable enough. The DirectStream Player/DAC just sounds true to the recording, which is as it should be, revealing the strange vocal quality in all its oddness, and still not making what she's singing any clearer.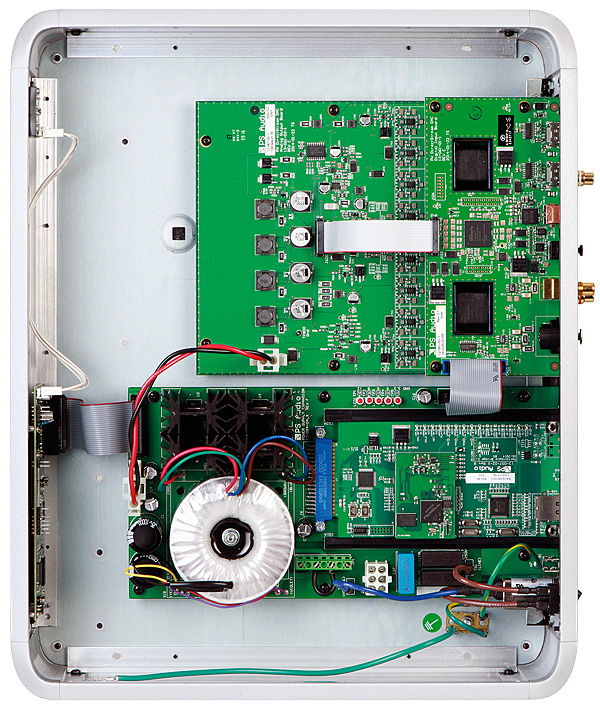 However, give it a fine recording, such as horn player Ben Goldscheider's Debut [Willowhayne Records WHR045; 192kHz/24-bit] or Ning Feng's masterful set of Bach Sonatas And Partitas For Solo Violin [Channel Classics CCS 39018; DSD128], and it can bring on the sonic fireworks, with wonderful instrumental texturing, presence and depth, conjuring up a real 'close your eyes and the performance is there' effect.
But that's the essence of PS Audio's DirectStream Memory Player and DAC: they're all about delivering the best of whatever your chosen digital listening has to give, rather than imposing any corporate gloss on affairs.
Hi-Fi News Verdict
PS Audio's digital offering has always been impressive, but recent upgrades have lifted the DirectStream DAC, in particular, into another league of great flexibility and scintillating sound. The Media Player is a versatile partner in crime, with SACD playback enhanced by that proprietary digital link. Moreover, the 'upgradability' of the system is very reassuring when making an investment on this scale.