Primare CD35/I35 Prisma Network/CD Player & Amp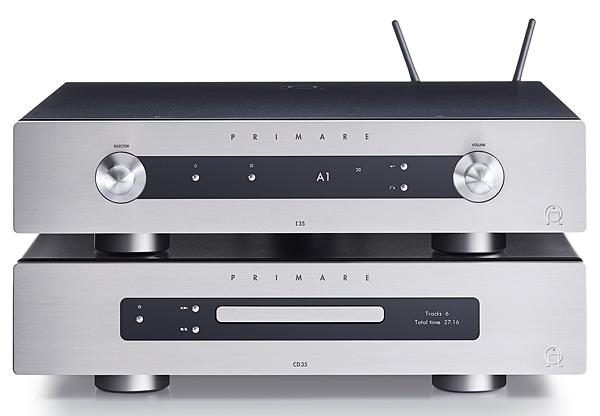 This sophisticated, premium-priced streaming CD player and integrated amplifier combo delivers fine sound with sleek Scandinavian style, and consummate ease of use
With its two Wi-Fi aerials protruding from behind, allied to the skinny front control knobs, swish brushed aluminium fascia and three 'podular' feet, there's something very Jetsons about the look of the Primare I35 Prisma network-ready amplifier. It has the appearance – perhaps unintentionally – of a cutting-edge piece of technology from the late 1950s, a time of dramatic change as the world entered the Space Age.
You can just picture yourself with it in a bijou 'mid-century' Californian bachelor pad, playing 'Telstar'. Okay, perhaps this is going just a little too far – but it is interesting that this £4099 integrated amplifier and its matching £2849 CD35 Prisma silver disc spinner both evoke such a mood. Refreshing when much of today's hi-fi is aesthetically bland, devoid of creativity or style...
This flagship Primare duo presents more than just a pretty face, though, as the Prisma platform brings a step-change in control and connectivity to both CD player and amp. It gives full-spectrum system management from one single control point. This means full network streaming, network attached storage playback, Wi-Fi and Bluetooth, AirPlay, Spotify Connect and Chromecast built-in, plus multi-room/ multi-zone connectivity and control.
Let's Get Digital
This is all managed via the neat Prisma application, available on iOS and Android platforms. In other words, this combination is a highly configurable digital hub. Because it's so easy to use and cleverly integrated, it should prove a boon for the 'connected generation' of audiophiles.

The I35 Prisma integrated is rated at 150W/8ohm but its cool-running UFPD 2 (Class D) amp allows for minimal heatsinking, supporting a modest case footprint. In this DAC-equipped version – the I35 is available as an analogue-only model and/or without Prisma too – an AKM AK4497EQ DAC chip is fitted, supporting 768kHz/32-bit PCM and DSD256. The amplifier employs ultra short signal paths and surface-mount components whenever possible while the preamp section uses physical relay switching rather than ICs.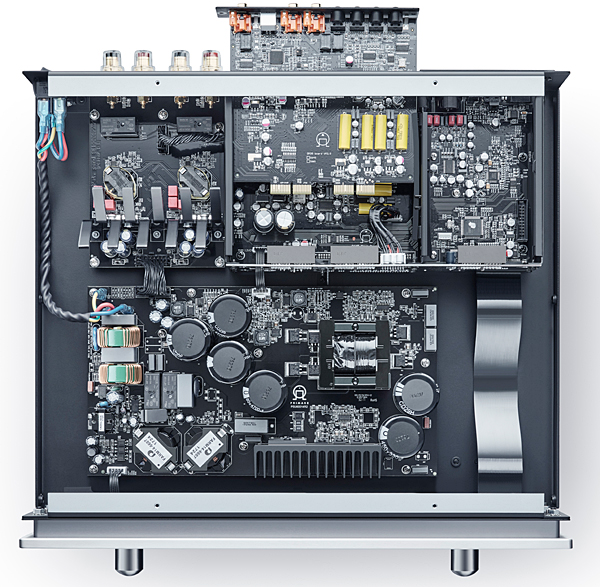 The I35 amp is highly configurable too – via the menu you can rename inputs, choose to defeat unused inputs, switch between fixed or variable volume ranges, input gain, balance and mute volume. You can lock the front panel controls, and configure the display dimmer, which Primare says uses the latest generation OLED.
Socket To Me
The rear panel of the I35 Prisma is also quite a sight with its host of analogue and (optional) digital inputs. Add the twin Wi-Fi antennas and two Ethernet ports and it's more crowded than Harrods during the January sales. The case is well finished for the price, and feels sturdy, while the front panel knobs and switches have a pleasingly smooth action.
The company touts the partnering CD35 Prisma as a 'complete digital music media source', and with good reason. Its Prisma pack gives the same aforementioned raft of connectivity and streaming options. Normally, one wouldn't buy both the CD35 Prisma and I35 Prisma because this means you're buying similar DAC and Prisma components twice. This is the reason why both the CD player and integrated amplifier are offered without it, to eliminate redundancy and reduce cost.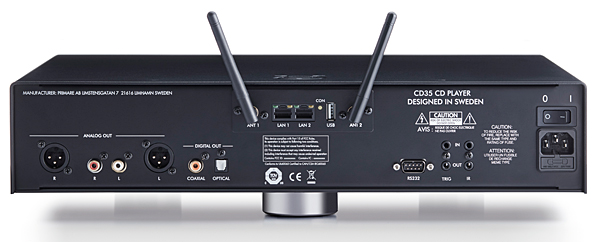 The player sports a similarly minimalist fascia panel and casing, inside which can be found a centrally mounted TEAC disc transport mechanism, and a linear power supply with separate regulation for the mechanics, digital and analogue circuits.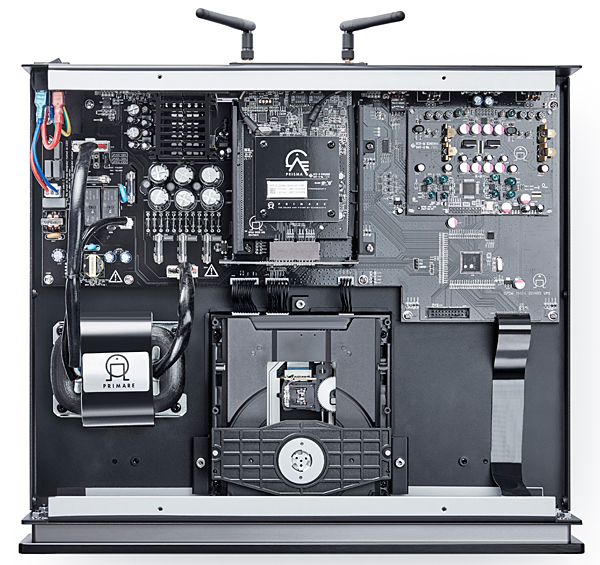 Conversion duties are handled by an ESS Sabre ES9028 Pro DAC configured in double-differential mode here, feeding both single-ended (RCA) and balanced (XLR) outputs. The Prisma slot offers twin Wi-Fi antenna and Ethernet sockets, and a USB-A input. Like its amplifier brother, both the connectivity and casework is built and finished to a high standard, although the slightly rough action of the disc tray doesn't quite confer a quality in keeping with the rest of the package.

Cool Velvet
There's something very alluring about the sound of this CD player/integrated amplifier. Working as a pair, with the CD35 acting as a digital disc transport for the I35 – one is immediately struck by the smoothness of the music. Indeed, they serve up an almost velvety rendition of whatever recording you choose to play. It's an easy-going presentation yet one that's authoritative, the combination rising to any challenge without sounding flustered.