T+A PDT/SDV 3100 HV SACD Transport/DAC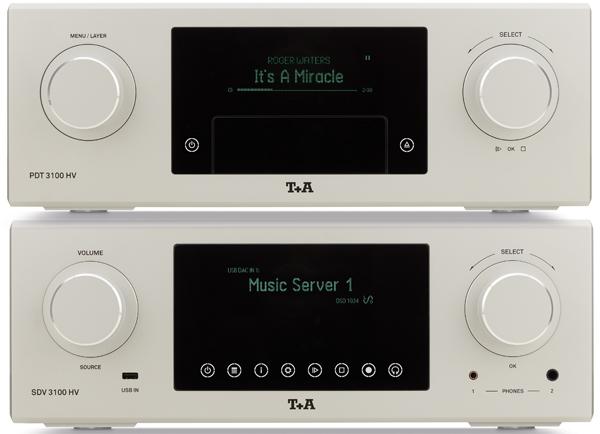 Are the days of the disc almost over? Evidence to the contrary comes in the form of this flagship SACD/CD transport and network DAC/preamp from T+A's 'High Voltage' series
I think I can be pretty confident in saying there aren't too many new British hi-fi components out there whose development has been government-funded. Clearly they do things differently in Germany, where the Federal Ministry of Economics and Energy underwrote the design and development of the network-capable DAC/preamp forming half of the subject of this test, T+A's £23,400 SDV 3100 HV. The project has borne fruit in the behemoth of a digital converter you see here, all 26kg of it, described as a 'Super High Definition Audio DAC with bit-perfect data transmission and resolutions of DSD1024 and PCM768'.
It's also available without the preamp stage, as the SD 3100 HV, for a saving of just over £1400. The SDV's supplementary analogue input also includes the volume control section of the company's P 3000 HV preamp [HFN Sep '14], though there's a good headphone amplifier fitted as standard to both models.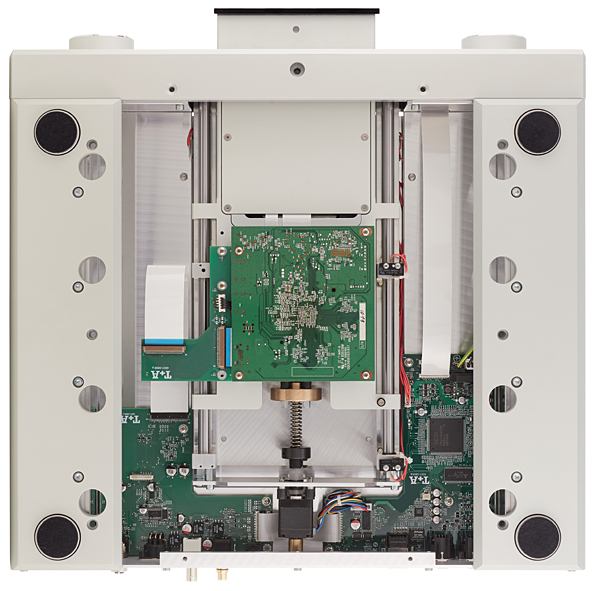 It's partnered here with another new arrival in the German company's 'high voltage' flagship range, the £13,996 PDT 3100 HV SACD/CD transport, which is even heavier, at 29kg. Like the network DAC/preamp, it's available in a choice of 'silver' or 'titanium' deep gloss lacquer finishes, with the factory also offering custom colours to special order under its 'HV Individual' programme.
Bridge Between Worlds
On paper, the PDT 3100 HV/SDV 3100 HV combination is an ideal bridge between 'old' physical media and the brave new world of network stored and streamed music. The transport is purely what it says on the tin – simply an SACD/CD machine, with a newly developed mechanism engineered for that task and nothing more, not a sniff of any digital-to-analogue conversion, and with a dedicated secure link to enable it to transmit full-fat SACD-derived DSD to the DAC.
That DAC, meanwhile is able to handle content all the way up to 768kHz/32-bit LPCM and DSD1024 (quad-DSD). True, it's not alone in offering that capability, and it seems there's something of a numbers 'arms race' going on between hi-fi manufacturers at the moment, but it does mean the SDV 3100 HV is pretty much future-proofed, for the foreseeable…

It handles a wide range of formats via its two asynchronous USB-B ports, but with a twist – it will only play DSD512 and 1024 when fed from a Windows computer, and even then only when loaded with an appropriate driver. Mac users go driver-free, but are limited to DSD256. It can also play directly from USB storage devices via a 'host mode' Type A port, but streaming capability is a rather more limited, topping out at 192kHz/24-bit. In addition, it has no fewer than seven digital inputs, on a mix of optical and electrical formats, two HDMI inputs and an output to allow TV/video sound to be fed through the DAC.
Two DACs In One
It also handles some of the most popular streaming services – Deezer, Qobuz and Tidal – and of course you can access others using a connected computer, while there's also Internet radio and, unusually, both FM and DAB/DAB+ tuners built-in. Oh, and the DAC/pre is also Roon-ready.
As is the case with other T+A digital products, the SDV 3100 HV uses entirely separate DAC systems for PCM-based formats and DSD inputs. The former are upsampled to 768kHz/32-bit (or 705.6kHz for 44.1kHz-centric media), using four stereo DACs, and with the choice of four filter algorithms executed in the partnering DSP. Meanwhile everything single-bit, including SACD discs and DSD up to DSD1024 is in the hands of T+A's proprietary 'True 1-Bit Converter'.
Furthermore, the DAC/pre has separate power supplies for its digital and analogue sections, but there's none of that namby-pamby separate transformer windings nonsense here: not only are there separate transformers, but you're also going to need two mains sockets to power this one up.

Also around the back, a dedicated 'IPA' (Isochronous Precision Audiolink) feed is used to connect the PDT 3100 HV transport to the DAC, and if you think the converter, with its all-aluminium construction, compartmentalised internal layout and massive build, is impressive, the transport is even more of a work of engineering art. The hefty transport, though rather dwarfed by the huge scale of the whole unit, is mounted on a substantial sled, which glides out to accept a disc – or at least it does once you've released a captive transit screw located just behind the front panel.