PrimaLuna EVO 100 Tube DAC USB Tube DAC Page 2
Operationally, one cannot fault the EVO 100, once past one's contemporary expectations for the omitted features. Believe me, I wrestled with this conundrum for some time, finding it hard to recall the last DAC I tried which didn't accommodate headphones and which lacked a level control. I repeat this because it's necessary to put the EVO 100 in context. So, while this may smack of 'early digital' vis-à-vis facilities, the operation is a slick as any self-installing A/V product with HDMI.

Basking In The Glow
Two seconds: that's all it took to embark on my wander down a sonic Memory Lane – but with my destination of early tubed CD players, that might seem a hunt for clichés. 'Tube DAC' is too suggestive of a fat, rosy sound applied to mask the essence of digital clarity, in the way our entitled ancestors might have preferred splashing on cologne to bathing. Thus, while the first adjective to pop into your head will be 'warm' upon initial exposure to the EVO 100, there's more to it than adding a frisson of tube heat for effect, in the euphonic manner of Musical Fidelity's X-10 buffer [HFN Oct '96]. When the unit arrived, I was wallowing in the lushness of Echo In The Canyon [BMG 538493922], a CD curated by Bob Dylan's son, Jakob, who sings lead vocals on all tracks. Beautifully recorded, it serves up sublime musicianship and staggering harmonies, and Jakob has a tuneful voice unlike his dad.

What knocked me out was its opener, a majestic remake of 'Go Where You Wanna Go', with Jade Castrinos providing a powerful distaff voice which differs in texture from Dylan's much as does Lou Rawls' from Dianne Reeves. While juxtaposing two voices hardly delves into the areas where digital usually annoys, it speaks much of a device's ability to deal with the nuances that mean the difference between authentic and artificial. The EVO 100 DAC passed the test with flying colours, with an extra star for the shimmer of The Byrds-like jangling guitars.
Teen Treasures
Then there was Twinkle's Girl In A Million [RPM D545], a remastered CD set of her complete original recordings, CD 1 made in the all-analogue mid-1960s, with session men including Jimmy Page. Pure pop it may be, but Decca treated her to the best engineers, and the mono tracks for which she's best known – 'Terry', 'Golden Lights' and other teen treasures – were enough to reveal how this DAC deals with textures.
Her wispy vocals are delicate enough to require almost ineffable subtlety from the sound system, and listeners will delight in the air they possess. Whether via speakers or headphones, the mono recordings had a fatness that I like to think is an approximation of front-to-back depth. Whatever the case, the sensation was of hearing into the music, something not normally attributed to pop singles. The shocker was her later work on CD2.
Her 1970s recordings for Instant were engineered by a wizard, 'Days' recalling the 'Baroque Rock' of US band The Left Banke, thanks to the harpsichord. The EVO 100 showed such grace with this Fabergé egg of a track that I made a mental note to stop thinking in terms of euphonic coloration – the refuge/rationale of the anti-valve scoundrel.
Dead Ringer
As the next track, 'Caroline', is a power rocker of 'Runaways-lite' percussive incessancy, I swiftly learned that the EVO 100 DAC understands attack, transient edges, convincing decay and other elements which surely contradict any belief that sticking tubes in a digital product simply masks nasties or dulls details. This converter does nothing to undermine the speed of digital. Quietness, however, is another matter, as I found when A/B'ing the track with a solid-state DAC.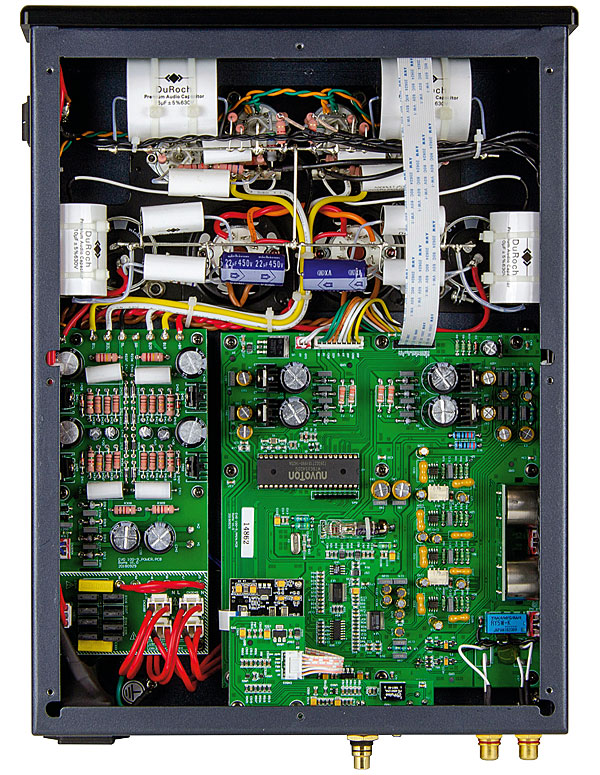 I just said I reject accusations of valves being the hi-fi world's equivalent of rose-coloured glasses. But there is no denying the noise floor is less subterranean than with conventional processors. Equally, I will point out that I could only detect this sensation of a low-level haze when listing through headphones. Ultimately, however, it was downloading and 'streaming' via USB that proved this DAC's worth.
Turning to wolfgang.com's vast selection of rare live gigs, I selected Warren Zevon in 1982 in Boston, for his rousing 'Werewolves Of London' at 48kHz. It proved massive in scale and sounding as it should: as if played via FM radio. Switching on Fidelia, I listened to the EVO 100 at 192kHz with a download of BB King's 'Sneakin' Around', a mono session of dubious sonic merit but musically a gem. I played it against the original LP, The Great BB King [United Records 728] and it was a dead ringer. I want an EVO 100.
Hi-Fi News Verdict
To say that I'm staggered by the EVO 100 is understatement, primarily because I wasn't expecting such undeniable musicality. This DAC has such a genteel way with whatever signal is fed to it that you'll be listening for hours longer than intended. It's an exercise in quality, usability and performance versus features and bling. If you're already tube-biased and in need of a high-end DAC, this is an irresistible bargain.