Novafidelity HA500H USB DAC/Headphone Amp Page 2
In common with other products in the Novafidelity catalogue, construction here is solid and workmanlike without succumbing to the excesses of some high-end equipment, with CNC-machined aluminium, polished to a good finish, on a steel chassis. In use, the HA500H feels more like a functional piece of equipment rather than a piece of audiophile jewellery, but there's nothing at all wrong with that.

Pure And Simple
When one is used to do-it-all devices able to stream music as well as offering DAC/preamp functions, something as simple – well, sort of – as the HA500H takes a spot of refamiliarisation. What's clear is that this isn't a standalone product, even if you want to do no more than play music through headphones. You will need some form of source component, whether that's a network player or even just a computer.
I used the HA500H both with a Naim ND555/555PS combination [HFN Apr '19], connected using analogue and coaxial digital cabling, and a Mac mini computer running Roon. It was connected as a preamp and at fixed level as a pure DAC, while headphone choices to hand for testing included the ultra-revealing Focal Spirit Pro [HFN Dec '15], and B&W P9 Signatures [HFN Mar '17], with the sadly now defunct Oppo PM-1 headphones [HFN Jul '14] used to test the balanced and unbalanced connection options.
The short version of the story is that the HA500H sounds best when used as simply as possible. For example, there was no advantage when paired with the Naim player to using analogue or digital connections, beyond the 555's ability to play DSD64/128 files (although these also come down to 192kHz/24-bit when output via the player's digital connection).
Passing the signal through the Naim ND555's DAC into the HA500H's ADC/DAC chain robbed the music of some of its life, notable with the big, bold sound of the Utah Symphony/Thierry Fischer recording in Prokofiev's Alexander Nevsky [from Fresh! FR-735; DSD64]. Indeed, via this complex signal routing both the weighty, deep bass and open, airy vitality of the orchestra, choir and soloists were somewhat restrained. Playing it via USB from the Mac mini computer, either via Audirvana or Roon, was a much happier experience.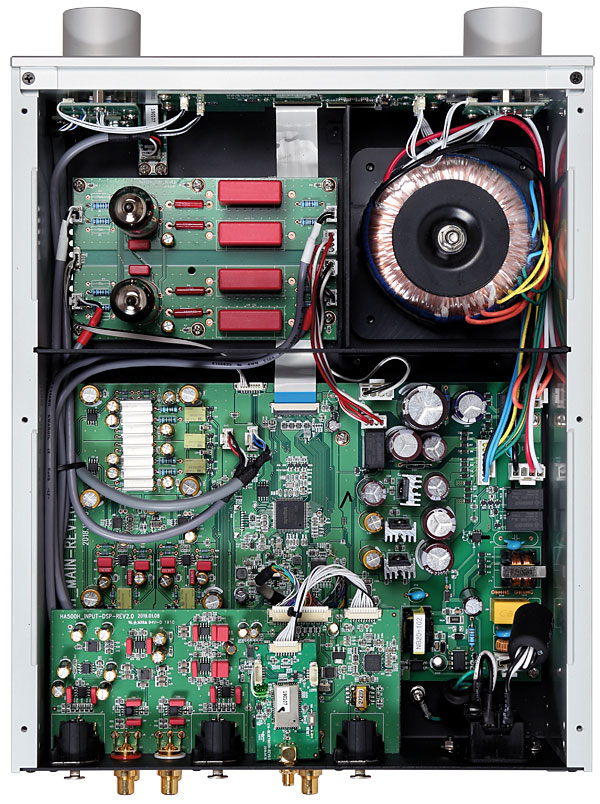 This effect wasn't just noted with works of this scale, or indeed only with DSD tracks. Playing 'What Have I Done Wrong', the opening track from veteran (to say the least!) bluesman John Mayall's Nobody Told Me set [Forty Below FBR 022], complete with Joe Bonamassa on guitar, showed the 'drying' effect of the HA500H's analogue inputs.
Playing it through USB from the computer was altogether more fulfilling, while kicking in the valve output stage gave just a shade more warmth, making the recording sound a little more organic and 'live'. However, I suspect this will be a matter of taste, and subject to the balance of the amp and speakers with which the HA500H is used.
Clout 'N' Control
Similarly, using the unit as a preamp as well as a DAC was less impressive than when it was fed at fixed level into a conventional preamp, suggesting the volume control here is best reserved for use when playing music through headphones. On which subject, it's when used as a headphone amp that the HA500H really comes into its own, being capable of an effortlessly dynamic sound regardless of the 'phones you throw at it.
With everything from radio drama to the cleanly-recorded jazz of the Kathrine Windfeld Big Band's Latency album [Stunt Records STUCD 17062], the amp delivered impact, detail and richness through the generous-sounding B&W P9 Signature. Furthermore, the triode tube option rescued what was initially a somewhat brash, super-analytical 'Focal presentation' – but then the Spirit Pros were designed as monitoring headphones.
It was with the Oppo headphones run balanced that the HA500H really showed what it could do. I can safely say I have never heard these headphones driven so convincingly, and with such clout, control and sheer musicality – not even with Oppo's own late lamented HA-1 headphone amp [HFN Sep '14], with which Novafidelity's compact chassis has many superficial similarities.
It seems using the amp as intended – as a high-quality headphone-driver, with the luxury of that selectable output stage (which is much more than solid-state detail or lush valves) as a subtle tone control – is to hear it at its best. Indeed, it performs this task so well, some of its slight shortcomings when one explores its peripheral abilities are easily forgiven. For owners of headphones with balanced capability this alone must make this new Korean arrival worthy of serious consideration. Buy it to do one job exceptionally well, and you won't be disappointed.
Hi-Fi News Verdict
The HA500H may not have the massive do-it-all specification of some of its stablemates, but its focused USB DAC/preamp approach still remains very tempting. Frankly, it shines brightest when you overlook the frills and consider it purely as a headphone amplifier fed from one of the company's streaming players or, even better, just from a computer via USB. Keep it simple, and it really delivers.