Matrix Audio X-Sabre 3 Network-Attached DAC


The compact but comprehensively-equipped Matrix Audio digital front-ends are distinguished by chipset and features. We look at the flagship 'headphone-free' DAC
For anyone still labouring under the misapprehension that Chinese-made hi-fi means cheap and cheerful alternatives to the big-name brands, it's time for an eye-opener. In practice, not only are quite a few of those big names having their products made in China, but its home-grown brands are upping their game and making inroads into markets once dominated by Western and Japanese names. A case in point is the Matrix Audio X-Sabre 3 we have here, following on from the X-Sabre Pro DAC [HFN Nov '17], Element X [HFN Jan '21] and more recently the Mini-i Pro 3 [HFN Feb 22].
This X-Sabre 3 is the new flagship model, carrying a £3250 price tag and cloaked in the company's 'hewn from solid' aluminium casework. Available in silver or black, it's a sleek-looking device, two-thirds width at 31cm but standing just a smidge over 4cm tall, and with its bevelled fascia treatment - within which sits a slender bar of touch controls and a small but easily legible circular display - it has a suitably classy, slightly mysterious look.
Ditching Headphones
Like the X-Sabre Pro, the X-Sabre 3 eschews headphone amp functionality. So this is a purely line-out device on RCAs and balanced XLRs, although it does offer the choice of either fixed- or variable-level output, allowing it to be connected straight into a power amp or active speakers using its DSP-driven volume control. That's the foundation of a very simple but effective streaming system, with nothing more than a network connection to the X-Sabre 3, and output to an amplifier or active speakers.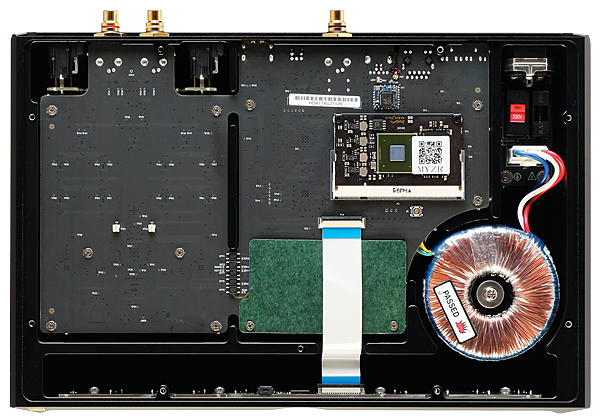 Such a truly minimalist high-end set-up would be all but invisible given the limited dimensions of the X-Sabre 3, and controllable via the supplied remote, the company's MA Remote app on a smartphone or tablet, or even as part of a Roon system. For that last option you'll need an external device running the Roon Core software or Roon OS, though this needn't be either large or visible. You might use one of Roon's own Nucleus devices [HFN May '18] or, as I did, a tiny Intel NUC mini-computer.
You can connect the X-Sabre 3 to a computer via its USB-B input, but there seems little point when the unit has its own onboard streaming implementation, fed via either wired Ethernet or Wi-Fi. Meanwhile, for those with 'legacy' digital components, the X-Sabre 3 also offers both coaxial and optical S/PDIF inputs plus an I2S-LVDS input on an HDMI connector for suitable digital sources, including Matrix Audio's own X-SPDIF 2 USB interface.
While the coaxial and optical inputs are limited to 192kHz/24-bit and DSD64 via DoP, the X-Sabre 3 offers much wider format-handling via its USB, network and I2S-LVDS connections, working up to 768kHz/32-bit and native DSD512, as well as offering standard MQA and MQA Studio Stream decoding as part of its Tidal Connect implementation. It's also the first Matrix Audio product to support the Spotify Connect service. As befits a device with high-end aspirations there's no Bluetooth here, but when network-connected the X-Sabre 3 can offer Apple AirPlay 2 connectivity with portable devices - and computers running Apple Music - over the user's home network.
Five Years On...
While this new model looks like the X-Sabre Pro, and offers a broadly similar range of capabilities, we're bound to ask what's new here compared with the five-year-old model, aside from the built-in streaming technology. The answer is 'quite a lot', as from the casework to the processor at its heart, everything here has been revised and upgraded. The X-Sabre 3 may only weigh 3.4kg - though 'only' is relative when it comes to 'no moving parts' digital devices such as this - but it feels solid and substantial thanks to its one-piece machined aluminium casework.
It's some 1cm narrower and 3mm shallower than the old model, this forming the entire housing apart from the baseplate and the tempered glass top panel, under which are concealed the twin Wi-Fi antennae. So there's no need for rubber stubs here. All the internal components hang from this aluminium structure in an 'upside down' configuration. The milled enclosure is segregated into separate compartments to isolate the power supply's toroidal transformer, the digital and analogue sections, and the streaming board from each other and any external interference.