Lehmannaudio Linear USB II USB/DAC Headphone Amp Page 2
Here it's worth introducing the usual caveat about the dangers of playing music at too high a level through headphones. We all did it when we were young but pounding your ears quite that hard probably isn't a habit to develop now.

Grand Scale
The simplicity of this DAC/headphone amp means set-up is fuss-free, requiring nothing more than the connection of the supplied USB cable to a computer. Flip the mains switch on the rear – there's no front panel on/off – and you're good to go. And for all that discussion of headphones and DIP switches, you really are all set – even in its default 0dB gain setting, this little box can deliver more than enough power to drive even the most recalcitrant 'phones as hard as most of us will ever require, whether fed via USB or through the RCA line inputs.
I ran the Linear USB II from my MacBook Air computer, using both Audirvana and Amarra player software, and straight from the little Intel NUC running my Roon Core on my desk, and in each case it simply worked. Well, perhaps 'simply worked' is selling it short. Having recently reviewed several headphone amps, including the mighty T+A HA 200 [HFN Aug '20], I was instantly surprised by the clarity, power and resolution this compact unit could deliver across a range of headphones.

These included my much-used Focal Spirit Pro [HFN Dec '15], the newer Clear model [HFN Mar '18] from the same stable, Oppo's much-missed PM-1 planar magnetics [HFN Jul '14] and B&W's P9 Signature [HFN Mar '17] and quite simply, the openness, detail and – above all – musicality of this amp brought out the best in every set of cans I tried. Yes, the Linear USB II runs a little warm in use, but that's my only quibble, and not a problem given its ability to deliver the scale of a recording – and I don't just mean the big, bold stuff, but also the tightly-focused intimacy of a small ensemble – as well as the weight and range of instruments and voices.
Without all the fuss of some rivals – there's just one of the Sabre DAC's digital filters implemented here – this DAC/amp simply works, whatever the music you choose, and whatever the headphones connected. Yes, you will hear the different tonalities of the various headphones you try, but you'll hear those 'phones being driven properly, and with absolute control.
Spine-Tingling
Play a recording such as Yevgeny Sudbin's meticulous reading of Rachmaninov's 2nd and 3rd Piano Concertos [BIS 2338; 96kHz/24-bit], and the amplifier delivers all the weight and control of the playing, while scaling the BBC SO under Sakari Oramo, placing it all in a persuasive studio acoustic. There's no tonal colouring going on here – at least not from the driving electronics – but just that sense of 'rightness' you experience as soon as you hear the Linear USB II powering a pair of headphones.

It can do crystalline clarity too, as illustrated by the celebrated Tallis Scholars recording of Allegri's Miserere [from Gimell CDGIM 639; 192kHz/24-bit], not just breaking that 'in your head' impression but even hinting at music surrounding you. At the next turn it puts you in the studio with Neil Young and at the heart of the rambling, slightly shambolic Homegrown project [Reprise n/a cat no; 96kHz/24-bit], which is a weird place to be for a short while, made more so by the way this Lehmannaudio amplifier resolves every element of the mix.
Play The Rolling Stones' uneasy 'Living In A Ghost Town' single [Rolling Stone Records 071 483-9], and the entirely characteristic sound of the old codgers doing what they do best sings out, even more claustrophobically when they're messing with your head in close proximity! Meanwhile, with David Bowie's ChangesNowBowie set of acoustic versions of familiar tracks [streamed from Tidal], the intimacy of the sound and the clarity with which the Linear USB II delivers it, is spine-tingling with headphones such as the Focal Clear or Oppo PM-1.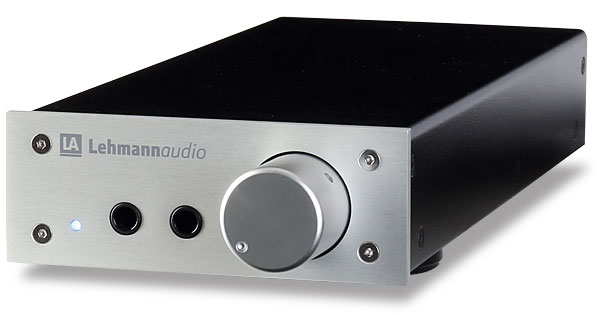 Even when playing a big John Williams orchestral piece such as the Dallas Winds' recording of 'March' from 1941 [Reference Recordings RR 142 SACD], which starts delicately before building to an explosive conclusion, the masterful control – and sheer energy – of the Linear USB II is totally captivating. Frankly, if you are serious about headphones, you have to hear it.
Hi-Fi News Verdict
There's nothing much to play with here – once you've decided how much gain you want with those little DIP switches – but all the simplicity and directness of the Linear USB II is evident from the first listen. With massive power, fine detailing, deft control and total confidence, this is a world-class headphone amp, and makes some of its more complex rivals look overly fussy. It's even an extremely decent DAC/pre too.