Klipsch Heritage Headphone Amplifier headphone amp/DAC Page 2
Being all out of copies of Perry Como's
The Complete Christmas Collection
, the fire being less than roaring and a cup of coffee no substitute for a fine sippin' whiskey, I settled instead for a range of my usual listening fodder, conveyed to the Heritage Headphone Amplifier via USB from my Mac computer, and via coax digital and analogue from my reference network player. A variety of the familiar headphone suspects were also pressed into service, along with the matching HP-3s – as well as my Oppo PM-1 cans [
HFN
Jul '14], connected in balanced mode, I also tried models including the B&W P9 Signature [
HFN
Mar '17], Focal's Spirit Pro [
HFN
Dec '15] and the Quad ERA-1 [
HFN
Aug '18], all of which worked well here.
Playing the hi-res version of the latest Elvis Costello album, Look Now [Concord Records 0088072068223; 96kHz/24-bit], the Heritage Headphone Amplifier showed it was able to deploy plenty of power both in terms of sound level and in its handling of musical dynamics. Flipping the 'Hi-Z' switch does increase the gain, though it doesn't bring any real benefits in sound quality, regardless of the 'phones in use – but then there's more than enough guts and grip here even in the 'Low-Z' position.
Lovely Intimacy
The amp slams into the opener of the Costello album, 'Under Lime', complete with its backing choir and brass band interludes. It's big and rich, and all the layers are delivered with excellent clarity, especially with the Oppo PM-1s on the end of the balanced output. And with the second track, 'Don't Look Now' complete with its tinkling Steve Nieve piano, the amp delivers a lovely intimacy, and a highly persuasive view of the shadings of Costello's voice, before picking up the pace again for 'Burnt Sugar Is So Bitter'. We're a long way from a Kansas log cabin here, but there's no denying the wide-ranging abilities of the little Klipsch box.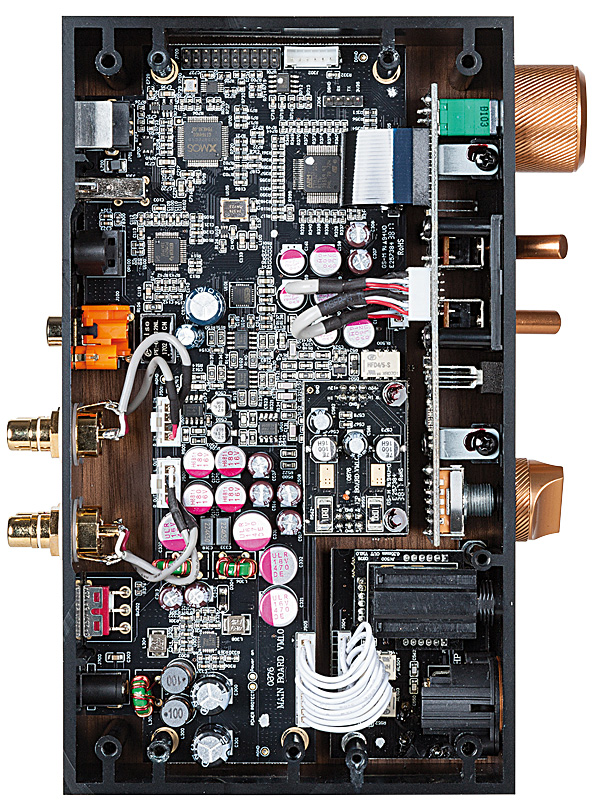 OK, so that 'hygge' vibe did eventually get to me a bit, and some fireside music had to be found despite this being written on an unseasonably warm October day. I turned to Eric Clapton's 'far from being as dreadful as you might have thought' 2018 festive offering, Happy Xmas [Polydor 6792528].
Ignoring the bizarre EDM-lite (and almost unrecognisable) take on 'Jingle Bells' Clapton offers as a tribute to late DJ Avicii, I discovered this laid-back, blues-tinged take on some seasonal favourites really suited the vibe of the Klipsch amp. The version of 'Everyday Will Be Like A Holiday' – see what he did there? – was a particular standout. It's all whirling Hammond, Clapton guitar licks and clean production courtesy of Clapton and Simon Climie, and with this amp and a decent pair of headphones it's easy to appreciate both the musicianship going on, and the quality of the recording.
Pounding Piano
Clapton also appears on another of the odder projects of late 2018, Hawkwind's Mike Batt-produced 'let's do it with an orchestra' set Road To Utopia [Cherry Red CDBRED730], where he contributes guitar to a bluesy rework of 'The Watcher', the second track after a version of 'Quark, Strangeness & Charm' that seems to fit the cricket theme of the album cover with its rousing tropical instrumentation.
It's far from the 'denser than a black hole' sound of Hawkwind sets of old, but with the ol' wooden box driving the ultra-revealing Focal Spirit Pro 'phones the combination of God's guitar, howling harp, pounding piano and a driving rhythm section is actually surprisingly effective. Just no-one mention The Wombles, right? Then, keen to hear what the Heritage Headphone Amplifier could to with ultra-hi-res content, I loaded up the Rembrandt Frerichs Trio's The Contemporary Fortepiano set [Just Listen Records JL006; DSD256].
Like all recordings on this label, run by Channel Classics/NativeDSD boss Jared Sacks, it's recorded in one take, with no additions, overdubs or edits, so what you hear is what actually happened. This immediacy is well-served by the Klipsch unit, whether used as a headphone amp or as a DAC straight into an amplifier. Yes, the sound is a little soft compared to much pricier converters, such as the iFi Audio Pro iDSD [HFN Sep '18], which give a more complete and detailed view of the music – for almost five times the price – but this affordable DAC/amp gives a fine impression of the immediacy of both the recording and the performances.
The piano is nicely weighted, the bass tight and yet well extended, and the percussion crisply delivered, which is just as it should be. The very slight softness merely adds to that warm, 'Heritage' feel by making the music exceptionally easy to enjoy, and entirely relaxing.
Hi-Fi News Verdict
This lives or dies on its styling: if it has you aglow with nostalgia, you'll love it, but in a system with a more 'technical' look it'll stick out like a thumb on which you've slammed the door of your log cabin. But whether you use it as a headphone amp or a DAC, it's smooth, clean and entirely involving, with more than enough poke to drive your headphones well and the refinement to make music extremely enjoyable.