Ferrum OOR Headphone Preamp


The Polish brand scored a prestigious EISA award with its first product, the Hypsos power supply – can it build on that success with its all-analogue headphone amplifier?
Polish company HEM, based just outside Warsaw in Pruszków, had something of a dream debut for its Ferrum brand: its first-ever product, the Hypsos power supply collected a 2021-22 EISA award in the Hi-Fi Accessory category [HFN Mar & Oct '21]. The judges praised it as 'a potent upgrade for a wide range of devices, not least USB DAC/headphone amplifiers, typically encouraging a sound with greater ease and smoothness – and yes, power!'
It wasn't hard to see why: as well as having presets for use with over 100 products, from Arcam's i- and r- models through to units from Wadia and Yulong, the linear/switching hybrid supply also offers a continuously variable output over a range of 5-30V, allowing it to be 'tuned' for best performance with the user's chosen product. It's a tour de force, demonstrating the innovation of the company's engineers, so the logical follow-up is – well actually it's a £1995 all-analogue headphone amplifier, the Ferrum OOR.
Model Of Simplicity
At just 22cm wide and 5cm tall, the OOR matches the style and dimensions of the Hypsos, and indeed can be used with the offboard power supply if you wish. As standard it's supplied with a 24V plug-top supply. Initial impressions of the unit are of its simplicity: it's basically designed to be used with a single source – or at least one apiece via unbalanced RCAs and balanced XLRs – or used in a loop with a preamp or amplifier's 'tape' connections, with matching RCA/XLR outputs provided on the rear panel.

By default, the OOR arrives with these outputs set to 'variable', along with the headphone sockets on the front panel, which are available balanced (four-pin XLR) and single-ended (6.35mm socket). However, should you wish to have a line-level output back into an amplifier, it can be switched, via the rear panel, into what the company calls its 'Bypass Function'.
This takes the volume control out of the equation for all outputs – including the headphone sockets – so it's not surprising the manual cautions about the use of this facility, adding a note that 'Ferrum refuses every liability for damage to equipment due to using the Bypass function'. Hmmm... in fact, I struggled to work out what the use of this bypass would be, finally realising that it's probably only relevant when feeding the OOR from the preouts of an amp or preamp, with a signal thus under the guidance of that preamp section's volume control.
The other controls here are simple – aside from the volume adjustment, there's a switch to select between the RCA and XLR inputs, with a central 'off' position, and a gain control: this is just marked '–dB/0/+dB', and its effect varies according to the headphones in use. A final control on the rear panel allows the Ferrum logo to the left of the fascia to be dimmed – it's a little thumbwheel below that bypass control, and reminds me of the tuning and volume adjustments on an old transistor radio I had half a century ago.
Balanced And Bespoke
Within the casework, which is smart but a little functional in an 'exposed screw-heads' kind of way, the signal path of the OOR is balanced throughout (the RCA inputs are converted to balanced working), with in-house power amplification design. The output stage is kept permanently powered up, as the company puts it 'therefore reducing distortion to inaudible levels and keeping [the output devices] in a state where they can instantly unleash all their power, crucial for high dynamics, superlative control and authority in sound'. Furthermore, Ferrum adds that the intention of the design is to deliver 'ultra-low distortion, zero fatigue, huge dynamics and unrivalled detail… focused on a balanced and very transparent sound signature, making listening fatigue something of the past'.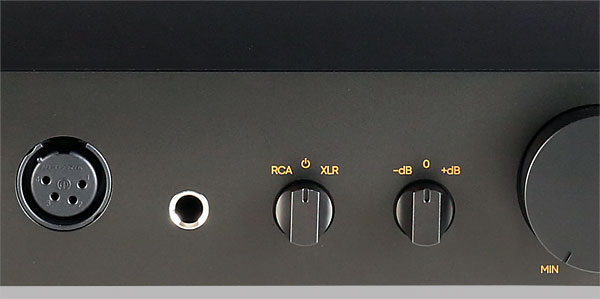 It's all fighting talk, claiming that 'the OOR will redefine the category of headphone amplifiers… [it] will drive any headphones effortlessly to the max of their potential, while preserving the essence of the music it amplifies'. For all that, this is a compact and simple-to-use unit, and as well as being a good desktop option for headphone listeners, would also work well when connected to a compact power amplifier or directly into a pair of active speakers. You could, I guess, even use it as a simple preamp/headphone amp in a conventional system, although the absence of a remote control – which, after all, would fly in the face of the simplicity here – might also count against it in such a configuration.

Power Shot
I tried the OOR in 'tape loop' configuration with a number of amplifiers, before settling for a rather simpler set-up for most of my listening, connecting it to the outputs of iFi Audio's NEO iDSD DAC [HFN Mar '21] fed from my Mac mini running Roon. For comparison I had to hand a headphone amp in the same price sector, but of a very different kind, in the form of Naim's Uniti Atom Headphone Edition [HFN Aug '21] and fed via Roon. Also available was a range of headphones, including my heavily-used original Focal Spirit Pro [HFN Dec '15] and planar magnetic Oppo PM-1 [HFN Jul '14 – the latter used in balanced mode].