Esoteric Grandioso P1/D1 SACD transport/DAC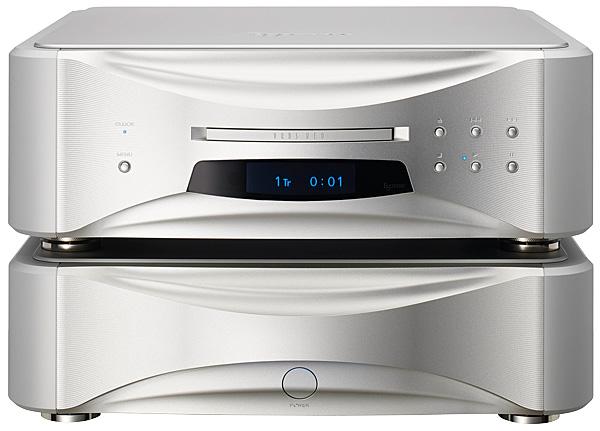 A dedicated stack that forms one of the most expensive digital playback systems on the market, Esoteric's Grandioso P1/D1 is aimed squarely at fans of the SACD format
Let's not beat about the bush: alongside the top-of-the-range, multi-chassis dCS Vivaldi pile [HFN Feb '13] – I can think of no others in this category – the Esoteric P1/D1 combination SACD transport/mono DACs package will lighten your Amex by a worrying £49,500. That breaks down to £33,000 for the two-chassis player/power supply and £16,500 for the mono DACs. Oh, and if you really want to go the whole hog then the Grandioso G1 Master Clock, not supplied here, adds another £23,000.
SACD Champion
Having heard this numerous times in full flow through the matching Grandioso C1 two-box preamp (£33,000) and a brace of M1 monoblocks (£18,000 apiece) at recent Hi-Fi Show Live events, I was eager to hear the set-up in my own system because I will champion SACD to the point of tedium. And the very first blast via this player was nothing short of spectacular...
That said, this is one of the most complex and flexible digital players I have savoured, a part of the select group that includes the aforementioned dCS effort, items from Chord, MSB and Métronome and others who are pushing the digital envelope. Its connection options are numerous and the menu system is rich with choices, so the user can tailor this to best suit whatever format is used in addition to straightforward SACDs. The only negative is its age: circa 2013/4 – as a result, there are no apps to control it.
I employed CDs as well as British and Japanese sourced SACDs, along with the myriad flavours of SHM-CD, SHM-Platinum, Blu-spec disc and other exotica from Japan. The transport was straightforward enough, with conventional operation, but the DACs afford choices of various filters.
For the listening sessions, the primary testing was set to conform with PM's findings, using separate HDMI connections between the P1 transport and Left/Right mono D1 DACs, with the latters' displays showing 'ESLINK DSD', 'DSD Direct', 'Clock Out' and '22MHz'. Slip in a CD, and the display changed to 'ESLINK PCM', 'Clock Out' and '22MHz.' It was time to plumb the owner's manuals provided.
Set-up connections can be as straightforward or as complex as you like. The power supply has an IEC three-pin socket for AC in, with two multi-pin umbilical cords to connect to the P1 transport. The transport then feeds the mono D1 DACs via the HDMI cables, but the user can also use BNC, XLR or RCA coaxial for the P1's digital output. There is also a proprietary i.Link connection [see PM's Lab Report].
While we are talking utterly insane pricing here, the DACs do afford the user with multiple digital sources a choice of other inputs including two on coaxial, XLR balanced, Toslink optical and USB. Lastly, the line output from the DACs is available as balanced through XLRs, or single-ended through RCAs. I stayed with balanced operation.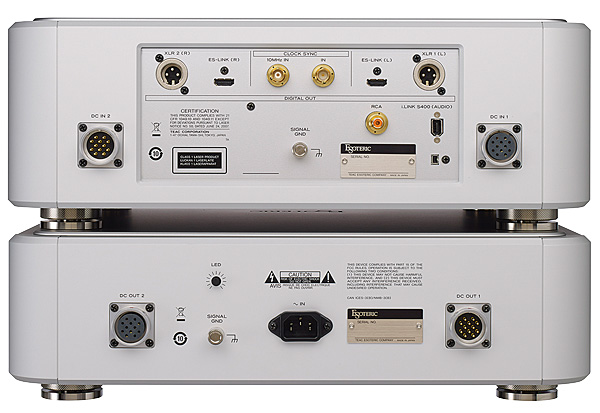 Once set up using PM's filter choices, I undertook the main listening, experimenting only after I was comfortable with what I was hearing. While there is every reason to just find the best setting and go with it, and simply enjoy the music, I can understand why some audiophiles prefer to experiment. It's called masochism. Those who wish to do so can dabble with a plethora of settings that include digital filter on/off, up conversion set to sampling frequencies up to 384kHz and to DSD, and clock synchronisation.
A host of operational settings can be altered by the user, including an adjustable dimmer for the displays, automatic power savings, and connecting to a computer – Mac or Windows – for playing files you may have on your hard drive, or wish to stream. I was happy with the way PM had set it up during his testing regime, so I just tried the stuff and reverted to his optimised choices. As much as I wanted to discover some magical, unanticipated result screwing around with the values, I couldn't better the HDMI/DSD Direct setting.

Depth And Detail
As I have long adored my aged Marantz DV8300 for SACD duties, it was only natural that I turned to it for A/B testing – I found it secondhand for £100. Was the Esoteric 495 times better? Don't be silly, we live in a world of diminishing returns. Maybe I made it easy for this Esoteric stack: the first disc I played was the sublime SACD of Dean Martin's This Time I'm Swingin'! [Mobile Fidelity UDSACD 2135] – not only one of his best albums, but one of his best sounding. You have to appreciate that the P1/D1 arrived after I had spent a month listening only to LPs and open-reel-tapes. I was analogued to the max.