Astell&Kern A&ultima SP2000T Digital Audio Player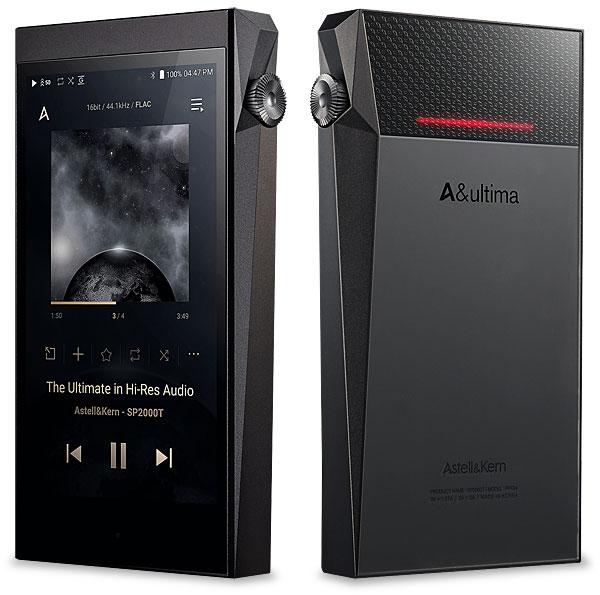 The game of one-upmanship between portable headphone DACs and DAPs continues with Astell&Kern's 'triple amp' SP2000T featuring a KORG Nutube for 'tube warmth'
Far from listening rooms filled with huge monoblocks and heavier-than-a-grown-man loudspeakers, a few brands are catering to another class of enthusiast by taking the concept of a digital audio player (DAP) to new heights. Astell&Kern, a spin-off from Korea's iRiver, crafts very sophisticated pocket hi-fi that's light years removed from the humble iPod.
The £1999 A&ultima SP2000T is its latest unit, and offers high-fidelity playback on the go and also at home via one of its three headphone/line outputs (two of which are balanced). This new player can be considered a follow-up to the mighty SP2000, which featured four AKM DACs and still fetches eye-watering prices second hand. Nevertheless, the SP2000T has its own unique features, including a quad configuration of ESS ES9068AS DACs, plus KORG Nutube tube amp emulation which, next to the built-in equaliser, provides yet more ways to fettle your music quality.
In addition to onboard storage for downloaded music, the SP2000T's Wi-Fi connectivity gives you the option of streaming, while Bluetooth enables use with wireless headphones or speakers. There's even the possibility to rip CDs to the player via Astell&Kern's add-on drive.
Box Clever
I'll give Astell&Kern this: it certainly knows how to make an excellent first impression. The SP2000T arrives packaged in a beautiful wooden box [pic, p67], which is a nice touch and useful if you want to keep the player in pristine condition when not in use. You'll also find a mustard-yellow leather case – other colours are available as optional extras.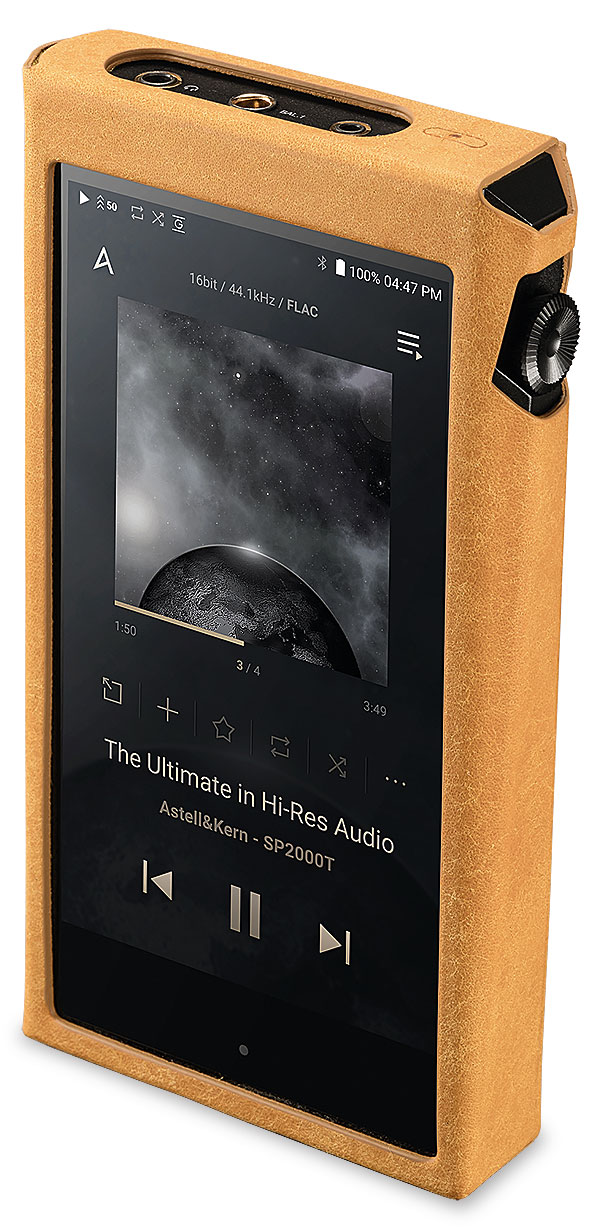 The player itself is engineered to the usually high standard we've come to expect from the Korean brand. The metal casework is incredibly lavish, Astell&Kern opting for a design that strays, stylishly, from the dull box shape of mainstream DAPs. Broad chamfers and cut-off edges, together with the trademark volume dial on the side – reminiscent of a crown on a luxury watch – ooze sophistication.
The centre piece of the player is its 5in 'Full HD' LCD touchscreen, which is considerably brighter and more colourful than the one on the older KANN Alpha [HFN Jul '21]. On this screen you can access the interface, which includes the built-in player and assorted features – selection of either 'op-amp' (solid-state), 'tube' or one of the five intermediate 'hybrid' output modes is easily accessed by swiping downwards on the DAP's display and pressing the AMP icon.
This interface is built on a stripped-down Android OS, so some elements will be familiar if you have an Android smartphone, but there's no Play Store or other Google apps here – at least that means you'll not be distracted by pinging social media! You can, however, install a selection of music apps, such as Qobuz and Tidal, and while this was a clunky affair in the past, A&K has greatly improved the process. Simply select the service you want, and it downloads automatically.
Reading The Roon
DAPs are by nature often used on the go, but high-end models such as the A&ultima SP2000T are also pressed into service at home by headphone and hi-fi enthusiasts alike. Being Roon Ready is advantageous in both these situations, yet the facility is currently exclusive to A&K in the portable player market. Yes, competing Android-based players from FiiO and Shanling can run the Roon app and act as an endpoint, but they cannot play hi-res material natively, being limited by the baked-in 48kHz/24-bit Android ceiling.
This situation might change, as Google has recently hinted at a policy overhaul concerning hi-res playback. For now, though, the SP2000T is one of the few DAPs to offer 'bit perfect' playback via Roon over Wi-Fi. It can, of course, also be connected to a computer via USB, functioning as an external DAC and supporting bit perfect playback with Roon or various other apps.
With all these features, it is easy to forget the SP2000T has 256GB of internal storage for direct music playback. That's a reasonable but not endless amount if you're a collector of hi-res material, in which case the microSD expansion slot (supporting cards up to 1TB) will quickly come in handy.