Astell&Kern A&ultima SP2000T Digital Audio Player Page 2
The SP2000T's ESS-based DAC stage lets you play just about anything up to 384kHz/32-bit PCM and DSD512, and while the built-in player can initially be a bit fiddly to control, it does offer all that's required and more, including gapless playback and wide-ranging file format support.

Easy Does It
In my experience, Astell&Kern produces players that are typically great at resolution and detail representation – with little in the way of coloration – making them good companions for all but the brightest headphones or in-ear monitors. And this brand sound is in evidence with the SP2000T running in its default op-amp mode, even more so than with the company's previous AKM-based SP2000. Here, the DAP delights with its deep sense of detail and ability to maintain speed and accuracy. The tube mode, and its various hybrid levels, is arguably less impressive. But more on that later…
Using a pair of Dan Clark Ether CX over-ears connected via a 4.4mm balanced connection, the incredible performances of French/Lebanese trumpeter Ibrahim Maalouf, on his 40 Melodies album [IBM31], found the SP2000T in fine, clear voice. Its transparent, revealing nature puts a focus on the cadences of the playing, and the tonal nuances of the instrumentation, such as when Jon Batiste plays rapid piano runs on Maalouf's 'Free Spirit' as a counterpoint to the drawn-out trumpet tones.
This set features stripped 'Duo' versions of the artist's orchestral hits, including 'True Sorry' and 'Beirut'. The latter song especially, which recounts the story of 12-year-old Maalouf seeking an escape from wartime by listening to a Led Zeppelin tape, was portrayed with a superb finesse. There's a level of emotion in his careful trumpet playing that the SP2000T manages to convey perfectly.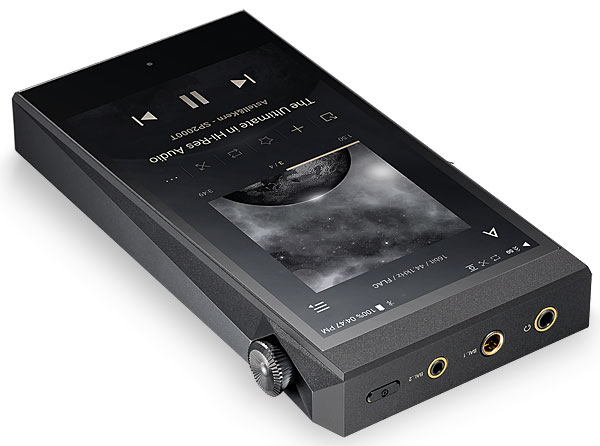 Certainly, in 'op-amp' mode A&K's new DAP isn't interested in embellishment. It comes across as possessing a natural sound, staying away from even a small dose of warmth. Tonally that is, as the device itself actually does warm up when playing hi-res material. This is nothing to be worried about, however, and not comparable to the temperatures the competing FiiO M17 can produce – there's a reason why that particular player can be outfitted with an optional fan.
Dan Clark's Ether CX is not a headphone that requires huge amounts of amplifier power to get going, so maybe I shouldn't be surprised that the SP2000T handled it without appearing to break into a sweat. However, switching to a more challenging Beyerdynamic DT1990 Pro, it does feel like this player has to work harder – which is logical, considering the headphone's specification. That said, turn up the DAP's volume to '100' (not as loud as you expect – the dial goes up to 150), and it has no trouble powering the drum kit on 'Beautiful', from Ayo's Royal [Wagram 3375872].
One of the thrills of listening with a headphone to a recording like this is that you can become completely immersed in a performance, giving you a palpable sense of being very close to the vocalist. That's exactly what the SP2000T delivers here, without any trace of sibilance or distracting artifice. This premium player really lets the German-Nigerian jazz singer shine during his cover of Lhasa's classic 'Fool's Gold'.
Tonal Warming
The impact of the tube/hybrid presets is detectable but slight. They certainly add a bit more warmth – and a smudge – plus there's some sense of change when it comes to soundstage width and depth, yet nothing to convince me that I'd frequently use them. Maybe this just is a 'feature' – one of many on a well-specified DAP – which doesn't tickle my fancy, but might yours.
A portable device like this will often be used with high-end in-ears. The requirements for IEMs are different than for most headphones, as sensitive in-ears tend to show up noise quickly. That's not an issue with the SP2000T, apparently, as I could detect no hiss during quiet passages through an AKG N5005 and FiiO FH7. Staying with the AKG model and picking Multitude [Polydor 451140-4], the latest work from hip-hop artist Stromae, the listening experience was very similar to that of the over-ears headphones: controlled, insightful and resolving. PM's Lab Report reveals the SP2000T has a low-impedance output, and this surely plays a part in the player's consistent sound character.
A final use case for this device needs investigating: acting as a line-level source into a loudspeaker-based system. Connected to a Hegel H590 amp [HFN Oct '18] and Canton Reference 7Ks [HFN May '22], the result was first-rate – although I preferred the performance when using the SP2000T as a digital transport, via USB cable into the Hegel's built-in DAC stage. Control is, of course, a bit of a challenge if the player and your listening position are a few metres apart, but luckily there's that Roon Ready ability, or if you prefer, Astell&Kern's AK Connect mode, which allows control via a UPnP player. Such versatility is as welcome as this DAP's sonic prowess.
Hi-Fi News Verdict
As you'd expect from a flagship DAP, the A&ultima SP2000T aims to offer everything. Sure, its 'tube' modes aren't a reason to choose this player over another, but its clean and insightful sonics are, while the Roon Ready status is a real boon for at-home users. Its excellent build quality and sophisticated design also sets the SP2000T apart from many rivals, even in this upper echelon of the head-fi market.