Aiwa AX-7400 receiver


In 1977, as Britain came alive to the sounds of jazz-funk and punk, a Japanese receiver arrived on UK shores promising unbeatable tech at the price. How does it sound now?
Say 'Aiwa' to most audiophiles and the chances are they'll think of cassette decks. The company was one of the first in Japan to take the format seriously and later went on to lead the field, selling machines not only under its own name but as OEM products for many other brands. So why not branch out into the rest of the audio field?
This thought had clearly occupied the marketing minds of Aiwa's UK division. After all, some buyers prefer a system made up of matching components, all bearing the same manifacturer's name.
Down To Business
The result was that the 1977 assault on the British hi-fi market was a serious one – Aiwa UK was not just testing the waters. Its range comprised six cassette decks (of which the AD-1250 and AD-6800 are the best known), two direct-drive turntables, three receivers including the AX-7400 seen here, and four combination units.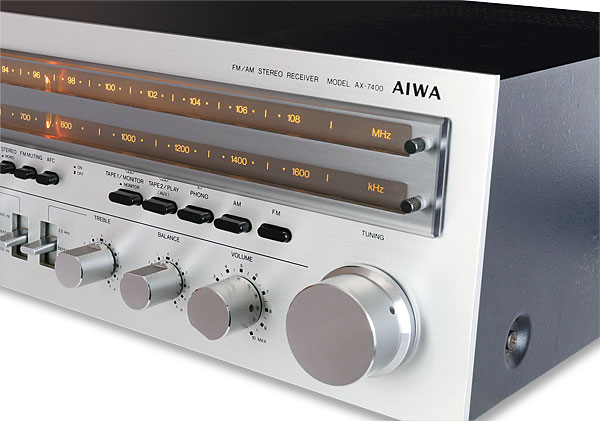 Designed and made in-house using Aiwa components and assembly techniques, all these products boasted an exemplary finish. And they were competitively priced too, given the sheer workmanship and technology involved. And if all this were not enough, Aiwa UK also offered its customers the best guarantee in the business: an 'all risks' policy given free of charge with all new major components. As well as covering the usual breakdowns, things like accidental damage and loss through fire or theft were also included.
There are some audiophiles who look askance at units that combine more than one function, but there is no technical justification for this when it comes to the AX-7400. The power amp, preamp and tuner are all separate entities that share little more than the mains transformer and cabinet. All are generously specified too, the preamp, for example, being located at the rear of the chassis so as to be as close to the input sockets as possible, while the selector switches are operated by extension shafts.
Rugged And Reliable
Similarly, the power amp and its power supply were built together in a high-density unit to keep all the high-current signal paths as short as possible. While 30W into 4ohm may not sound that much [see PM's Lab Report, p127], rugged and reliable Toshiba 2SD317 transistors on a finned alloy heatsink were used to provide it.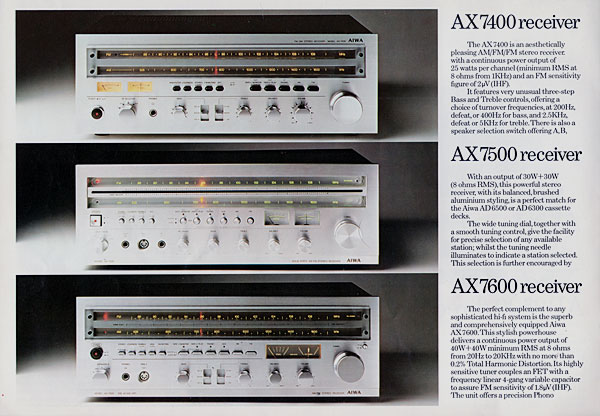 The tuner section, meanwhile, saw a five-gang variable capacitor (two AM, three FM) used for station selection and included a pair of high quality low-pass filter blocks to eliminate the remains of the 19kHz pilot tone that accompanies FM stereo broadcasts. The latter is a problem for cassette recorders with Dolby noise reduction, so it's no surprise Aiwa took this part of the design seriously.
Care was clearly taken when it came to the tone controls too. Separate treble and bass controls were fitted to the AX-7400, each with the option of two operating frequencies and bypass/defeat. A defeatable 'loudness' circuit was also fitted.
The fascia of the AX-7400 put that of its rivals to shame. The front panel was cut from thick alloy and had two long slots machined into it through which the AM and FM tuning scales could be seen. These were protected by a 5mm-thick slab of tinted glass (not plastic) that was held in place by four decorative bolts.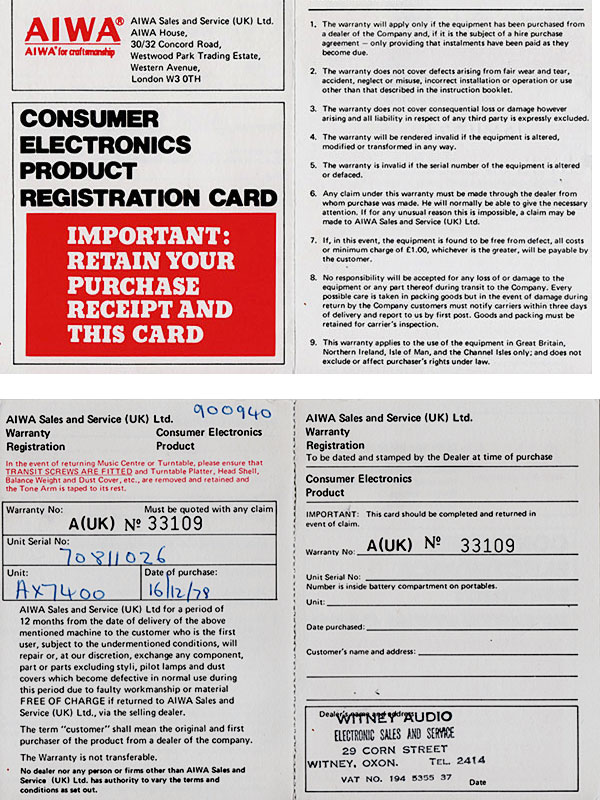 Japanese Oddity
Tuning accuracy was aided by meters for both signal strength and tuning balance and all the rotary knobs were diamond-turned solid alloy, grub-screwed to the control shafts. There were no plastic centres or push-on splines here. It is worth remembering that the AX-7400 was the cheapest model in the range at the time, the AX-7500 and AX-7600 variously offering more facilities and incrementally more power, along with DC coupling to the loudspeaker load which was absent in the AX-7400.
When setting up this receiver the first thing I was aware of is that it's clearly geared towards the Continental market, despite our sample being a 240V UK specification. DIN-type connectors are used for the two tape recorder inputs and for the speaker outputs – an oddity for Japanese equipment of this era. The sockets are marked with DIN standard symbols too, including the anachronistic valve anode graphic for an auxiliary input.

The two 5-pin DIN sockets are naturally enough both aimed towards tape decks, but only Tape 1 is a proper tape loop with monitoring facilities (something not normally catered for in the DIN standard). Tape 2 is for use only with two-headed tape machines, but it can be used to copy onto Tape 1. Dubbing in the opposite direction isn't possible. Tape 2 is also suggested as an auxiliary input, although its sensitivity may be a little too much for a high output CD player or DAC. The recording output from both sockets is to the DIN standard and therefore far too low for decks which expect line level inputs.