Synthesis Metropolis NYC 200i Integrated Amplifier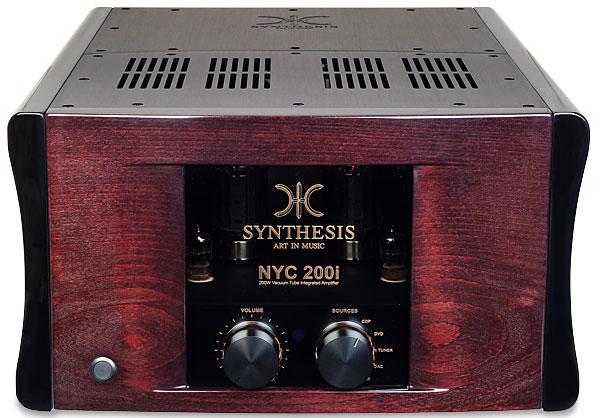 Flagship of this Italian brand's trilogy of tube amps, the Metropolis NYC 200i occupies a huge footprint and mercilessly sucks power from the wall. But the music is magic...
Is it unkind to suggest some Italian brand names do not carry convincingly into English? Who keeps a straight face with a cooker called 'SMEG'? As for Synthesis – which also has the appropriately named Roma range – choosing to dub its Metropolis integrated amplifiers 'NYC', because New York is a Metropolis, actually makes sense, I suppose.
At the top of this three-model family, the Metropolis NYC 200i is an absolute screamer for £1 less than £21k, and the power rating which yields its name is nothing if not conservative – it is to hi-fi what Dwayne Johnson is to film tough guys. Equally overwhelming is the weight, PM warning that moving it takes two people, its 60kg unequally distributed because of the sheer bulk of the transformers.
Worth The Weight
The smaller siblings differ only in tube complements, the NYC 100i using four KT66s per channel, the NYC 175i two quartets of KT88s, while this holds eight KT120s. The possible introduction of an 'NYC 250i' or '300i' with KT150s seems a logical sequel, but I'd rather not read Synthesis founder Luigi Lorenzon's mind. Judging by what I'm hearing with the 200i, who needs more?
In contrast to its daunting physical presence is its minimalism. Aside from the bias regimen, this amp demands no poring over the owner's manual. Power on/off is at the back, with a button on the fascia taking it out of standby. Two rotaries serve level and source selection, also accessible via remote, while the back panel is self-explanatory – purely line-level, with neither phono stage nor DAC to consider. Sources are connected through four clearly marked RCA phono sockets and one balanced XLR input while, flanking the near-silent fan at the back, are six pairs of multi-way binding posts for 4ohm and 8ohm loads, the pairs enabling easy bi-wiring.
As for the cause of the abundant avoirdupois, Lorenzon explains that, 'The output transformer in the NYC 200i device is built using our single-coil, double-C-core topology, with an air-gap for push-pull applications. This design results in an almost constant inductance throughout the whole operating voltage range, and can be configured for different secondary impedances, in this case 4 and 8ohm.'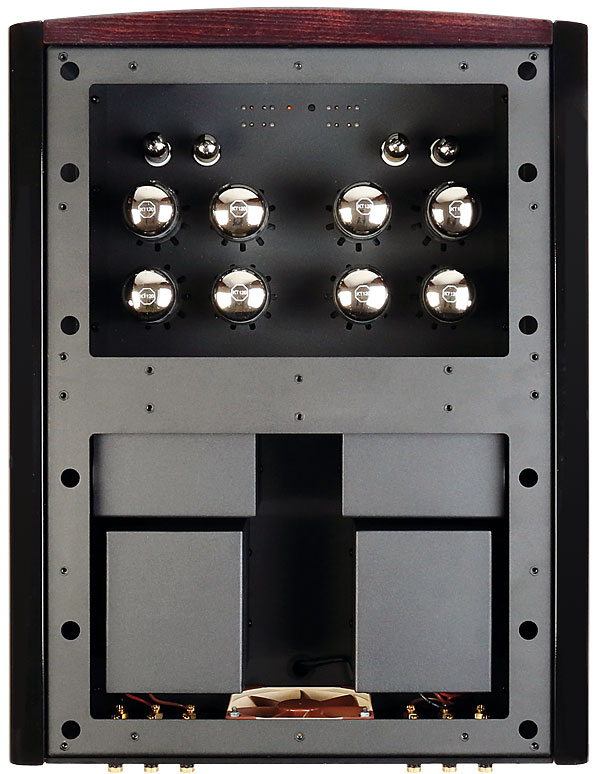 Lorenzon also describes the interleaving pattern as enabling a frequency response over 120kHz (re. –3dB), accomplished by dividing the primary into ten sections and eight sections of secondary for each side. The NYC 200i's transformers are isolated by an iron cover, with epoxy resin inside to avoid vibration and improve stability.
But one challenging aspect of operation might delay your instant satisfaction, as the manual bias setting is what Italians might call a 'rompipalle'. Any reviewer assessing valve amps who doesn't check the bias after the unit – even a brand-new one – has been installed shouldn't be allowed near them. So, it was off with the lid's 12 bolts, to be faced with a pushbutton to mute the amp and set it into bias mode. Once pressed, an orange LED lights up next to it. Unfortunately, after the amp had been on for an hour and I'd found a suitably long screwdriver with tiny flat head to fit into the trimmer slots, it proved to be constantly nerve-wracking. The trimmer screw is inexact in its movement and the LEDs which indicate the state of bias – off for correct, blue for under-biased, red for too much bias – kept drifting or flickering.
This reminded me of certain tonearms of yore, where setting the VTA would throw out the SRA or anti-skating or tracking force or whatever. After nearly a half-hour spent biasing the eight tubes, another push of the button extinguished the orange LED and the amp returned to active mode.

Bold As Brass
For all that, it was worth the effort. I couldn't resist opening the session with Frank Sinatra's 'Theme From New York New York' from My Way: The Best Of Frank Sinatra [Reprise 9362-46712-2 CD]. Of course, the focus is on Frank's vocals, but the opening salvo from the brass had such punch and clarity that I almost overlooked the big, fat bottom end. This amplifier moved the woofers of my Wilson Sasha DAWs [HFN Mar '19] not with mere control or authority but with what I can only describe as empathy.