Sharp DX-411H CD player


This second-generation 16-bit machine hit the sweet spot for many when it came to sheer value for money, but does it make a bargain vintage buy? It's time to find out...
Has the 'perfect' CD player ever existed? While one model may boast the best transport, another the best DAC and yet another the most perfectly resolved ergonomics, so far I've yet to find all of these elements present in one machine. Sharp's DX-411H
CD player, seen here, is a leader in none of these categories, but it's certainly a contender for having the best advertising campaign in the history of the format. In print and on TV, 'Less Bucks More Fizz' said it all, especially when backed by the faces of one of the top pop bands of the era.
In truth, Bucks Fizz were already past their peak in 1986 when the DX-411H was launched, and the Eurovision-winning quartet would soon be largely forgotten. Not so Compact Disc, which continued to grow in strength over the coming years and remains a highly valued source today.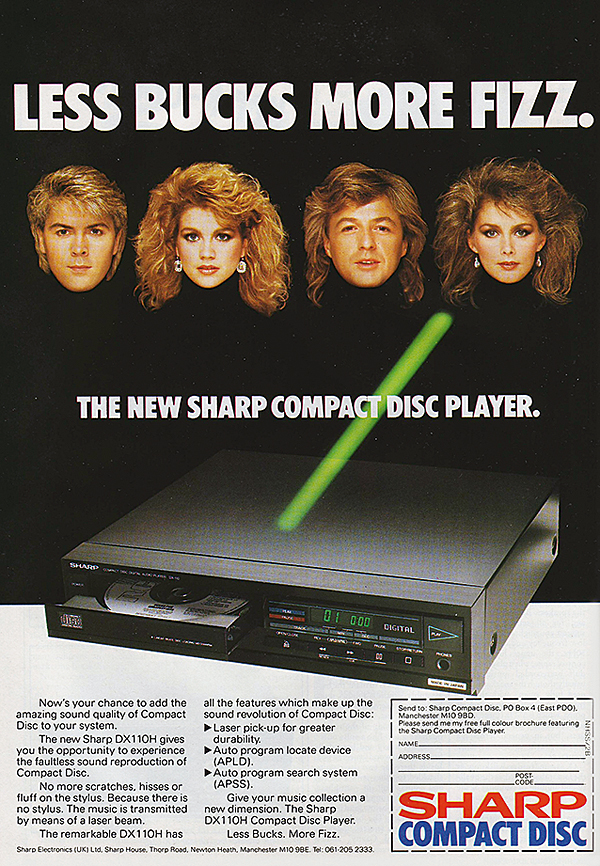 Sharp Sighted
At this point I should confess to having something of a soft spot for Bucks Fizz. The music cognoscenti may sneer, but to me their work is emblematic of a time when life in general, and music in particular, was less about being self-consciously serious and more about just having fun.
More to the point, I also have great admiration for Sharp, the company's record of innovation and development being comparable with the very best. The first mobile 'phone with a built-in colour camera I ever saw was from Sharp. And this at a time when Apple was producing quirky computers with operating systems that had niche appeal. And when Sony, the Japanese leader in TV technology, made its first LCD sets, it selected colour display panels manufactured by Sharp.
In its promotional material of the mid 1970s the company envisioned an imaginary city, 'Sharptown', composed of all its facilities gathered together in one place. The area occupied was claimed to have been approximately 682 square miles. As well as making pioneering contributions in fields as diverse as electronic calculators and microwave ovens, Sharp also briefly ran a specialist hi-fi sub-brand – Optonica. While I doubt you'll ever hear a barstool audiophile waxing lyrical about any of Optonica's products, the mighty SM-4646 integrated amplifier is firmly on my hi-fi bucket-list as a component I'd like to have a good long listen to one day.
Key Model
Like all the Japanese majors, Sharp had a fully engineered CD player ready for sale for the 1983 season. Despite looking similar to the Hitachi DA-1000 [HFN Sep '16] and the Fisher (Sanyo) AD 800 [HFN Apr '13], Sharp's debut DX-3 was developed and produced almost completely in-house; the Sony DAC chip [shared with the CDP-101, HFN Jan '12] was one of the few key parts which had to be bought in.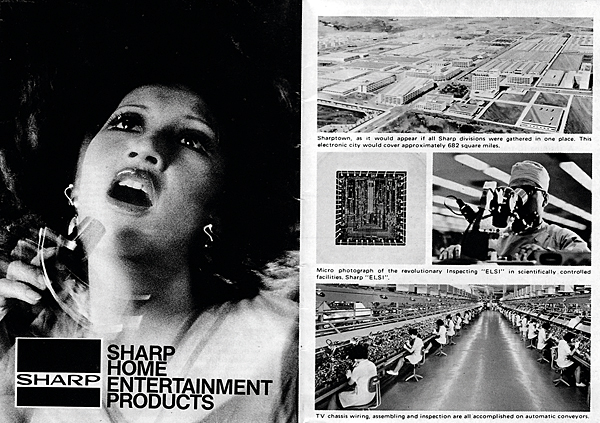 The DX-500 which followed looked more conventional but still contained an odd mixture of Sony CDP-101 and Marantz CD-73 [HFN Mar '19] styling cues. This was Sharp's main model for 1984. Like many early players, both of these Sharp machines were big, heavy and complex. They weren't that profitable to produce and were made mainly to secure market share.
The 1986 range, of which the DX-411H was a part, was a more mature, more commercially viable and better engineered set of products, designed in line with what the rest of the industry was doing at the time. The key model was the DX-110H, this being the player featured in the press and TV ads. It had a fascia width of 330mm, the standard midi-system size. The DX-411H was essentially the same player but fitted with a 360mm-wide fascia, the extra width inside being made up by an empty channel section screwed to the side of the chassis [as with the Sony CDP-5F and CDP-C5M, HFN Feb '21]. Also, the headphone socket had been removed.
Prime Mover
While no CD player was cheap in 1986, at a little over £200 the DX-411H would have been classed as a budget machine. For your money you got a single 16-bit DAC (Sharp's own), time-shared between the channels. A three-beam sled-mounted optical unit made by Sharp itself formed the heart of the mechanism, while a brace of Yamaha LSI chips could be found in the decoding section of the circuit and in the 2x oversampling digital filter – at the time an unexpected bonus in a machine of this type. A dedicated chip from Sanyo contained much of the servo system and it was no surprise to find an LCD numerical readout on the front panel as Sharp was a prime mover in this particular technology.

Basic though it may have been, machines such as the DX-411H offered incredible value for money to hi-fi buyers in the mid '80s looking to embrace digital. Lest we forget, the difference in sound quality between the cheapest and the most expensive CD players of the period was relatively minor when compared to that of turntables or cassette decks at similarly opposite ends of the price spectrum.
Charm Offensive
Furthermore, even a simple machine such as the DX-411H could offer levels of background noise, speed stability and channel separation no turntable or cassette deck could ever hope to achieve, regardless of their price. It was no wonder, then, that these machines sold in such large quantities.
The big Japanese firms of the 1980s seemed to know how to endow even their most affordable products with a feeling of quality and attention to detail that the more specialist side of the industry was never quite able to replicate. So it is with the DX-411H, which despite having a plastic fascia and plastic buttons still demonstrates a fine standard of finish.
The styling is dated in an obviously '80s sort of way, but it remains something an antique dealer might well describe as 'a charming period piece'. Some of the buttons are needlessly small (there is plenty of room in which to have made them bigger) but the important ones are not only well placed but simple to operate.
Calling Time
Meanwhile, two Sharp acronyms adorn the player's keys – APMS and APSS – and their meanings are spelt out in brackets under the disc drawer. They are 'Automatic Programmable Music Selector' (ie, track programming) and 'Auto Program Search System' (ie, skip forward/backwards). The latter facility could also be found on the company's cassette decks.