Mark Levinson No5805 Integrated Amp/DAC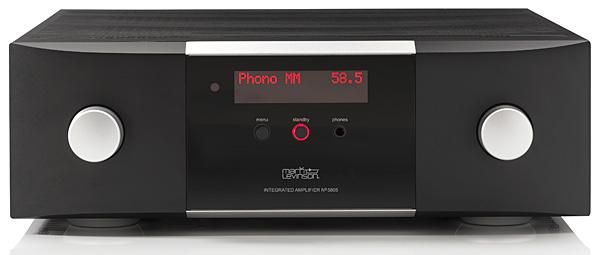 This latest integrated amp from a stalwart of the US high-end may be stereotypically big and bold, but it's also both extremely flexible and surprisingly affordable
Although many aspire to grabbing themselves a chunk of American high-end audio, there's all too often a problem – price. It's very tempting to look at the price-tags back home in the States and shake one's head at the UK ticket. But most of us can guess at the differences between the US and UK markets, the import taxes and costs involved in shipping and distributing small samples of heavyweight equipment.
In this instance, however, it's still a pleasant surprise to see parent company Harman Luxury Audio playing with a very straight bat – the price of Mark Levinson's No5805 is £7999, in the company's usual black livery with silver metal accents and red display/control illumination. True, that's still hardly pocket money, but it does equate well with the US price of $9520.
One Of A Pair
In fact there are two versions of this new Mark Levinson integrated: the No5805 we have here and the No5802 at £6999. The latter is an all-digital (input) affair with six digital ins including asynchronous USB for hi-res content – up to 384kHz/32-bit and DSD128/11.2MHz – from a computer, plus MQA decoding in the XMOS USB processor, and Bluetooth with aptX-HD.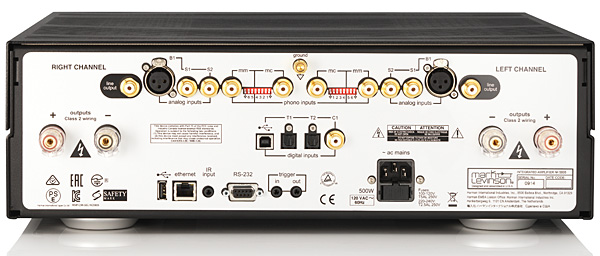 In the No5805 the digital inputs are reduced to four, but a quartet of analogue inputs is added – one on balanced XLRs, two on RCAs, and an MM/MC phono stage. This newly designed phono section is configurable for gain and infrasonic filtering from the menu, with rear-panel switching for capacitive and resistive loading.
That approach is at odds with what we're used to elsewhere in the amplifier market, where usually it's the analogue-only version of such designs selling for the lower price, with the fitment of a digital section commanding a premium, but in the modern hi-fi landscape the approach of the Mark Levinson designers seems a logical one. After all, it's likely most users' audio sources will be digital these days, whether using a network player or following the 'Mac and DAC' route, wherein a PC acts as the 'transport' for files and/or streaming services. So the No5802 will suit such users perfectly, while the No5805 will serve those who also have legacy analogue sources, such as LPs. OK, OK, you can stop hitting me now.
The amp also has a unity-gain home cinema pass-through facility and, in addition to one set of speaker outputs, preouts on RCAs. But before you get all excited about the presence of an Ethernet port and start thinking of onboard streaming capability, it's there merely as part of an array of control options. Alongside a new metal-cased remote, the No5805 also offers browser-based set-up, configuration import/export and software updated via the RJ45 port, plus RS-232, 12V trigger in/out and a socket for an external infrared sensor.
The No5802 and No5805 are based around a common platform, as one might expect, the company saying that they have been 'created to deliver all of the performance and quality expected from Mark Levinson while implementing state-of-the-art features and efficiencies gained from decades of superlative audio engineering'. The 5000-series industrial design is new, and serves to set these 'four-digit' products apart from the more upmarket two- and three-digit models. The No5805, quite apart from being more compact than the other integrated in the lineup, the No585.5 [we tested the No585 in HFN Apr '15], looks rather simpler and more contemporary in its styling, while still maintaining the Mark Levinson corporate identity.
That extends to a 25mm-thick bead-blasted and black-anodised aluminium front panel, curved out to the edges and with an inset glass display section mounted in a clear-anodised bezel, while the machined buttons and 'iconic hourglass knobs' are similarly finished, as are the feet.
Magnificent Seven
Under the hood, which has 'debossed' vents, the main building blocks are designed to give as direct as possible a signal path through the amplifier, at the heart of which is the company's 'PurePath' fully discrete, direct-coupled dual mono preamp circuitry. This employs a single gain stage and a digitally-governed volume control, not to mention individual relay switching for each analogue input. The dual mono design extends to the layout of the rear panel, with the inputs for each channel, right down to the two sets of MM/MC sockets, physically separated.
On the digital side, the Mark Levinson No5805 uses the company's ESS Sabre-based 'PrecisionLink II' converter, which boasts comprehensive jitter suppression and a discrete post-DAC current-to-voltage stage. There's also a choice of seven (!) digital filter settings, a wide or normal PLL lock range (the former used for 'slack' digital sources) and the option of upsampling incoming digital signals before conversion. When this is selected, 44.1kHz/88.2kHz/176.4kHz streams are upsampled to 352.8kHz and 48kHz/96kHz/192kHz inputs to 384kHz.
Power comes from Class AB mono amplifier sections, separated back to individual PSU windings for each channel on the hefty toroidal transformer. The topology of the voltage gain stage is derived from that of the No534 amplifier [HFN Jun '18], while the output stage uses two high-speed Class A drivers and six 15A output devices with 'ThermalTrak' technology keeping output bias stable against load or temperature.