Mark Levinson No5805 Integrated Amp/DAC Page 2
The company claims 'a conservative 125W/8ohm per channel, 250W/4ohm per channel, and stable operation down to 2ohm'. Finally, headphone users are served by a dedicated Class A preamp stage that's designed to drive headphones directly – it's based on the headphone amp found in the costlier 500 series products.

American Dream
If you're the sort who skips to the end of a whodunit to find out the identity of the murderer, you'll probably have already checked out PM's Lab Report, and know that the No5805's output is indeed conservatively stated, and that distortion remains consistent across the quoted power range. That, in essence, is how the amplifier sounds in use. It's one of those typical big American powerhouses that appears to be almost unburstable in use, delivering effortless dynamics and speed even when run at ambitious listening levels.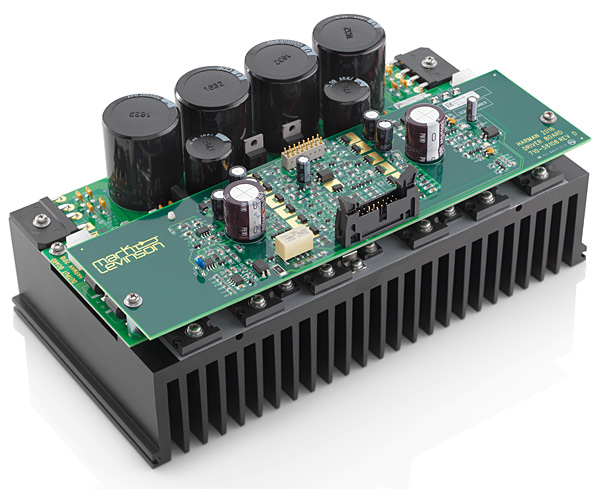 What's more, detail resolution is impressive with everything from simple 'audiophile' recordings or dense rock and classical works, even though the No5805 sounds just a shade on the soft and lush side when compared to the more forthright solid-stage amps frequenting the sub-£10k high-end scene.
The sound is consistent across its digital and analogue inputs, although it's possible to 'tune' the latter by skipping through all those digital filters until you settle on a sweet spot. As the manual says, there's no right or wrong in the use of these; instead it's just a matter of personal taste. Having spent more time than I should experimenting with them, I have to agree. In fact, I'd go further, for I found my preference for the various settings varied according to the type of music I tried, and even between specific recordings, to the point where I gave up and opted for the No5805's 'hybrid' compromise setting.
However, were I to own the amplifier, I'm sure I'd succumb to the temptation to fiddle, softening this track with one filter, sharpening another with a different one. All of this compounds my view that, while these options are interesting from a review perspective, I think I'm with those designers who make the decision for me, and 'lock' their digital equipment to the filter they think sounds right, saving me all that faffing. I've no such qualms with the upsampling option: having heard what it could do in terms of making everything from CDs to 192kHz/24-bit recordings sound more substantial and finer-detailed, it remained on for the rest of the listening.
Major Scale
With so much flexibility and so listenable a sound, plus dimensions on the sensible side of normal – at just under 44cm wide and a mere 14.5cm tall, it's hardly huge – the No5805 is an easy amp with which to live.
I spent a good deal of time with it – not all fiddling with digital filters! – and among the standout memorable moments was the time spent playing the excellent Budapest Festival Orchestra/Iván Fischer Mahler 7 [Channel Classics CCS SA 38019; DSD256]. Here the Mark Levinson amplifier was as impressive with the scale and power of the orchestra as it was with the atmospheric call and response at the beginning of the second movement, before unleashing all its weight and speed when required.
True, I've heard this recording delivered with an even greater sense of ambience reflecting the concert hall acoustic, but the sins of omission here are well covered by the infectious way this amplifier, whether fed from a computer, playing LPs or used via its line analogue inputs, paints the room with the music. One never feels any less than entirely involved in what a recording is trying to convey, not least because the No5805's rich, generous bass provides a firm foundation for the sound, both exploiting the qualities of fine speakers and flattering those a bit shy in the lower frequencies.
Surging Guitar
At one point I had the amp driving a pair of little Monitor Audio Gold 100 bookshelf speakers – a seemingly hilarious combination, but actually a rather effective one, especially given that this example of 'old school' system synergy also had £20k's worth of network player on the front end. Oh, and then a £200 secondhand Mac mini!
Given its sonic qualities, it's no surprise that the No5805 can drive music hard when required, as was clear with Hiroshi Fukamizu's Everything For Drums set [Una Max Jazz UNAHQ-1008; MQA 192kHz/24-bit]. The amp punched out the ultra-precise drumming with real impact, allowing the speakers to shift plenty of air, and had the pace and definition to make even the most fevered sticksmanship sound fast and clearly defined.
Switching to the lush production of Santana's 1978 album Inner Secrets [Columbia CK 35600; Qobuz 96kHz/24-bit], the twin attributes of an easygoing sound and plenty of power were all too apparent once more in the crisp percussion and Carlos Santana's surging guitar. This was especially notable in the opening track and when it came to the dense mix of the cover of Buddy Holly's 'Well All Right'.
Coming bang up to date – well, in a manner of speaking – I decided to spin up Sting's new retrospective album My Songs [A&M/Cherrytree/Universal 00602577587207; 44.1kHz/24-bit], which is packed with opinion-dividing reworks of his back catalogue. What's beyond a doubt is that the production values are high here – and whether or not you think we needed a somewhat Police-less version of the song 'Can't Stand Losing You', there's no arguing with the vivacity with which this sound springs from the speakers with the No5805 at the helm.
Hi-Fi News Verdict
The No5805 is almost original in the high-end market: a big US integrated amplifier that's neither too big nor saddled with joke pricing. Those attributes, plus its enormous flexibility – including a very fine phono stage – play a major part in its appeal, while the generous balance means it's more or less built to flatter any good system. Add in the tank-like build and superb finish, and this is an entry-level amp in name only.