Marantz CD 60 CD Player/DAC

Just as Marantz's 40n integrated takes its design cues from models of yesteryear, the partnering CD 60 player confirms the brand's commitment to the 'legacy' silver disc
Is there really a CD revival on the horizon? Rolling Stone magazine kicked off the year bristling with optimism about the return of the Compact Disc but, behind the hype, there's little dispute that this physical format offers great lossless fidelity and costs next to nothing secondhand. Until audio hipsters cotton on to the trend, of course... Sound United, owner of the Marantz and Denon brands among others, concurs, which is why it's launching not one but two CD spinners in 2022. We're not going to talk about the entry-level Denon DCD-900NE here, but about the still very affordable £749 Marantz CD 60.
Recent product launches suggest that Marantz is on a path of stylistic reinvention, embracing a new design language which combines a modern visage while also harking back to historic products. Three of these 'next-generation' separates have set the scene – the Model 30 amplifier and SACD 30n network disc player [HFN Jan '21] and Model 40n streaming amplifier [HFN Apr '22]. The latter retails for a little over £2000, so Marantz is releasing the more accessible CD 60 to ensure everyone who bought one of its latest integrateds has a silver disc spinner to accompany it.
A Bit Of What You Fancy
Sporting the same new design, the CD 60 complements those amplifiers released in 2021 and 2022 and, in all likelihood, new models down the road. However, while the CD 60 is aimed at 40n owners who might be tempted to dust off their neglected CD collections, this player is sufficiently universal to combine with whatever amplifier tickles your fancy.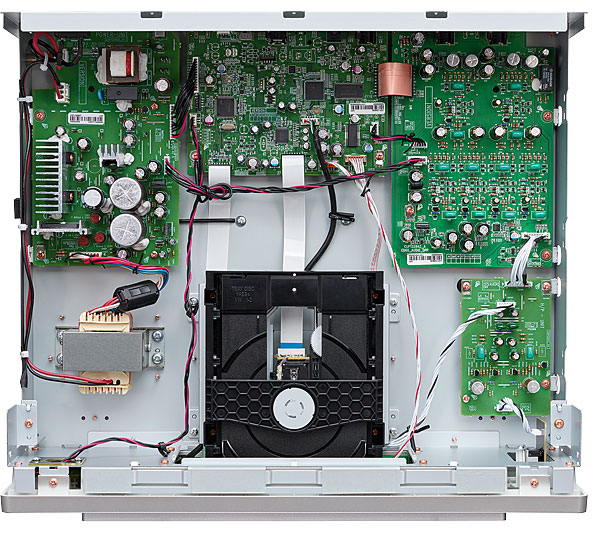 I like the design of these modern Marantz products, and that also goes for the CD 60, available in either black or a rather nice silver/grey. The crosshatch pattern of the fascia's backplate is something of an eye-catcher, while the front of the split-level fascia features essential controls either side of a bold display – Marantz's industrial design team certainly has an eye for symmetry when it comes to the placement of buttons and knobs. The customary porthole display referencing those classic Marantz amps is not present, but the larger screen with white text remains very legible even when sitting a few metres away.
The understated styling of the fascia, along with the equally high level of workmanship on show for the rest of the case, lends the CD 60 a sophisticated and – yes – luxurious air. It's a cut above regular budget-level disc spinners, such as the aforementioned DCD-900NE or NAD's C 568. That said, Marantz has arguably dropped the ball by omitting the side-lighting that works to great effect on its other new models in highlighting that crosshatch pattern. For a device obviously intended to be combined with the Model 40n or Model 30, it's a cost-saving that may disappoint brand-fans seeking to create a matching system.
Focused Approach
Switching to the CD 60's rear panel, the focus on CD playback, be it with standard Red Book discs or data discs containing music files, is clear enough from the default analogue and S/PDIF outputs. However, playing SACDs, a beloved format of Marantz's longtime brand ambassador, Ken Ishiwata, is not possible. Neither should you look for digital inputs to connect a digital source – network, USB-B or legacy S/PDIF. The reasoning from Marantz HQ is simple – 'we don't think people buy a CD player in this price range to use it as an external DAC' – and its product designers prefer not to offer inputs which won't be used and could introduce noise into the design. That the CD 60 is mainly positioned as an add-on to the Model 40n amp, which sports built-in streaming and digital inputs of its own, also feeds into the decision.
Nevertheless the CD 60 is not entirely confined to the world of 1980s' 44.1kHz/16-bit digital audio, as it does include a single USB-A port on its main faceplate, capable of playing a wide variety of music formats. Introduce a USB stick or SSD, and you can even play hi-res PCM up to 192kHz/24-bit or DSD files to DSD128.