Kalista DreamPlay ONE CD player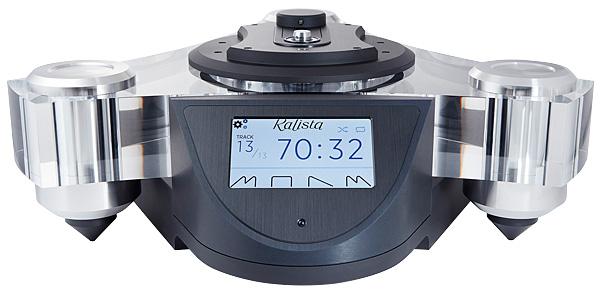 Streaming – schmeaming: for many audiophiles CD still rules the high-end digital roost and Métronome's Kalista division has a champion in the new DreamPlay ONE
Despite being an SACD-phile, I am also a realist: in my library, CDs outnumber SACDs by greater than 100-to-1. In the real world, I suspect that CD players outnumber SACD players by a higher ratio still. So, when Métronome brings out a new integrated model – the Kalista DreamPlay ONE with a price of £32,000 – CD-only capability is par for the course.
Let me clarify: SACD barely exists for audiophiles outside of Japan. As Jean Marie Clauzel, Managing Partner of Métronome, explained when asked why players of this price are CD-only, 'I like SACD, and I feel it's a pity that this format really couldn't increase and develop. We're thinking about implementing SACD into Kalista products like we just did in the Métronome AQWO disc player, but this is another story'.
Four Boxes Or Two?
This raised another question as we examined this compact version of the four-piece Kalista DreamPlay CD/DAC [HFN Nov '17]. Here the 'one-box' status refers only to its transport and DAC being in one chassis because the partnering Elektra power supply, from the earlier DreamPlay model, remains in a second chassis.
Asked if there were advantages over separate DAC-and-transport models, Clauzel said, 'Not really, but we already made an integrated Kalista player years ago [HFN Jan '09], and there was a real demand from customers. Our goal was to be very close to a Kalista DreamPlay CD/DAC combination'.
What you have in the DreamPlay ONE is a mix of the freaky and the traditional, because the Elektra power supply is simply a rectangular chassis'd component with on/off toggle at the front left and a second toggle on the right having no apparent function. It had something to do with the displays on earlier models and as the new player features a nifty touchscreen for controls, it's now redundant.

Legacy issues also affect the impressive remote. You cannot access the selection of six filters via the remote, which precludes A/B listening from the 'hot seat' – and this is a pain because the filters do have a bearing on the type of disc playing. I don't want to cloud the issue with my wholly subjective filter preferences vis-à-vis conventional silver CDs, SHM, Blu-spec and HQ CDs or other deluxe pressings now on offer, but I will say that I did not find any one setting as an ideal default, although found myself using 'Sharp Roll-off' for most of the time.
Legacy matters do not affect the innards, however. As PM has noted, the DreamPlay ONE uses superior DAC chips to the two-box Kalista, so there might be some surprises when the two are played side-by-side...
Tap the settings icon (top left of the display) and you first are offered analogue outputs of 1.4V, 2.5V and 3V, to match to your preamp. I set it in the middle. The digital filter choices include 'Sharp Roll-off', 'Short Delay Sharp Roll-off', 'Super Slow Roll-off', 'Slow Roll-off', 'Short Delay Slow Roll-off' and 'Low Dispersion Short Delay'. As subtle as they are, you will find them audible in the sort of high-resolution system that warrants the inclusion of so costly a player [see The Kalista Twist sidebar].
Where's The Lid?
Set-up is simple, and operation simpler, but one needs to be careful with the inflexible umbilical between the power supply and player because the plugs contain a series of all-too-easily-bent pins. But if attention is paid to the red dot on the connector, keeping it uppermost, there will be no problems. The only other connection is the analogue output choice of single-ended versus XLR-balanced – I used the latter and could have actually gotten away with the lower 1.4V output level option.
There's one other practical matter to discuss. I long ago stopped hating top-loaders, realising that the elimination of jammed or failed trays is far preferable to the need to leave space above a CD player. Anyway, my venom is now aimed at slot-loaders. I have damaged more discs stuck in my Apple SuperDrive(s) and other players using slot drives than I care to count, so the DreamPlay ONE's open-access is a delight, save for one issue.