Kalista DreamPlay ONE CD player Page 2
That is dust settling: this gorgeous piece of functional sculpture deserves some form of fitted cover. With no disc in place, the puck doesn't protect the laser unless you line it up precisely. At this price level, Kalista should throw in a simple slab of Plexiglas on short legs, cut to the same exact shape as the three-armed chassis, to keep air-borne dust and schmutz at bay.

Ultimate Transparency
Starting with a normal CD, Mickey Thomas' sadly-overlooked Marauder [Gigatone GCD303], I was immediately bowled over by the silkiness of this player. On this solo from 2011, with covers of songs by The Rolling Stones, Squeeze, Peter Gabriel, Oasis, The Beatles and others, he puts his pipes to good use. My fave track is his cover of 'Delta Lady,' the Kalista DreamPlay ONE dealing with assorted rhythms in this funk-fest with a delicious mix of robust bass, punchy brass, piano, guitar and gospel-style backing with a near-forensic clarity.

Layer-upon-layer of sound was presented with the sort of transparency that causes reviewers to swoon: nothing out of place, obscured or suffering from compressed or truncated dynamics. Thomas is about vocals, and his voice has evolved over a 40-year career from an exemplar of utter clarity into something more textured, with a hint of Rod Stewart rasp. The DreamPlay ONE placed it with the prominence it warranted, even with the more raucous numbers. Neither he nor any of the instruments got lost in the mix, while the soundstage stayed deep and wide.
Revelling In Subtleties
Spinning a Japanese CD of Lou Rawls' peerless At Last [Blue Note CJ32-5050], the title track's rich piano opening had mass and form that drove me to pick out a few chords on the family's upright. Damn, this is one of the most natural-sounding CD players I have ever used – the transients were precise and with the sort of decay that you expect of vinyl. Best of all, for this midrange junkie, were the contrasts between the diverse vocals of Dianne Reeves and Rawls, a liquid pool versus a smoke-filled bar.
The DreamPlay ONE revels in subtleties, and this disc has so many low-level notes and details to respect and reproduce that it's as tough as a test disc. Piano is its forte (!), but the vibes on 'She's No Lady' provide this player with a party trick that would dazzle the most spoiled of our audiophile readers.
With this instrument, it delivered all of the characteristic ringing overtones. The mallets could be heard making contact (though I am not going to pretend to know if they were round or elliptical, yarn- or cord-wrapped). Whatever the composition, the vibes had the sort of presence to eliminate the physical manifestation of the system itself, my Wilson Yvette speakers [HFN Feb '17] disappearing – as they should.
Widescreen Vocals
It's the achievement of the high-end's raison d'être: the music was rock-solid, filling the room, but disembodied in the sense that it seemed to exist independently of the means of reproduction. And that's the sort of observation usually preserved for perfect, or at best near-perfect, analogue playback.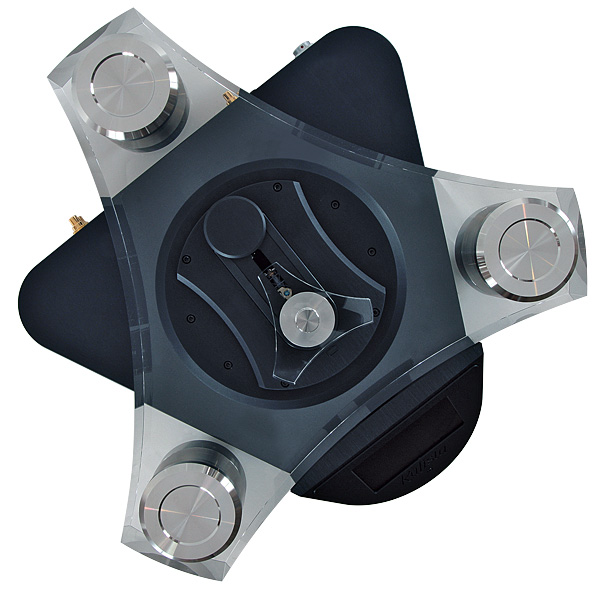 With the recent arrival of a self-indulgent purchase – a batch of the very latest SHM-CDs via cdjapan.co.uk – I turned to the 7-disc run of Poco titles (coincidentally, two of which have recently appeared as UK-made, Vocalion multi-channel SACDs). Poco's sound has always married group harmonies of at least three voices with loads of jangly guitars, tough percussion and pedal steel. It can sound unbearably edgy if handled badly. Not so here.
Now we come to the juggling act that characterises the best valve gear – incidentally, I fed the player through my Audio Research REF 6/REF 75SE [HFN May '16] combination, tubes all the way. I won't say that the DreamPlay ONE suddenly, magically, produced a facsimile of mint vinyl originals. But the overly crisp, often fatigue-inducing artefacts that mar much digital reproduction were completely absent.
On 'Footsteps Of A Fool' [Under The Gun; Geffen Japan UICY-78827] the delicate vocals floated over fuzz guitar. The piano at the back exhibited the requisite richness and mass, while all of the sound textures competing with each other maintained their identities with unmistakable precision.
Overriding the entire epic were the group's massed vocals, enjoying the full width of the soundstage. Each voice could be located, each singer identified – if you're that devoted a fan. The overall effect is near-Spectorian, and even if you know this material inside-out, you will certainly be caught out by the sax solo three minutes into the track. This is, regardless of the type of disc (and you ought to try SHMs…) how CDs should sound.
Hi-Fi News Verdict
By rights, I should hate this: CD-only, top-loading and from over the Channel. But I fell in love within 30 seconds, and that's after a couple of weeks with the astounding Esoteric stack [p50] at what? Twice the price? This won't make me forsake vinyl or open-reel tape, but it would grab the first chunk of a lottery win, even before that vertical of Sassicaia. The Kalista DreamPlay ONE is, indeed, a dream of a player.