Johnny Cash: Hot And Blue Page 2
The more original music that Sam Phillips had wanted from the band had been delivered: this was country, folk and blues music played in a more rhythmic style and moving into what would become widely known as Rockabilly. The trio's instrumentation was stripped right back, Cash's clipped acoustic guitar complimented by minimal lines from Grant and Perkins, the latter only indulging in occasional lead flourishes. This produced their trademark 'boom-chicka-boom' style that mimicked train rhythms, which had been an important element in blues and boogie-woogie for decades.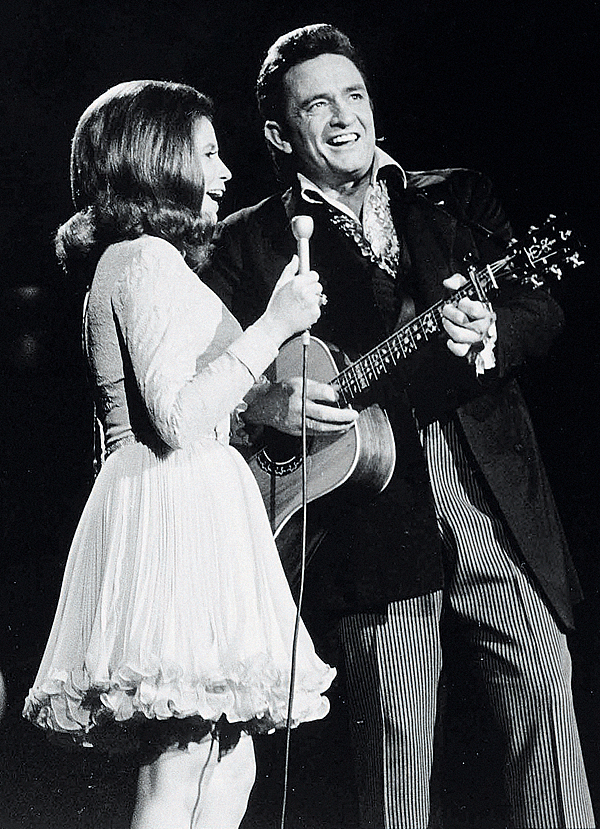 'I Walk The Line' was the third single released before Cash's 1957 debut album, Johnny Cash With His Hot And Blue Guitar!. It found him treading the path between sin and redemption. 'I keep a close watch on this heart of mine' he sings, inspired by the guilt he experienced after going to a striptease show with his army pals, feeling he had let down Vivian.
The idea of a man struggling with temptation had been a perennial theme in both country and blues songs, and Cash's commanding baritone voice was undercut by a certain vulnerability. 'I Walk The Line' struck a chord with the American record-buying public and by the end of the year it had sold some 750,000 copies.
The Man In Black
All this helped established Cash's sombre persona, an image that would last his entire career. Although some of his songs were good humoured, he also came across as a stark and existential figure, something of a troubled outsider. Due to the typically monochrome garb that he soon took to wearing, he earned the nicknames The Man In Black and The Undertaker. Further into his career Cash struggled to control his consumption of alcohol and amphetamines.
Thanks to 'Folsom Prison Blues' as well as the fact Cash played concerts for prison inmates, an outlaw image grew up around him. Rumours swirled that he had once served a prison sentence – but while arrested seven times from the mid-'60s for misdemeanours, each only resulted in a fine and a night in the cells.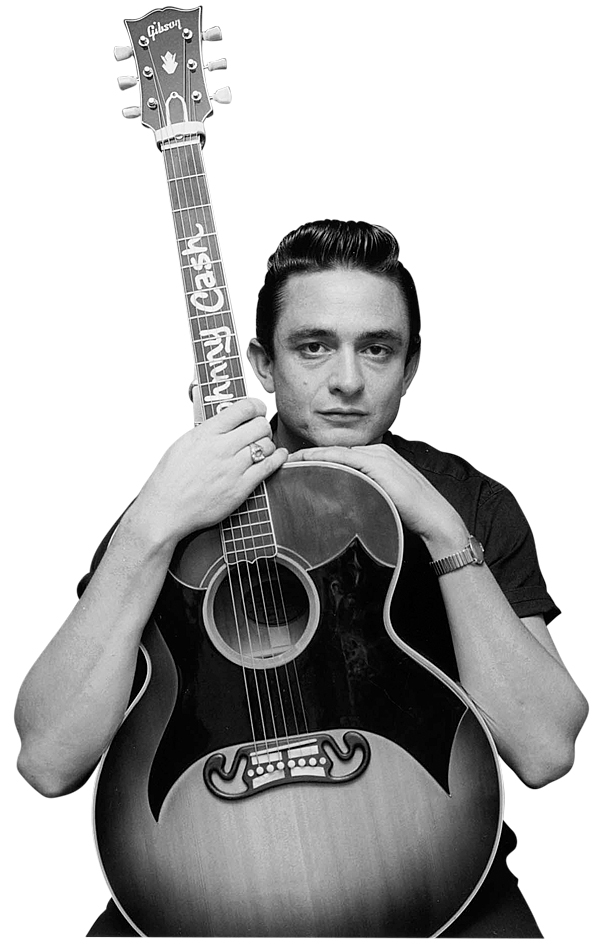 Single-Minded
Cash's debut album was released in October 1957, following three more pre-album singles, 'There You Go', 'Next In Line' and 'Home Of The Blues', though these appeared on a later Sun LP. Johnny Cash With His Hot And Blue Guitar! was the first album on the Sun label and its rather late appearance can be explained by Sam Phillips thinking that the format might get in the way of the singles market, which in Cash's case was proving particularly lucrative.
Listening to it now there's a hypnotic sameness about the instrumental backing, which left a lot of empty space to be filled by the singer's magnificent voice. It's there on another of the album's original compositions, 'Country Boy'. In this idealised celebration of the toil of rural life, The Man In Black tells us that at the end of the day, 'You ain't got nothing but fun'.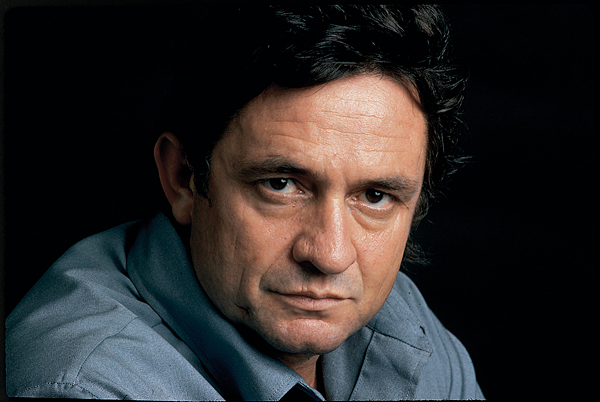 Of the album's 12 tracks, seven are cover versions. '(I Heard That) Lonesome Whistle', is a song co-written by Jimmie Davis and Hank Williams, and there's a new arrangement of their unsuccessful audition piece, 'I Was There When It Happened', with vocal harmonies from the Tennessee Two and Cash proclaiming 'Satan won't make me doubt it/It's real and I'm gonna shout it!'. Also included are two railroad numbers, 'The Wreck Of The Old 97' and a reworking of Leadbelly's 1930s song, 'Rock Island Line'. The prisoner/outsider theme is also reinforced by 'Doin' My Time', written by country and bluegrass artist Jimmy Skinner.
Yet what makes Johnny Cash With His Hot And Blue Guitar! such a remarkable debut is that the material Cash delivered, while still in his early 20s, was so strong and characterful it was as if his artistic vision had arrived fully formed. By way of confirmation, 'I Walk The Line' and 'Folsom Prison Blues' became two of his defining songs.
The Man Comes Around
Rick Rubin [HFN Jul '16], who produced Cash's last albums in the 'American Recordings' series of 1994-2006, said of 'Folsom Prison Blues': 'Those lyrics really define the Man In Black character. Someone who's haunted and remorseful, who wrestles with demons, but it seems with him like the demons win most of the time. Cash doesn't sing carefree about violence. He always has to live with the darkness of what he's done – he never gets off scot-free – which aligns him with the prisoners, the outlaws, of the world.