iFi Audio Pro xDSD headphone amp/DAC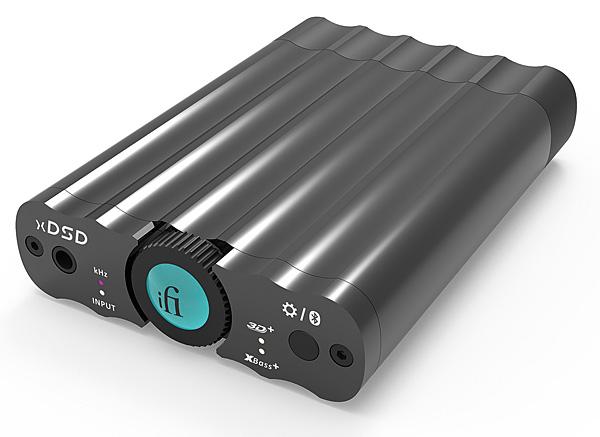 With a more compact and elegant design, plus both wired and wireless connectivity, iFi Audio's new top-of-the-range portable DAC/headphone amp seems to have it all
The iFi Audio range of portable DACs and headphone amps has been one of the main challengers to the popular Chord Mojo [HFN Jan '16], with its first-generation nano iDSD [HFN Dec '14] picking up an EISA Award back in 2014. The company recently updated its range with the entry-level nano iDSD Black Label [HFN Apr '18], which offers a highly competitive audio upgrade for just £199. However, it's this new xDSD model that's setting the standard for the company's latest range of products, with a more streamlined and portable design, improved connectivity, and a £399 price tag that pits it right up against the Mojo.
Gleaming Casework
The xDSD makes a good impression straight out of the box, its slimline, metallic design looking considerably more elegant than its somewhat chunky predecessor – not to mention the rather nondescript slab of metal that is the Chord Mojo. Looking rather like a small whisky flask, the unit measures just 67x19x95mm (whd), so you can easily carry it around in a jacket pocket when travelling. The gleaming magnesium alloy casing weighs just 127g, but certainly feels sturdy enough to cope with a few bumps when you're out on the road.
The xDSD uses the same Burr-Brown DSD1793 DAC chip as the rest of iFi Audio's portable range, but includes a redesigned headphone amp, along with additional connectivity options, including Bluetooth with AptX (a feature lacking in the Chord Mojo, unless you buy an optional add-on accessory), which allows you to stream music wirelessly from a computer or mobile device to the DAC. You'll still need a wired connection for your headphones, but that does at least reduce the tangle of wires and adapters that you have to carry around with you. It also provides a quick and easy option for connecting your mobile devices to a more substantial amp or speaker system at home. There's a single 3.5mm connector on the front for your headphones, but this can also be switched to a fixed-level line-out mode if you want to connect it to your home hi-fi system.

One other addition is a combined 3.5mm coaxial/optical digital input to cater for high-end digital audio players (DAPs) or other devices such as a TV or networked media server. However, most computers and mobile devices will rely on the xDSD's 'male' USB-A connector for audio input. Using a male connector means that you'll need to buy an adapter in order to connect most Android or Apple iOS devices to the xDSD (there's a micro-USB connector on the back as well, but this can only be used to charge the unit).
To be fair, Chord has adopted a similar approach with its Mojo, yet rivals such as RHA's Dacamp L1 [HFN Apr '17] do include a standard 'female' USB connector that doesn't require any additional adapters. Using the xDSD with a computer is actually more straightforward, as iFi Audio includes a thick, metre-long adapter cable.
Holographic Soundfield
File format support is a little complicated too. The S/PDIF interface supports files up to 192kHz/24-bit, but USB rather depends on which version of the device's firmware you choose. The pre-installed v5.3 firmware supports up to 384kHz/24-bit, along with DSD256 and the MQA format used by the Tidal streaming service. However, you also have the option of 'downgrading' to an earlier v5.2 firmware that does not have MQA but supports 768kHz/24-bit and DSD512. I was happy to stick with the default firmware for my Tidal account, but it's handy to have that other option for purists who have a library of suitable high-res downloads.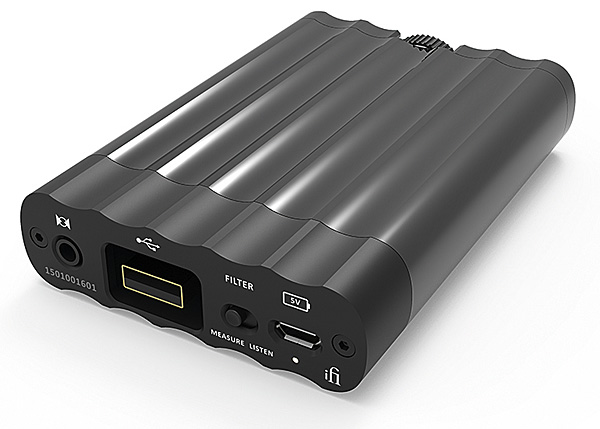 Like the Black Label model, the xDSD has a switch on the back that allows you to select either the default 'Listen' filter, or the alternative 'Measure' [see Listen or Measure? sidebar]. It also has a button that allows you to choose two analogue effects, called 3D+ and XBass+. As the name suggests, the XBass+ option is designed to enhance lower frequencies, while iFi Audio describes 3D+ as 'a holographic soundfield' that attempts to increase the sense of stereo separation while wearing headphones.
These two effects can be turned on or off individually, or used both at the same time, by repeatedly pressing the 'Selection' button – which brings me to one aspect of the xDSD that can be frustrating. The design of the xDSD is well suited to portable use, and the large volume dial with its central glowing button feels comfortable. However, there are quite a few glowing LEDs on that front panel, some of which can cycle through an entire rainbow of colours as you select different settings, and trying to remember what the various combinations of coloured lights mean will surely be irksome to many users.
That slimline design does have one drawback, too, as it doesn't leave much room for the internal battery. The iFi Audio website says the battery will last for ten hours when using the S/PDIF connector, but USB – likely to be the main input for a portable device such as this – only lasts for six hours. Oddly, using Bluetooth increases that to eight hours, but the Chord Mojo still has bragging rights here with eight to ten hours for a wired connection.

A Perfect Start
The xDSD is primarily designed for mobile use, and it certainly proved a tremendous improvement over the standard output from my iPhone when listening to my library of lossless ALAC files through Audio-Technica MSR7SE headphones.
Normally when playing Blondie's 'Rapture' from The Very Best Of Blondie [EMI/Chrysalis 7243 4 99288 2 4], I tend to listen out for the bass guitar to come bouncing along and kick the song into action, but on this occasion the xDSD made me really pay attention to the sharp, percussive intro as well.