dCS Vivaldi APEX Outboard DAC


Lockdown afforded dCS's engineers the time and space to look at the implementation of its iconic Ring DAC afresh. The APEX upgrade is tested here in its flagship Vivaldi DAC
You know that old saying about the devil making work for idle hands? While the periods of lockdown over the past couple of years left a lot of hands idle in the hi-fi industry, the wisest turned this fallow period to good use, regrouping and rethinking. That's certainly the case with the engineers at Cambridgeshire-based Data Conversion Systems, better-known as dCS.
Not content with having its own world-class digital-to-analogue conversion system – the famous Ring DAC – the company has now revisited and revised the technology, creating the new Ring DAC APEX solution that's being rolled out across at least two ranges of dCS digital products. These include the flagship Vivaldi APEX DAC we have here, selling for £33,000, as well as the £25,500 Rossini APEX DAC, and the £28,000 Rossini APEX Player. There's also an upgrade service available for existing Vivaldi and Rossini units – this costs £6000, and bookings are now open.
Reconfigured Reference
Under the bonnet, there's an element of 'if it ain't broke' going on: the Ring DAC concept may be more than three decades old, but it has been refined over the years, and still sets a sufficiently high standard to act as the 'reference' in the HFN listening room. The APEX update is its most significant to date, for while the DSP core and Ring DAC resistor matrix are unchanged, the main board on which it sits is entirely reconfigured with new output devices, power supply filtering and regulation.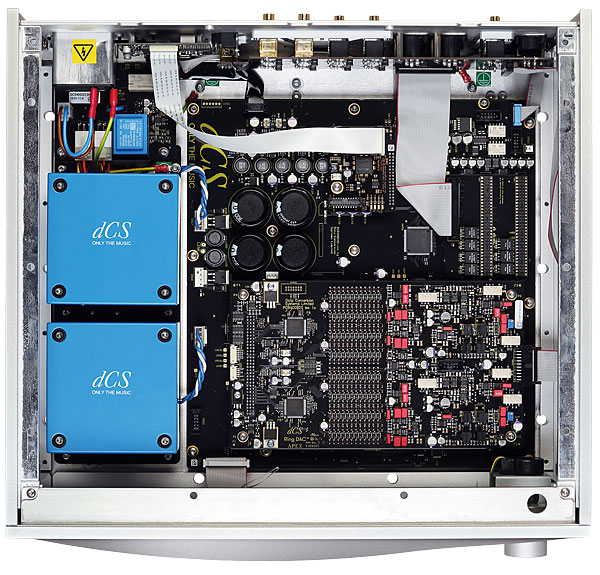 Outwardly there's nothing new to see in the Vivaldi DAC [HFN Feb '13], or indeed the other 'new' dCS models. The company's high-quality alloy fascia, complete with its swooping swage-line, minimal control buttons and single rotary – which here adjusts volume when the unit is used to drive a power amp directly – is unchanged. Nor is there anything on the panel or display to indicate its APEX status.
However, beyond that apparent simplicity is a comprehensive menu system, enabling detailed setup of the Vivaldi APEX DAC. Press the menu button then the two arrow keys, and you can scroll through numerous settings, right from the Mapping – the way incoming data is presented to the DAC matrix – to a range of master clock options. It's also possible to defeat the default data-buffering, for example when using the Vivaldi with video sources and where picture synchronisation is vital.
You can also set a range of output options, these going beyond the simple selection of RCA or balanced XLR out, and fixed and variable level. The full-scale output can be set to 6V, 2V, 0.6V or 0.2V, for matching with your amplification, while phase can be inverted and channels swapped left to right. There's a useful signal generator to allow channels to be checked, and it's also possible to switch the volume control to balance adjustment.
Similarly, the rear panel remains just as comprehensive, with its array of digital inputs – one optical and three coaxial, four AES/EBU (configurable as two pairs), and one asynchronous USB for computer audio up to 384kHz/24-bit PCM and DSD128 in DoP. There are also three Word-Clock inputs/one output on BNCs for synchronising the Vivaldi DAC with other digital components, including the £36,000 Vivaldi CD/SACD transport, the £17,000 outboard Vivaldi Master Clock and £21,000 Vivaldi upsampler.
Also unchanged are the means of controlling the Vivaldi DAC, including the company's large, heavy and immaculately finished remote handset, complete with a further rotary volume control, and the well-sorted and remarkably flexible Mosaic app. This is available for iOS and Android, and can also bring a range of streaming solutions, including online services and Roon, to a dCS digital system. It can also access all the options found in the Vivaldi APEX DAC's menus, meaning you never have to leave your seat!

More... Human
I started my auditioning from a position of familiarity, as I've been listening to the dCS Vivaldi One [HFN Feb '18] in PM's listening room for some years now, and with a wide range of partnering equipment. Fed from the Melco music library [HFN Jun '16] – also part of this system – it has been used both as a pure digital source into preamps and integrateds, as well as a DAC/preamp into many power amplifiers, on the end of which have sat a huge number of speakers (many of which have also been huge!). So I think I've got a pretty good idea of what the 'old' Vivaldi does, or did...
And to be honest I've always considered it to be an excellent piece of equipment, particularly when used as an analytical tool in the HFN demo room – as befits a product from a brand with its roots in the professional world. However, to my ears there's been something slightly too precise about its sound – if that's not a contradiction of the whole hi-fi thing – and a marginal reluctance to let rip and tingle the spine. It's very easy to appreciate all the good things it does, in terms of resolution, detail and so on, but there have also been occasions when it's just felt a little too, well, academic.
Or perhaps that feeling's just a reaction to what the new Vivaldi APEX DAC can deliver. I came to this review simply expecting more of the same, or even just marginal improvements, but after only a brief period of listening to the new model, I started to realise that what I was hearing was all the technically accomplished bits of the old Vivaldi, but with a new sense of enjoyment, of delivering the spirit of what was being played. Simply, the Vivaldi APEX DAC was sounding more natural, more organic, more… human.