Audio Research REF Phono 3SE Phono Preamplifier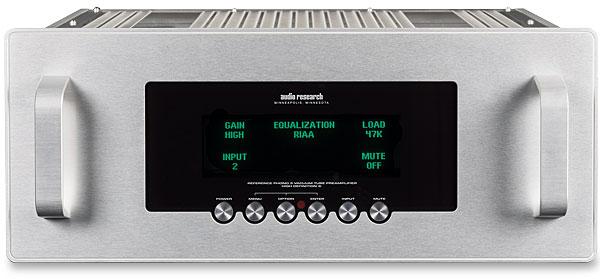 Fans of the brand know that when Audio Research adds an 'SE' suffix, the changes go beyond the cosmetic. The latest to earn this upgrade is the Reference Phono 3
Let's talk about names. Audio Research's abiding Reference range has long been subject to shorthand – even the factory calls the models 'REF' for brevity – while updated (mk2) components are now defined by 'SE'. And that now applies to the £17,500 Reference Phono 3SE. In this case the revisions are retrofittable and, at £3500 and given my delight with every SE model I've tried, especially with the REF 6 and REF 75, I suspect most existing owners will want the upgrade. My optimism was fuelled by Audio Research's CEO Dave Gordon who told us, 'The SE changes incorporated in both the REF 6 and the REF Phono 3 are almost identical, involving many of the same passive component upgrades'.
These include capacitors and internal wiring, enhancements taken from the development of both the REF 160 mono and stereo power amplifiers HFN Aug '18 and Feb '20]. According to Dave Gordon, ARC found that these 'transitioned nicely into the preamps. We had to install all of the changes together to achieve the improved performance, because they did not sound "right" individually – it's not always as simple as dropping in a better part and expecting everything to improve'.
Double Delight
Although the REF 6SE preamp [HFN Jan '21] arrived in 2019, due to Covid and other interruptions, the evolution from REF Phono 3 to 3SE level was a long time coming. But it was worth the wait! Accepting two cartridges simultaneously, the REF Phono 3SE accommodates an increasingly popular trend, though Japanese audiophiles have been at it for decades. Many high-end vinyl enthusiasts now employ either two turntables or a single deck which accepts two or more arms, in order to connect two utterly disparate cartridges. This allows the fastidious vinyl fan to choose the better of two (or more) pick-ups for playing LPs from specific record labels, vintages or genres.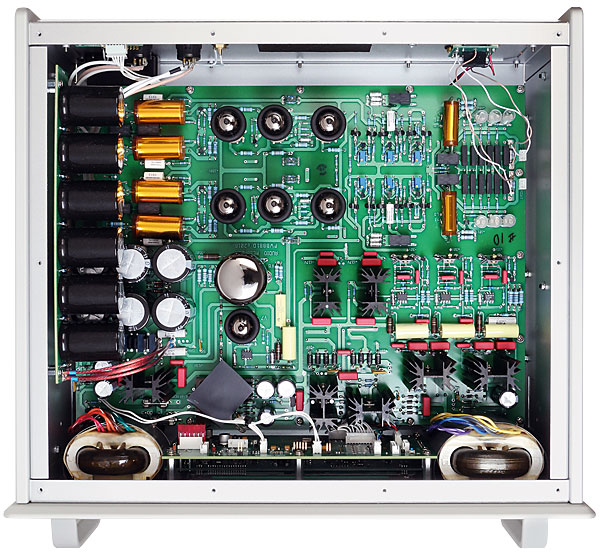 While not as extreme as some phono stages I've seen with even more dial-in values, the REF Phono 3SE's six values are comprehensive enough, and it even addresses non-RIAA EQ, with two curves which haven't been used for more than a half-century: Columbia and Decca. For a giggle, I switched to both of them during playback of regular RIAA LPs and found the changes to be subtle enough as to cause no worry if you do own a bushel of ancient LPs and don't have a phono stage so equipped.
Uncluttered at the back, the REF Phono 3SE's socketry consists of phono inputs for two independent front-ends, an earthing post, balanced (XLR) and single-ended (RCA) outputs, RS232 and IR inputs for system integration, and AC power via a 'horizontal flat-pin' plug. Despite this, my first reaction upon lifting the 16.6kg unit and peering through the transparent lid, noting it contained six 6H30P triodes, another 6H30P in the PSU plus a 6550WE, was, 'This looks more like an integrated amp than a phono stage'.
Rock On Demand
Flexibility is king here, so the REF Phono 3SE is not one of those phono preamps that specifies MC-only for one input and MM-only for the other. Loading and gain are independently configurable, so it's truly two phono stages in one. If, like me, you're not wedded to one pick-up, you can keep a London Gold and a Koetsu moving-coil connected full-time, or two MMs or two MCs, ready to rock via either input.
Please note, however, that the RIAA and legacy Decca/Columbia EQ settings are global, so whichever you've selected works across both inputs. Why does this not even raise one of my eyebrows? Because out of my 12,000-plus LPs, I don't own a single one that isn't an RIAA pressing. For me, given the above experiment, these EQ settings are about as useful as Dolby FM. But, hey, if you own some very early-generation albums, knock yourself out.
For those who obsess about cartridge settings and want to change the loading from the hot seat – those who spend, oh, two days sorting out VTA – all can be done with the remote. Initial set up will include display brightness, choice of Input 1 or 2, and selecting a load of 47kohm, 1000, 500, 200, 100 or 50ohm. You can even order custom loads through your retailer. The menus also provide a display of the number of hours on the valves, and there's timing for auto-shutdown.

L'Arc de Triomphe
Once you've sat through the two-minute warm-up period (ARC equipment owners are used to this), the display clearly indicates your currently selected set up. However, as I found to my peril when my preamp's volume was not fully wound down, the setting to which you should pay the most attention, especially given the copious headroom of this device, is the Gain. The REF Phono 3SE mutes as you switch in the extra 23dB of gain between 'Low' and 'High', but always try 'Low' first. I used favoured Ortofon and Decca MM cartridges, and MCs from Kiseki, EAT and Sumiko – every one of them turned into a kick-ass, head-banger delight.