Lehmannaudio Decade Jubilee MM/MC Phono Preamp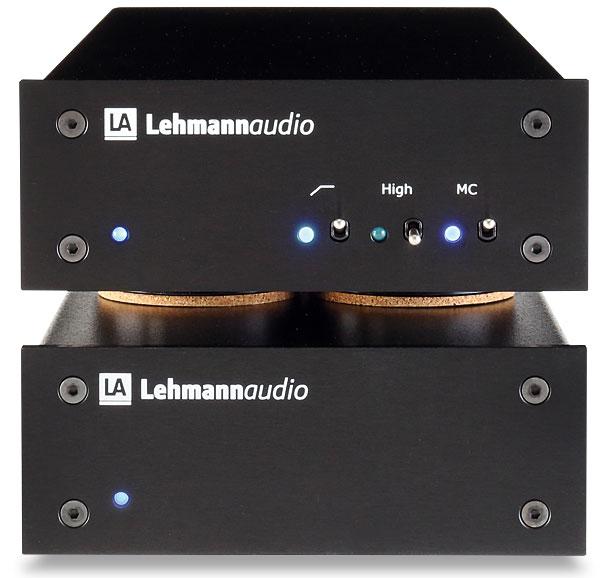 This artisan phono stage from Germany has been on a journey of refinement lasting rather longer than a decade, culminating, for the time being, in this Jubilee version
With the notable exception of flatscreen TVs and very high-end hi-fi, generally speaking, technology is enabling smaller product solutions. German brand Lehmannaudio has been leading the charge for bijou components since its founding, and the principle is perfectly illustrated by the Jubilee variant of its evergreen Decade phono stage, released to celebrate the brand's 30 years, and retailing for £3149.
The Decade Jubilee phono stage and PWX II LC power supply come in matching cases, far deeper than they are wide or high, but our pictures might give the impression they are half-width components, like the Exposure XM series [HFN May '17 & Apr '18]. A glance at the Jubilee's rear panel, where the gold-plated input/output RCAs are locked into place, provides a much-needed sense of scale – each enclosure measures just 110x50x280mm (whd).
String Theory
So these are very compact but also very classily designed, which is to be expected as they command a rather hefty £1550 premium over the standard – and lookalike – Decade phono stage. There is a visible difference, however, as both phono stage and the PWX II LC power supply unit sit on Lehmannaudio's new 3S ('3 String') device feet. These comprise a central three-piece 'suspension' combined with additional absorption materials that the company claims convert micro-vibrations effectively into heat. The result of this is 'improved dynamics and clarity, enhanced bass control and more realistic stage imaging'. Four different variants of these feet are available separately, with a black or silver finish, and start at £159 for a set.
The power supply has been improved over the standard Decade's PWX II model with the addition of thicker copper PCB tracks and a sprinkling of high performance Mundorf capacitors. A 28VA shielded toroidal transformer supplies the main AC section and the unit has twin DC PSU outputs offered on 4-pin XLR connections.
Internally, the Decade Jubilee also claims significant differences over the standard model, not least because the passive RIAA equalisation circuitry is lifted directly from Lehmannaudio's flagship £4599 Silver Cube [HFN Jul '15]. This circuitry comprises, among other things, a low-noise input op-amp, a brace of foil capacitors in the RIAA equalisation section, and a dedicated output drive IC, which permits longer cable runs than might normally be recommended.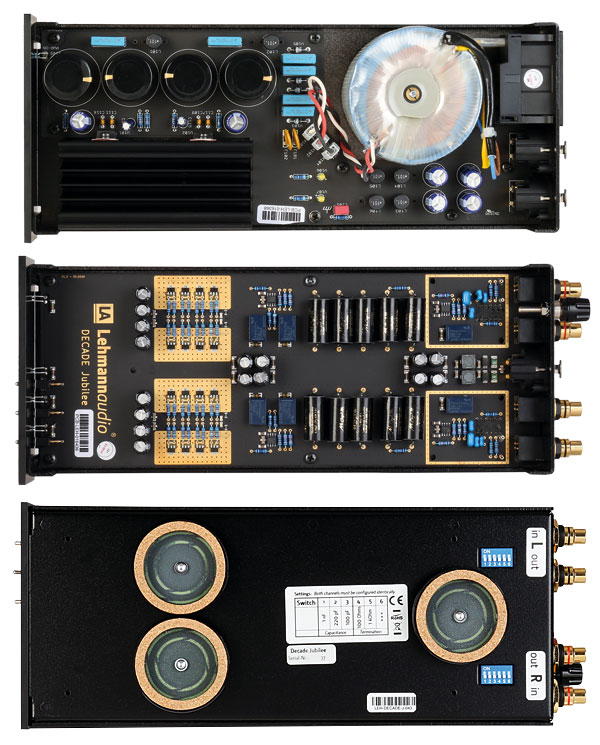 Good Vibrations
All of this componentry is mounted on a four-layer PCB. The main function of these layers, according to company head Norbert Lehmann, is to quell any micro-vibrations that find their way into the board. The circuitry is laid out as dual-mono channels, even extending to dual control relays, rather than using one double-pole type.
Naturally, the Decade Jubilee maintains the key functionality of its cheaper sibling. In its most basic form, the unit offers 36dB of gain for MM cartridges and 56dB for MC types, with these options selected by the right of three switches on the front panel. The next switch adds 10dB of extra gain to either setting, and the third activates Lehmannaudio's 'soft bass roll-off filter'. This acts rather more drastically than its 'soft' name might suggest but will surely eliminate any large bass cone 'waffle'.
Soldering On
Further adjustments are available underneath the unit – I would grudgingly concede that there really isn't room for much else on the Decade Jubilee – via two sets of DIP switches. These select in-built loads of 100ohm, 1kohm or 47kohm, plus a fourth option that switches in an empty resistor location to which a value of your choice can be fitted. Lehmannaudio provides a hex key to open the case, but the operation is probably best left to your dealer unless you are confident with a soldering iron. The remaining options on the DIP switches allow the selection of capacitive loads from 47pF to 1.367nF.
Fit and finish of both units is excellent and they are available with black or silver front panels as standard, or chrome as a £176 special order option. For auditioning, the Decade Jubilee was fed by my Michell Gyro SE/SME 309 set, using both Clearaudio MC Essence [HFN Aug '17] and Ortofon 2M Black [HFN Mar '11] cartridges.

Big Impression
The multi-layer PCB and the new feet are all about minimising the adverse effects of vibration, and while it's impossible to confirm its efficacy in this respect, the Jubilee still makes for a beguiling musical companion. The suppression of background noise is impressive in both MM and MC settings; the lack of hiss when silent, and absence of background noise during playback, are very noticeable indeed. And at times it seemed difficult to associate the largescale, precision performance I was hearing with the compact box(es) on the shelf, because this preamp's sonic stature exceeds its modest physical presence.