Audio Research REF Phono 3SE Phono Preamplifier Page 2
But that's admitting there is so much gain with which to play. The REF Phono 3SE is so quiet that the dynamic swings and low-level detail were of a calibre I cannot recall experiencing. As much as I enjoyed the sheer weight of the percussion on the new mono reissue of The Dave Clark Five's Glad All Over [BMG BMGCAT558LP], with bass power and slam to repudiate its near-to-sexagenarian age, I knew the real character and ability of the unit would require something more subtle.
It was a wrench dragging myself away from repeated plays of 'Glad All Over' because the energy was as palpable as moving from a 60W stereo amp to a brace of 300W monsters. I sated my lust for power within ten seconds of The DC5's signature tune, also noting that the honk of Denis Payton's sax had a rich, reedy tone usually swamped by Clark's percussion.
Something Blue
A no-brainer: I had just spent time with the sublime release of Miles Davis' Kind Of Blue [Acoustic Sounds UHQR 0004]. Here I would partake of sax, trumpet and bass in a space uncluttered by the near-Spectorian 'wall of sound' which The DC5 created even without ol' Phil's input. With this LP, it was all about air, texture and detail, Kind Of Blue demanding little of the sheer muscle of the REF Phono 3SE to make its point.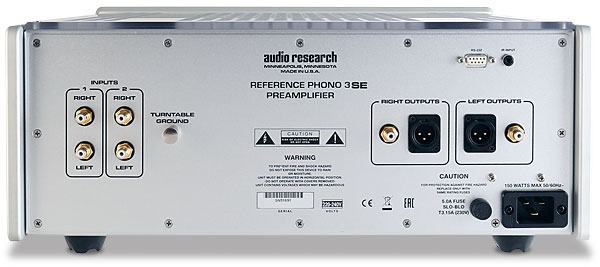 How many times have jazz lovers heard this masterpiece? A small ensemble, lean, laid-back and thoughtful, in an uncrowded soundstage. It was all about transparency and openness, about three-dimensional positioning and how they enable the listener to assess that triumvirate of the above-cited air, texture and detail. It is taking all of my linguistic skills to avoid the use of those hoary old audiophile tropes about 'removing veils' or 'cleaning a window'.
Instead, I would ask you all to dig deep into your own experience of upgrading your systems. Slipping the REF Phono 3SE into mine, which ain't bad by any measure, reminded me of hearing the ARC REF 160S after living with the REF 75SE (which, by the way, I will never forsake). But it wasn't just about power…
There were sounds of breathing, low-level information which might even have been the swish of a coat, the scrape of a chair. I don't know. I wasn't there. But goodness me, did this phono stage bring me even closer to Columbia's New York City studio in early 1959.
I don't play trumpet. I cannot tell you what Miles used, or which saxes Adderley and Coltrane were blowing, but the sense of realism, the presence was enhanced to a degree that can only be attributed to – as Dave Gordon surmised – 'The extremely low-level nature of the signals … [accounting] for what we consider a startling improvement'. And 'startling' is the perfect adjective for what I was hearing.
What can be dismissed from the outset, especially for those who are not diehard MM or MC fans without considering the alternative, is that there was no discernible preference for one over the other. Moreover the gain was such that high output MCs could easily be used via the Low Gain/47kohm setting with little loss of dynamics. I played four or five tracks with a London Gold, followed by an Ortofon 2M Bronze, then a Kiseki Blue [HFN Jul '18], and lastly the Sumiko 40th Anniversary MC, all as a test.
Reference By Name...
What I was hearing was the best of each, not a display of bias in the REF Phono 3SE. It swiftly emerged that the term 'reference' was not a conceit, for this joins a select list of high-end phono stages so precise and yet so versatile that they are good enough to act as tools for reviewers, not just those audiophiles fortunate enough to purchase one and who will exploit the REF Phono 3SE's incredible adaptability.
I feared wearing out my copy of Bonnie Raitt's The Glow [Warner Bros K56706], but I just had to hear her slithery take of 'Your Good Thing (Is About To End)' and the punchy, rocking 'Standin' By The Same Old Love'. Her voice is intimately familiar. The session men on this LP are the West Coast's best. I have played it more times than I can count. But it sealed my respect for this phono stage for the simplest of reasons: I heard 'things' I'd never noticed before. And that's a deal-maker.
Hi-Fi News Verdict
Forget that I have been using ARC gear for decades as my reference. Or that I'm a displaced Yank. Or that I authored ARC's definitive history book. The Reference Phono 3SE is without question one of the most precise, quiet, open and dynamic phono stages I have ever used – even with an eccentric London Gold. Let's put it this way: if I wasn't a pensioner on the precipice, I'd not hesitate to buy the damned thing.