Audio Research REF CD9 SE CD Player/DAC


Less of a 'Special Edition' than a cosmetic refresh, six years of continuous production has still brought changes to bear in ARC's flagship digital offering. We investigate...
At this stage in the decline of Compact Disc's popularity, is there still a demand for CD players like the Audio Research REF CD9 SE at a heady £14,500? Apparently so, as the original REF CD9 [HFN May '13] remains popular enough to warrant an update. The addition of the esteemed 'SE' suffix on this occasion, however, does not signal as radical a change as seen, for example, in the move from the REF 75 power amp to the REF 75SE. But what Audio Research has done makes it just different enough to warrant the new badge.
Brand Ambassador, and long-term employee, Dave Gordon reflected that 'the differences from the CD9 to the CD9 SE are fairly simple. We updated the front panel to the new cosmetics. We updated the USB card'. Er, that's it – but the two do matter if 1) you've come to the brand more recently and your preamp features the newer look and 2) if pushing hi-res files over USB is part of your audio lifestyle.
Digital Hub
Dave is utterly candid: 'Aside from the new USB card, there is no change in performance. When a manufacturer has a product – particularly a digital product – that does not undergo major revisions for some time, or is replaced by a new model, people tend to forget about it, or take it for granted.
'The Reference CD9 is a good example. But many people do not realise that the analogue section and power supply in the REF CD9 SE are lifted from the REF5 preamp [HFN Jan '10]. Same tube complement, same analogue section and same power supply with vacuum tube regulation – even our expensive gold capacitors.'
Let's deal with the appearance first. The change means the move from a display in a small black Plexiglas window on the left half of the original REF CD9's fascia, with the control buttons and LED indicators on the right against a metal section, to the new 'full width' look. This is wider than the corresponding black gloss sections on the REF 6 or LS28 [HFN Jan '17] preamps' front panels, but that's a minor point.
Truly, I have absolutely no preference for one fascia over the other, but I will acknowledge that the older style is more in keeping with ARC's traditional 'laboratory' appearance, which may matter to marque devotees, while the new style is certainly more modern. If, however, aesthetics do bother you, you will prefer whichever matches your preamp, especially should you be all 'REF'd-up' with either a '5 or a '6.
As for the USB input, the changes only really matter if you value the DAC capabilities of the CD9 and its replacement; in other words, do you see this as a CD player or something closer to a disc-playing digital hub? Note, too, that the CD6 has undergone similar changes to attain SE status: both SE models now contain the latest v3.0 USB audio card, providing compatibility with Windows 10 and macOSs, as well as Linux-based systems which support ALSA devices.
Smart Card
For those of you who value streaming, this ensures superior compatibility with products such as Aurender's music servers or Roon's Nucleus [HFN May '18]. According to ARC, the new USB audio card 'offers a state-of-the-art FPGA design that re-clocks data and formats appropriately; firmware updates are not required'.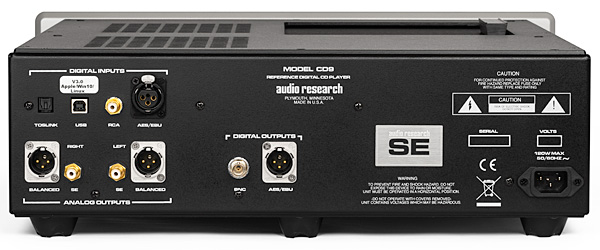 Digital inputs on the REF CD9 SE remain unchanged over the non-SE predecessor, so these include S/PDIF (on RCA and Toslink optical), AES/EBU (XLR) and USB 2.0, with digital outputs for AES/EBU (XLR) and S/PDIF (BNC), and both RCA single-ended and XLR-balanced analogue outputs.
During the testing, editor PM raised a couple of other queries regarding the changes between the REF CD9 and its SE offspring. We asked Dave about support for DSD, which is still absent in the CD9 SE. He replied, 'Including DSD would require a major redesign, which would be more appropriate for an entirely new model. It would also be too expensive to offer an upgrade path for the earlier-generation CD9s'. As for production changes, with Audio Research moving to a new factory last year, 'There is what we consider a running production change to a small, low-voltage transformer that allows the CD9 SE to run cooler.' Both PM and I noticed that the new model has a slight hum, even when powered off, but this may have been entirely coincidental.
I reviewed the unit in an all-REF system, feeding the REF 6 preamp and REF 75SE power amp, driving Wilson Audio Sasha DAW speakers [HFN Mar '19]. All wiring was Transparent, balanced throughout because it sounds better to my ears…

Prodigal Son
At first – and I had to remind myself that I reviewed its predecessor with a different system six years ago – it was a case of sonic déjà vu. Rare are the occasions when we get to audition what is essentially the same product twice, so I'm glad I kept notes. (Unlike my periodic returns to variants of the BBC LS3/5as: for those, I've kept a few representative pairs.) I even dug out the same CDs used for the review back in 2013 as an initial refresher.