Audio Research REF CD9 SE CD Player/DAC Page 2
Let's deal with the USB input first, because this, streaming and other modern methods of addressing digital audio still typically fail to float my boat. Seriously: I have enough LPs and CDs and tapes to open up a shop, all of which sound better than any feed I have ever heard via streaming, so I report on this only out of duty and so
PM
doesn't berate me. All I will say on the matter is that the REF CD9 SE is about as good as I've heard when it comes to feeding it a signal from the Internet via my brand-new Mac computer... but my Sequerra FM tuner [
HFN
Apr '75] still manages to massacre the lot.
Rant over. I still prefer CD as my second-fave digital source after SACD (and I so wish Audio Research had an SACD player...) and the opening track, 'The Rainbow' from Talk Talk's Spirit Of Eden [Parlophone 5099962178723] sent chills up and down my spine. It was enough that the harmonica sounded utterly lifelike and in the room, but it was the sheer sense of space that floored me.
Not by nature one who listens to prog rock, New Age or anything else more concerned with creating soundscapes than communicating an emotion, I surprised even myself by letting the atmosphere suck me in. Who needs VR goggles? This wasn't merely transporting – it was transcendent. And it wasn't that far off the admittedly-superior LP – something that's attained 'audiophile' status amplified by the tragic passing this year of the band's resident genius, Mark Hollis.
Bolt Upright
As the entire set is rich with spatial exploration and unusual instruments, to a Pink Floydian level, the REF CD9 SE was facing a challenge. This is one area where digital nearly always has to bow its head to analogue. Side-by-side with the LP, there was so little in it that, with levels matched precisely, I was hard-pressed to tell them apart. Yes, the REF CD9 SE possesses that much air and warmth.
What also made me sit bolt upright was a percussion break – no, make that the percussion throughout – which enjoyed a sublime crispness, speed and overall attack that spoke of remarkable transient recovery. This was managed with precision, not aggression, and I am tempted to credit this in part to the superlative tube analogue stages, comprised of four 6H30 dual triodes, plus a 6550WE and a 6H30 in the power supply. For it is tubes, after all, that ensure this is of the ARC bloodline.
Body And Soul
More than 30 years on from the first appearance of tubes in a CD player, I do realise that there are those still who find valves in a digital context something of an anathema, an anachronism and an affront. But thanks to the engineering efforts of early pioneers including Neil Sinclair and Mike Moffat, of California Audio Lab and Theta fame, this is a hybridisation that can now be said to have stood the test of time.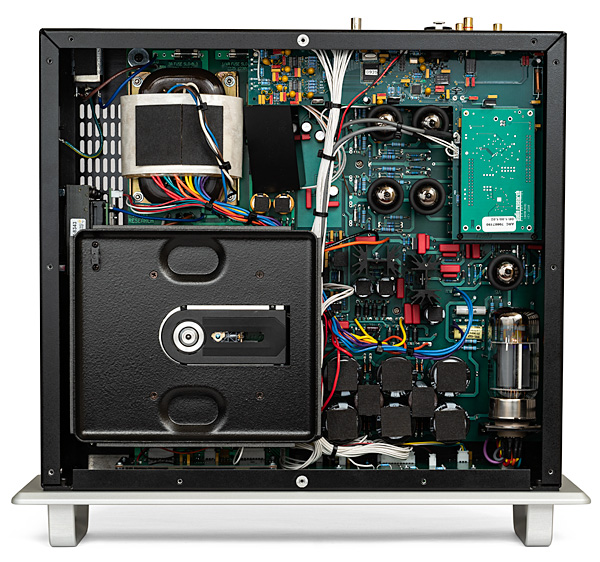 Before the history books are rewritten – as is this industry's wont – it was my blue-sky prodding of Neil at a long-forgotten CES in Chicago that led to the development of the first valve-utilising CD player. To this day, the CAL Tempest II remains for me the player that changed the way the format comported itself in audiophile terms.
Valves or not, however, I had to acknowledge that magnificent recordings such as the Talk Talk title flatter the system. I am not suggesting instead a test diet of vile recordings, as to uncover a different set of merits, but I have always maintained that something more akin to a normal release might be of more use out in the real world.
For this I turned to the soul classic, The Baby Huey Story [Curtom/WEA Japan WPCR27720], prized for its performance over its sound quality. This 1971 release is regarded as a milestone in the development of rap and hip-hop. With hindsight, its compositions and reinterpretations are reminiscent of the epic, genius works of Isaac Hayes, as well as the Curtom label founder, Curtis Mayfield.
A segue into an instrumental version of Sam & Dave's 'I Thank You' in 'Mama Get Yourself Together' caused my world to stop. Yeah, music still does that to me. What the REF CD9 SE brought to the table was a seamlessness, a coherence that made this transcend any minor limitations in the recording. Which is just what you want a system to do: make you forget about the medium, the format, the artifice and simply travel back in time and space... to a performance. And that is something the REF CD9 maintains in its second generation. Even if it is a top-loader.
Hi-Fi News Verdict
Plus ça change: the REF CD 9SE remains as delicious a player as I recall, especially now that I have long-abandoned my dislike for top-loaders. Judging by my notes, it's slightly warmer-sounding, but also a tad more precise and categorically, even more 'analogue-sounding' than its parent. Ditch your older '9? Not necessary. But definitely add this to your shortlist if you still have faith in high-end CD playback.