Taj Mahal: Giant Step Alternate Format Discography
Alternate Format Discography
Given that this has always been an under-performing and under-appreciated album, it's no surprise that there are only 41 known iterations listed, of which 19 appeared within two years of its appearance while the release dates of a further 14 are not known.
Original Vinyl LP (1969)
Columbia was still solidly behind Taj Mahal, so the album appeared in the US in an impressive gatefold sleeve [Columbia GP18] designed by Virginia Team, the respected art director whose career ran from the '60s until her retirement in the early 2000s.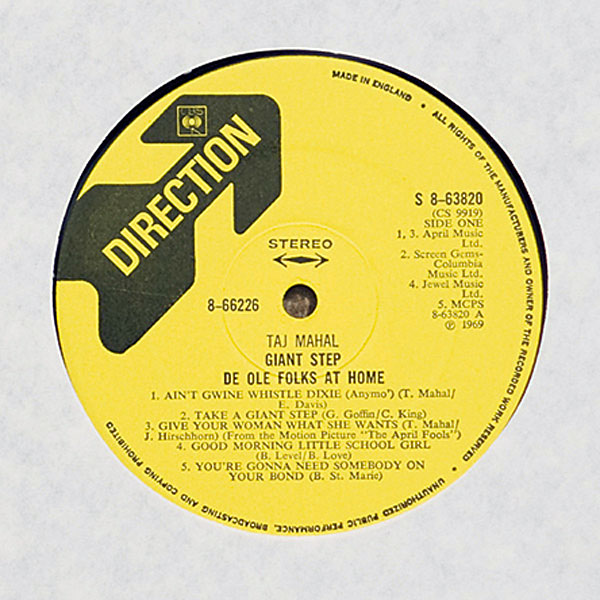 Each album boasted its own 'front cover', and the gatefold inside featured hand lettering of the titles and other details by Jesse Ed Davis, along with a portrait of the band relaxing on the back porch of a funky shack called the 'Plantation'.
Giant Step is still regarded as a decent slab of vinyl, soundwise, but De Ole Folks has been criticised for sounding muddy, which I don't hear at all. To my ears it sounds rich, natural and very present. In 2016 Music On Vinyl issued a 180g vinyl recut [MOVLP1442].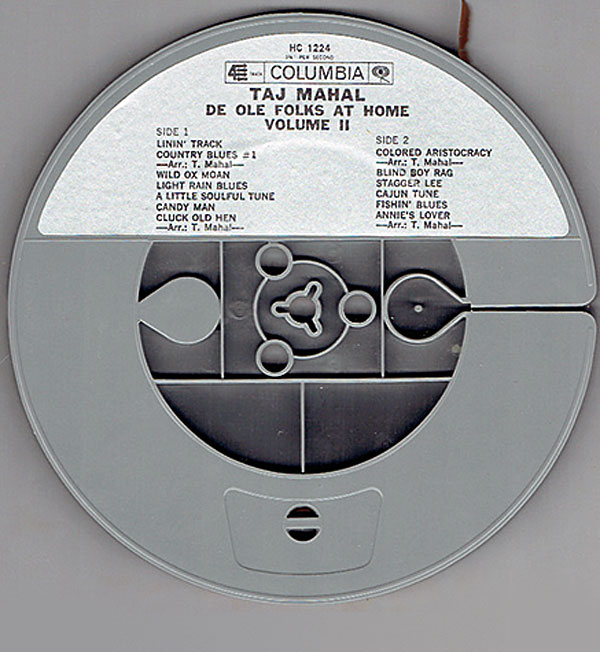 Reel-To-Reel (1969)
Giant Step/De Ole Folks At Home were released as individual solo albums in the US on a 7in reel-to-reel tape, playing at 3¾ips offering '4-Track Stereo'. Catalogue numbers are Columbia HC 1217 and HC1224 – though I have to confess, I've never heard either of them.
UK Vinyl (1969)
The British release of this double set also appeared in 1969 but on the Direction imprint [8-66226], which was a briefly-lived CBS subsidiary [pictured above]. Initiated in 1967, the label shut down in 1970 after putting out albums by The Chambers Brothers, Elmer Gantry's Velvet Opera, Peaches And Herb, Inez And Charlie Foxx and others.
360 Degree Sound
Further proof that Columbia tried hard to push this album, the '360 Degree Sound' concept was claimed to create a surround sound effect 'as if one were sitting in the first row centre at an actual performance' [Columbia GP 18]. I recall hearing some recordings using this technique and being decidedly unimpressed by them.
First CD (1988)
The first time the album appeared on CD was in the UK on Edsel Records [ED CD 264], now one of the longest established of reissue labels.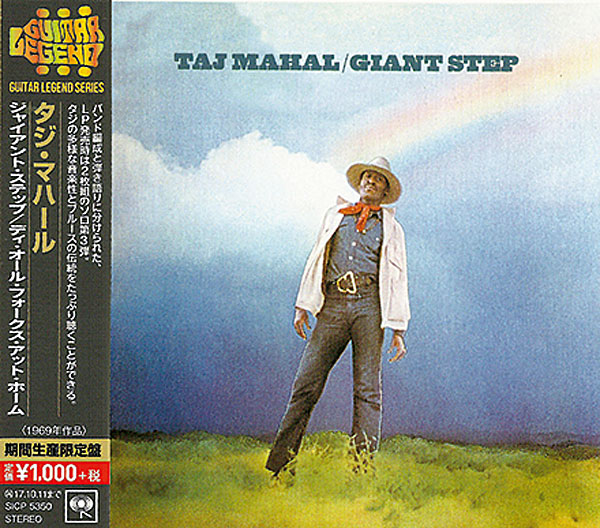 Japanese CD (2017)
After 1969, alternative versions of Giant Step are thin on the ground. So I've opted to point anyone seeking a digital version which takes advantage of all the technological progress that has occurred since the original 1969 releases on vinyl towards the low-priced Japanese CD release [SICP-5350] from 2017. Fortunately, I'm still more than happy with my 1998 Direction label CD reissue [491692 2].